This post may contains affiliate links for your convenience. If you make a purchase after clicking a link we may earn a small commission but it won't cost you a penny more! Read our full disclosure policy here.
On our last trip to Walt Disney World, my family had the opportunity to stay at the Wilderness Lodge for the first time. As we were heading back on our last night and were trying to figure out an option for dinner, I remembered all of the high praise the Be Our Guest Podcast (and especially Pam) has given to the Territory Lounge and opened up a menu. A quick glance told us that it would be a great option so we got off the bus and headed straight into the lounge.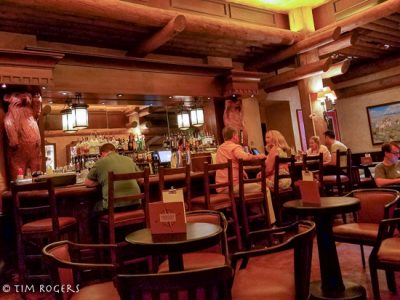 The Lounge itself is located just off of the lobby and currently connects to the side of Artist Point (not sure how the changes over there will impact the lounge, but Territory Lounge currently looks to stay open). The decorations fit the rustic theme of the rest of the Wilderness Lodge and tie to the idea of rustic exploration. It has a variety of seating areas, and also a few TVs showing sports if you are looking for a place to watch a game.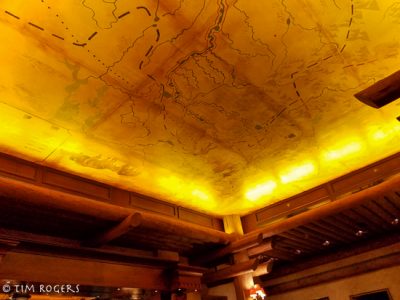 Like I mentioned, we went there for a meal, so the menu selections were important. But before ordering food, we wanted to check out the specialty drinks. One of the things I really like to do at Walt Disney World is see which drinks they offer that are not on the standard bar menu, because those choices can often be much more interesting and adventurous.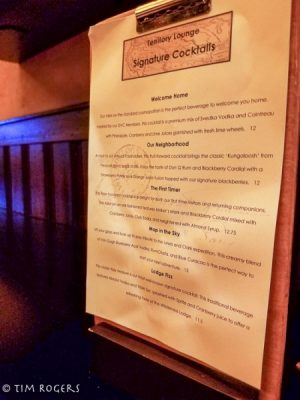 At Territory Lounge, the site-specific drinks are themed off of the Wilderness Lodge with ties to Disney Vacation Club members and Annual Passholders. My wife was trying to decide between two of the selections, so we asked our server, and he immediately suggested "Our Neighborhood." It did not disappoint.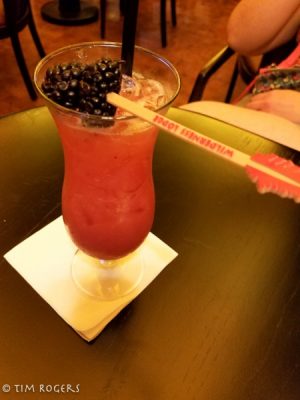 The drink was well balanced with good blackberry flavor and not too much sweetness.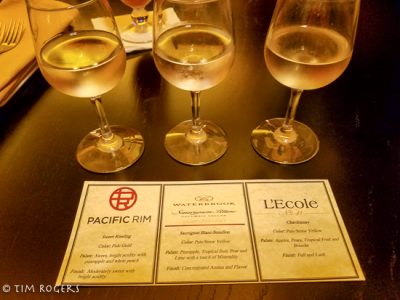 For me, I am a fan of white wines and when I saw that they offered a Pacific Northwest themed white wine flight, I had to check it out. I enjoyed all three in their own way, and the one I liked the most (the Riesling) I was happy to find at my local grocery store when I got home, thus making the Disney memory last even longer.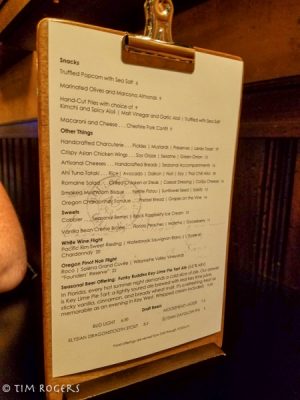 After the important business of ordering drinks, we moved on to the food. For the last few days of our trip I had been wanting to get a pretzel, and the time just hadn't been right. As such, when I saw pretzel bread with cheese fondue on the menu, I knew I had to get it.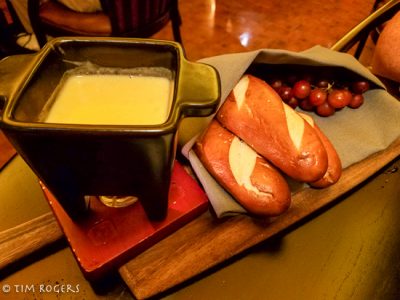 Initially, we saw the Truffled Popcorn with Sea Salt and thought about getting that, but as we went further through the menu, the Hand Cut Fries sounded very tasty, and we elected with keep the Truffle and Sea Salt for flavor.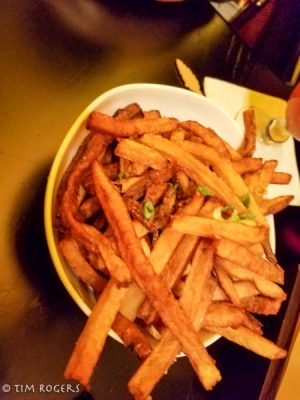 Lastly, we saw the Mac and Cheese, but noticed that it was served with Pork Confit. Many places, when a pork product is listed with something like this, it is not possible to get the dish without the meat, but this being Disney, we felt pretty good about our chances so we asked. Once again, asking paid off and it was not a problem at all to get vegetarian Mac and Cheese.
All three of these tasted great. The pretzel bread was soft and crispy in the best ways and the cheese sauce was delicious. The fries had the variety and uniqueness of hand cut fries with great flavor from the truffles. The mac and cheese was ooey, gooey, and wonderful.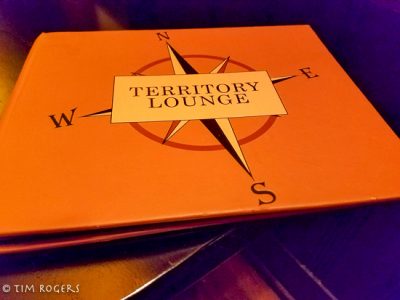 As a whole, this was a great way to end our trip and we really enjoyed it. While the menu was small, there were multiple tasty options and, even as vegetarians, we were happy and full as we left.
Territory Lounge is one of those hidden gems at Walt Disney World that you hear people talk about, but never really check out for yourself. As someone who just took the step to try it myself, I can say with certainty that you should do it too.
Have you ever visited Territory Lounge?  Let us know what you enjoyed most in the comments or on Facebook or Twitter.!
Did you like this article? Make sure to share it with your friends! Check below for easy ways to share!
Want to visit Walt Disney World? Contact The Magic for Less Travel for more information and a free, no-obligation quote.