This post may contains affiliate links for your convenience. If you make a purchase after clicking a link we may earn a small commission but it won't cost you a penny more! Read our full disclosure policy here.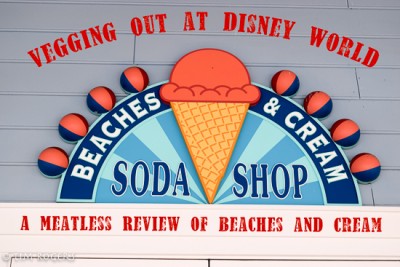 When you think of an old-timey diner, you probably have a plethora of images going through your mind. For most people, "great place for vegetarians" is probably not one of them. However, Beaches and Cream in Disney's Beach Club Resort is both everything you would want from a diner, and a great place for the meat-averse.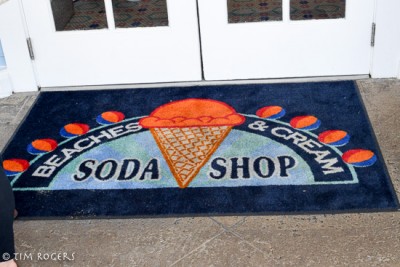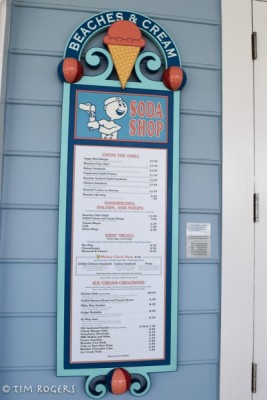 First, some general info: Beaches and Cream is nestled in behind Stormalong Bay near the center of the Yacht and Beach Clubs. The most surprising thing as you come in is how tiny it is – maximum capacity in the restaurant is around 40 people. This is important to note for two main reasons, the difficulty in getting a reservation in the first place and the fact that larger parties might not be able to sit with each other. These pictures show the entire restaurant, for context.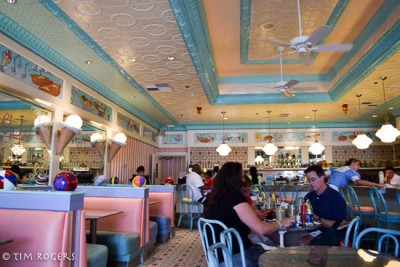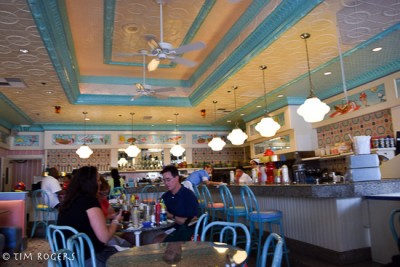 Walking inside makes you feel like the front door is a magic portal to the past. It is decorated perfectly, and even has a functional jukebox (you can request songs from many of the tables throughout the restaurant).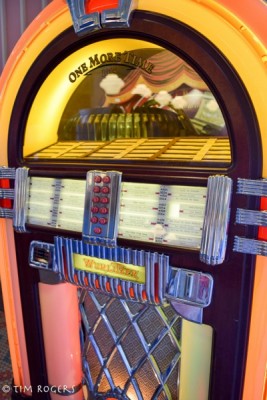 While atmosphere is what sets many Disney restaurants apart, you obviously go for the food, and Beaches and Cream doesn't disappoint. First, a note – Disney routinely shifts their menus so if you go to Beaches and Cream the exact options might not be the same. However, they also can sometimes give you something that isn't on the menu, so it never hurts to ask.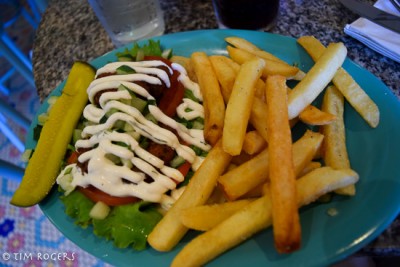 With that in mind, when we went to Beaches and Cream the showcase vegetarian entrée was the Vegetarian Falafel Patties on flatbread. This was a tasty well balanced dish with a large portion, and while it is not currently listed on the menu, keep an eye out for it.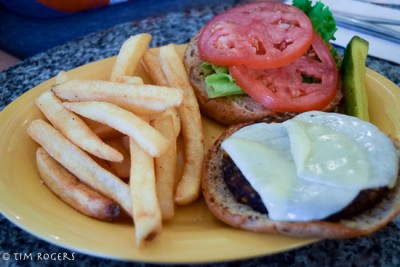 The big change for vegetarians at Beaches and Cream is that the veggie burger, which could be specially requested before, but was not on the menu, is now a featured item, and also seems to have gotten an upgrade. When we went, you essentially got a regular veggie burger on a tasty bun, but it looks like they have really stepped up their veggie burger game. Definitely give this a look when you are there. And don't forget, all grill items come with fruit or fries, and the fries are definitely tasty.
The one vegetarian menu item that has not changed is my favorite, the six cheese Grilled Cheese and Tomato Bisque. While seemingly simple, this dish is very tasty and comforting, and should be a hit with pretty much anyone.
All that being said, for many the big draw of Beaches and Cream comes at the end of the meal. The ice cream sundaes here are legendary, and if you happen to order the Kitchen Sink, get ready for some flashing lights, a spiel and a whole can ('A whole can!?) yes, a whole can of whipped cream.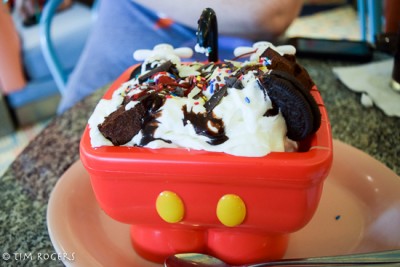 While we are brave, and we love ice cream, we weren't quite ready for the full sink, but on our two visits we definitely left happy. First, something that isn't officially on the menu in the restaurant, but is on the menu for the Beaches and Cream carryout – Mickey's Mini Kitchen Sink.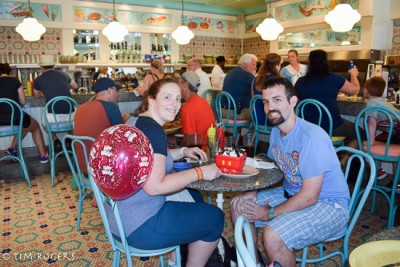 This is a more manageable, but still ridiculous version of the sundae, and lets you also bring home a cute keepsake (the sink itself). While this is also available at the Plaza in the Magic Kingdom, I would recommend getting it here for the full effect.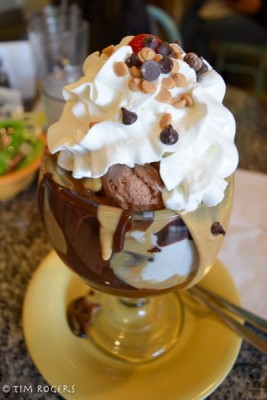 However, you don't need to go completely overboard to enjoy a dessert here, just partially overboard. Of all of the fantastic options, the other one we tried was the No Way Jose, which might now be our favorite. This sundae combines peanut butter and chocolate into perfection. Try it!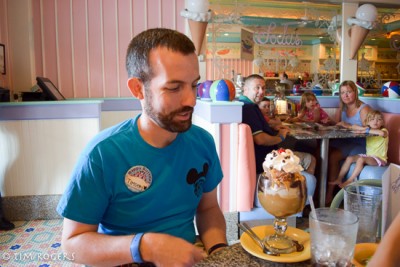 This is the moment when the family behind me decided that they too would order dessert.
Overall, we were very happy with Beaches and Cream from start to finish and it is now one of our top places to visit at Disney World. So if you are looking for a fun and tasty place to have a meal, keep this one in mind.
What are your thoughts of Beaches and Cream? Share in the comments.