This post may contains affiliate links for your convenience. If you make a purchase after clicking a link we may earn a small commission but it won't cost you a penny more! Read our full disclosure policy here.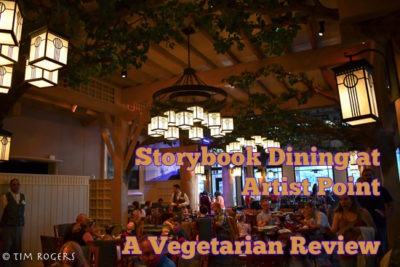 When I heard that there was going to be a new character meal at Walt Disney World that would feature Grumpy, you might say I was excited. I have been able to meet Grumpy before, but only with his six other friends at the holiday parties in the Magic Kingdom. So it was the prospect of getting him alone that drew me and my wife to the new Storybook Dining at Artist Point.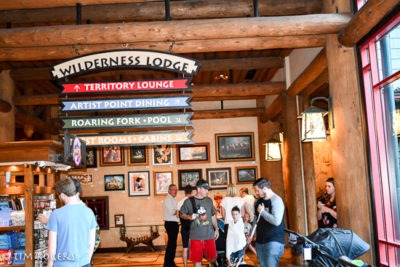 For some background, Artist Point is located in Disney's Wilderness Lodge and had been a signature dining location for years before the renovation to make it a magical forest. Now, at dinner, you are brought into the forest to enjoy a prix fixe three course meal. During your meal, you are visited by Snow White, Dopey, and Grumpy, and after your meal you can head to the center of the restaurant and visit The (Evil) Queen.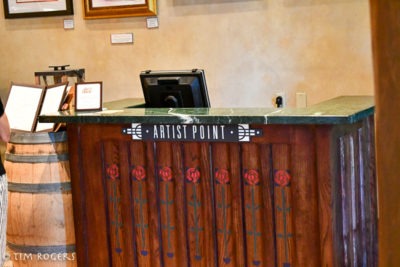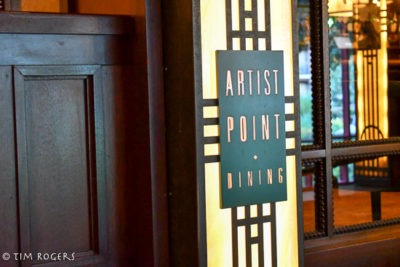 When you arrive for your reservation, you check in at the edge of the Wilderness Lodge lobby. When you are called, you'll head up the ramp into the restaurant to be seated.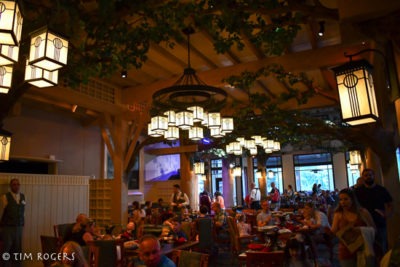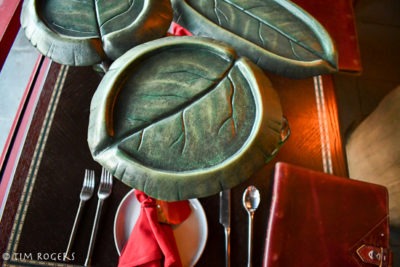 One quick note before getting into the experience that night – I had tried a few times to call and talk to someone at the restaurant since my wife and I are both vegetarians and several of the shared appetizers are definitively not vegetarian. I wasn't able to get in touch with anyone there, and the person in special accommodations told me to just make sure our waiter knew. I have a lot of previous experience with how great Disney can be about dietary restrictions, but I was still nervous about this one going in. Our actual experience that night was better than I could have imagined.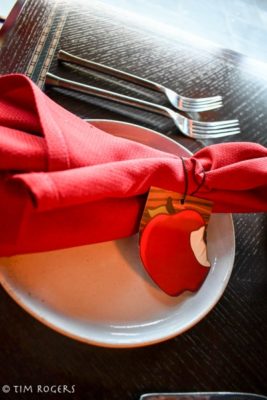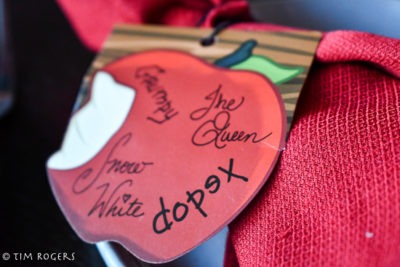 Upon being seated, our waiter, Sean (who was amazing), was telling us about the meal and experience. When we told him we were both vegetarian he immediately shifted into what our experience would be, because the staff at this restaurant had come up with interesting and fitting substitutions for the non-vegetarian dishes. I have been to enough "fancy" events where the vegetarian option is either to just not eat the meat or get a "salad" which consists of lettuce, so being at a nice meal where there is actual thought and care put into the vegetarian replacements was amazing. While this was my first trip to Artist Point, I think its previous existence as a signature "fine dining" location probably helped with the thoughtfulness of the current menu.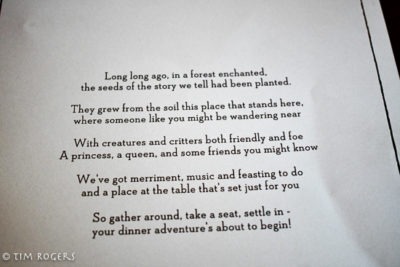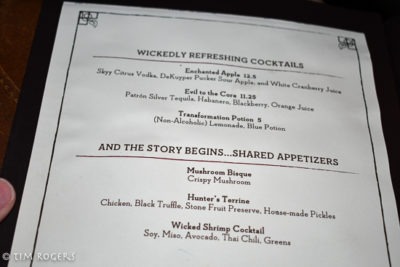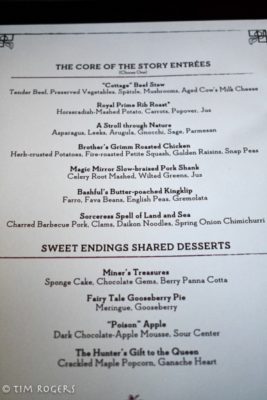 For the appetizer, we got the same mushroom bisque that everyone else did, but also got a vegetable spring roll with chili sauce, and a small "Impossible" patty with truffle oil and seasoning. I really enjoyed the soup, and we both love the spring roll.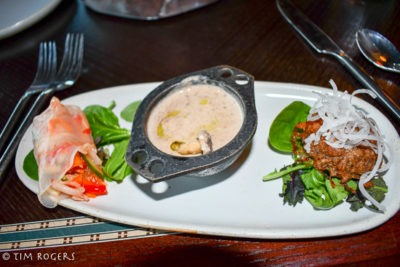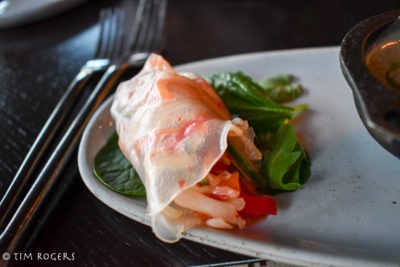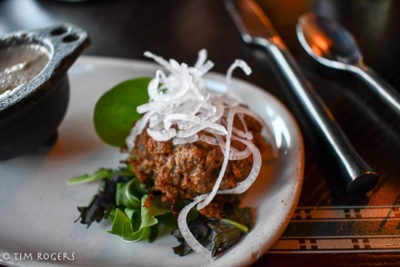 For me, I have never eaten meat and when I accidentally get served it generally makes me sick, so the new trend of plant-based products that are trying really really hard to mimic meat in texture and taste doesn't do anything for me. I tried a taste of it, could tell they did a good job with preparation and seasoning, and didn't want any more. When our server checked in on us, one of us mentioned that I just rejected anything resembling meat, and without missing a beat he offered to bring a tomato salad.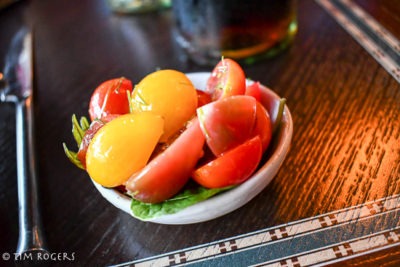 I wasn't expecting that at all, but it was tasty and delightful, and an example of the next level service I think of when I think of Disney.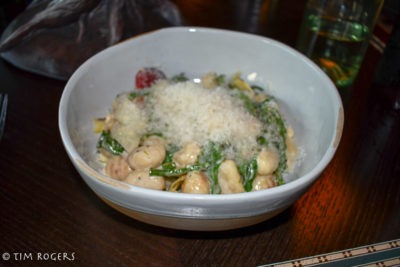 For the entrée, I got the listed option of "A Stroll Through Nature" which was gnocchi with various vegetables and cheese and was delicious. My wife ordered an unlisted option our server told us about, which was a fake "chicken" cutlet, and she enjoyed that as well.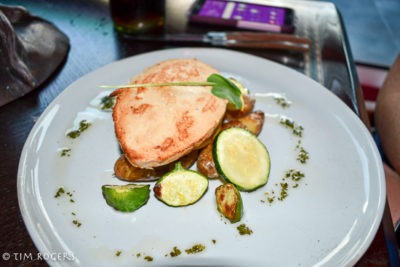 For vegetarian accommodation, the thing that impressed me the most was how they dealt with dessert. For the vegetarian meal, they also had options to remove or replace the animal by-products in the desserts, including lard in the pie crust, and gelatin in a few different settings. At this point, I am used to just making a decision about things like gelatin, so having a restaurant understand that, think about it, and have a dedicated option to replace it was incredibly impressive to me, even in the context of Disney.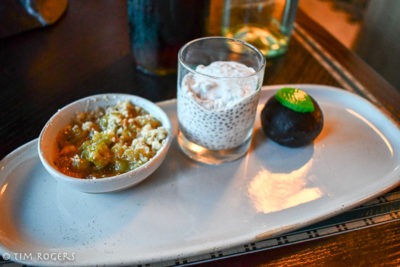 We ended up getting the gooseberry pie without the crust, what was called a "rotten apple" which was a chocolate brownie type thing, and a rice pudding. All of these were tasty. As we were talking with our server, we also asked about the Poison Apple, so he brought one of those too.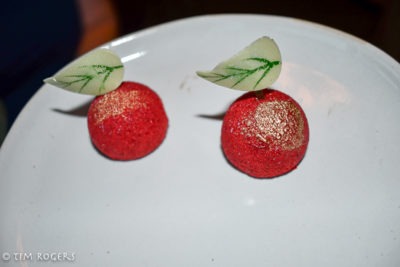 The glaze on this (and on the hearts in the Hunter's Gift to the Queen) both contain some gelatin, so they are not 100% vegetarian, but we were interested in how they would be presented so it was very nice of our server to bring us that in addition.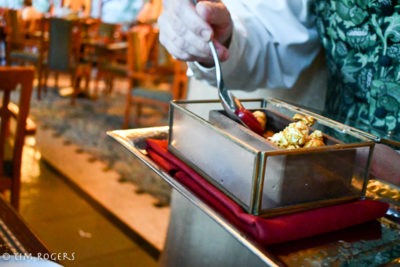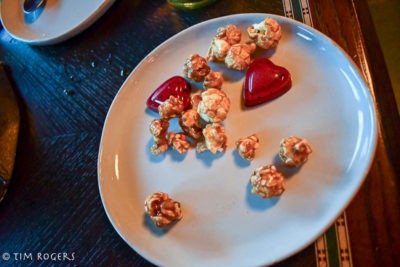 Speaking of the Hunter's Gift to the Queen, the popcorn was good and the presentation was fun.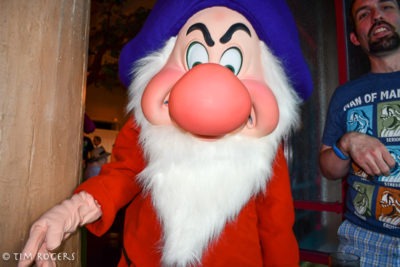 Going back to the characters, all of them were fun. Sometimes I can find face characters, especially the princesses, a little bit awkward to interact with, but Snow White was wonderful, and thought my shirt was very fitting for Grumpy, except that he looks happy when he gets pie.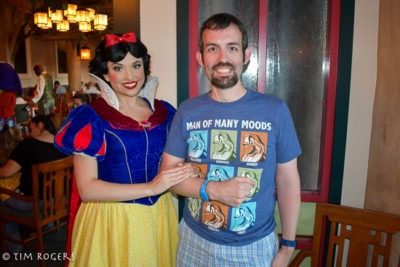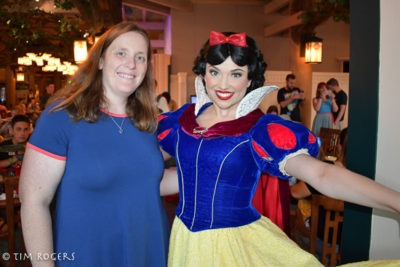 Both dwarfs were great, with Dopey being incredibly playful and silly, and Grump being hilariously surly. As a major Grumpy fan, I am very happy with how this turned out as a feature for him.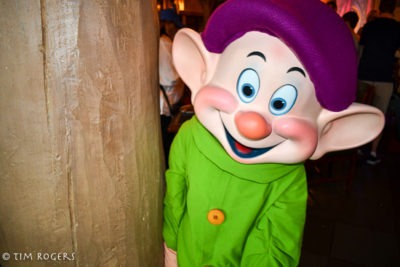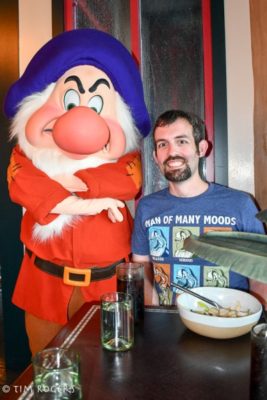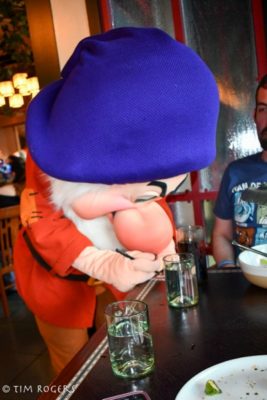 The Queen was also a fun meet, as many of the villains are. She also commented on my shirt and thought the display of moods was also fitting for her, so she and Grumpy had that in common.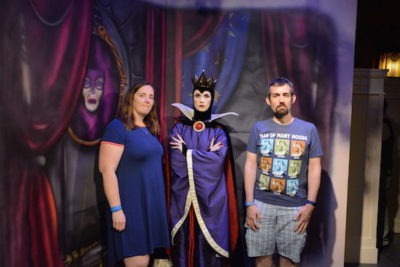 Overall, this meal was kind of designed for me. It's a unique character greeting you can't get elsewhere, and the food is interesting, unique and tasty. I will definitely be going back to Artist Point over and over again.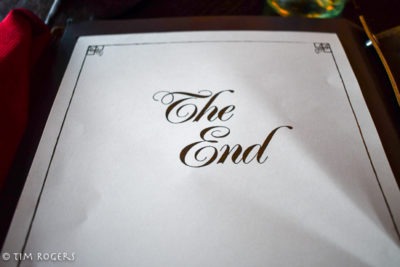 Have you experienced the new Storybook Dining at Artist Point? What were your thoughts of the meal? Let us know your thoughts in the comments, or on Facebook or Twitter!
Did you like this article? Make sure to share it with your friends! Check below for easy ways to share!
Want to visit the Walt Disney World Resort? Contact The Magic for Less Travel for more information and a free, no-obligation quote.

Incoming search terms:
https://www themouseforless com/blog_world/vegetarian-review-storybook-dining-artist-point/
artists point wilderness lodge vegan