This post may contains affiliate links for your convenience. If you make a purchase after clicking a link we may earn a small commission but it won't cost you a penny more! Read our full disclosure policy here.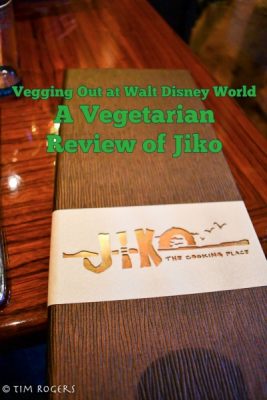 One of the things that first made me fall in love with the Animal Kingdom Lodge was a wonderful meal at Jiko several years ago. However, since that time, it just hasn't worked out to head back and try it again. When planning for our most recent trip, my wife and I wanted to make sure we were staying in Jambo House and thought it was the perfect time to head back.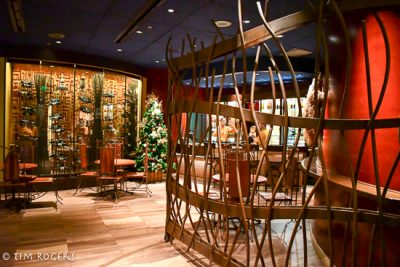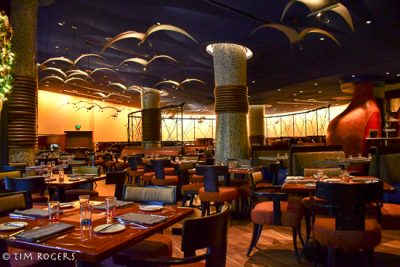 If you aren't familiar, Jiko is a signature dining restaurant in the lower level of Jambo House in Disney's Animal Kingdom Lodge (it is across the lobby from Boma). They are only open at dinner, and service might not begin many evenings until 5:30 p.m. or so (we actually showed up early and the restaurant wasn't open yet).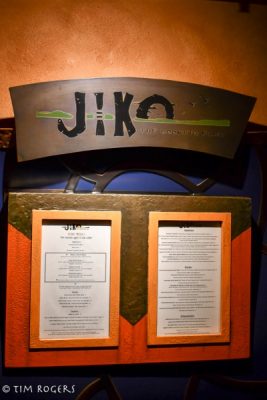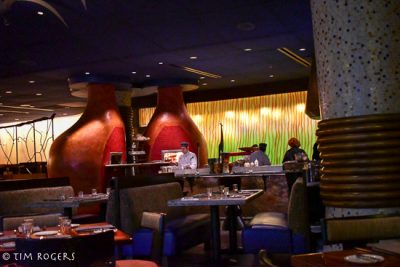 As to the experience, upon arriving at our table we had some cold mint tea, which I enjoyed despite not usually liking tea, and were offered warm towels for our hands, which were very nice during a cool winter evening. We were also served some sweet potato rolls, which were very good.
One of the reasons I appreciated Jiko so much was how much they cater to vegetarians. We remembered from our first visit that they had a vegetarian menu, and once we mentioned being vegetarian to our server, he brought those right out. While some places might denote items on their menu that are vegetarian, Jiko's vegetarian menu has options that don't even regularly appear. Having options at all is nice, and having tasty and interesting ones even more so.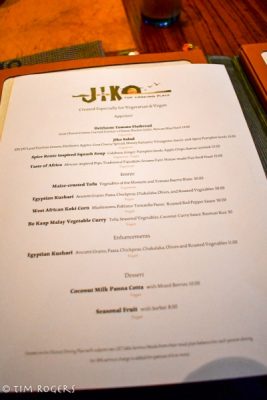 Before getting too deep into the food, I want to start by mentioning the wine. Jiko has an enormous wine list specializing in South African wines. When I couldn't decide what to choose, our server asked what I like, and after my response (basically sweet-ish whites) he recommended the Cederberg Bukettraube. I had never heard of Bukettraube before, and probably would never have tried it for that reason, but once again, Jiko helped me discover a new tasty wine, and more than that wine variety that I'll keep an eye out for in the future.
Back to the food – as an indication of how vegetarian friendly this restaurant is, before we told our server that we don't eat meat, he recommended one of the appetizers to use, that sounded very good. It was the Inguday Tibs in Brik, which is Mushroom, Spinach, Cheese in crispy Tunisian Filo, Apples, Curry Vinaigrette. As none of that sounds non-vegetarian we weren't sure why it wasn't included on the vegetarian menu. Our server instantly explained that it was fried in oil that they couldn't guarantee that they hadn't made indirect contact with meat.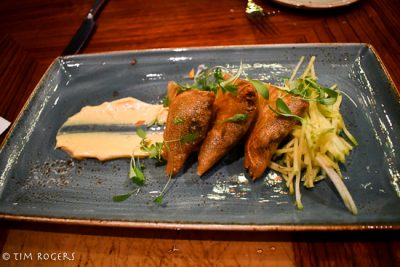 Depending on the situation, I will often avoid items that might have come into contact with meat, but many times, especially in restaurants, it is really hard to tell. That a restaurant pays attention to that, and is public about it, tells me a lot about how careful they are and how much they care about different dietary needs. We decided to try them anyway, but being given that as an informed choice says a lot about Jiko.
To the food itself, the Inguday Tibs were fantastic. It was well balanced, well seasoned, good crispiness, excellent sauce. Basically the whole thing was wonderful.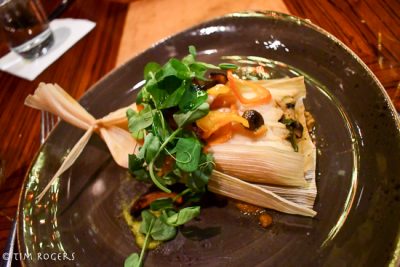 For our meals, I got the "West African Koki Corn." Essentially this was like a super fancy tamale with African inspired flavors. It was definitely tasty, but I wasn't expecting it to only be one kind of small tamale-esque thing. Maybe it is from all my time living in Texas, but it kind of seemed incomplete.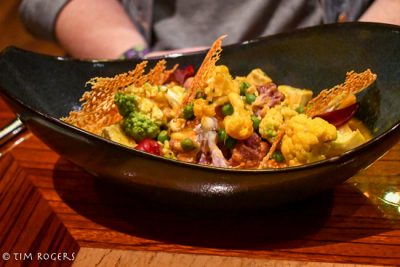 My wife got the "Bo Kaap Malay Vegetable Curry" from the vegetarian menu. This was tofu, vegetables, coconut curry, and rice and was delicious. There is also a seafood version on the normal menu if you are into that sort of thing.
Overall, we were once again very happy with our visit to Jiko. It is a beautiful restaurant with great options and great service, and all of that is as true now as it was when we first came. If I were to do anything different this time, I would either try one of the other entrees or, more likely for my interest, just combine several appetizers into a full meal.
Either way, the food here is great and if you are looking for a nice meal on that side of the property, definitely head to Jiko.
Have you tried Jiko? What were your thoughts? Let us know in the comments, or on Facebook or Twitter!
Did you like this article? Make sure to share it with your friends! Check below for easy ways to share!
Want to visit Walt Disney World? Contact The Magic for Less Travel for more information and a free, no-obligation quote.

Incoming search terms:
https://www themouseforless com/blog_world/vegetarian-review-jiko/
west african koki corn jiko