This post may contains affiliate links for your convenience. If you make a purchase after clicking a link we may earn a small commission but it won't cost you a penny more! Read our full disclosure policy here.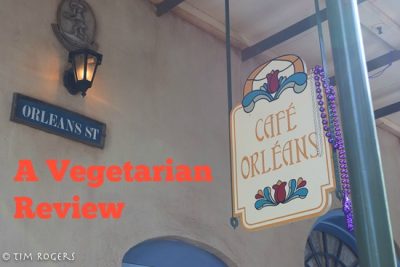 One of the things I was continually impressed by on my recent trip to Disneyland was the quality and originality of the dining options. As a vegetarian, especially one with a limited palate growing up, I became very used to looking for a single item on a menu to measure whether or not I could eat there.
While I have branched out since then (and restaurants as a whole seem to be more accommodating these days) it is still the case that a single item can draw me into a restaurant and make we want to return again and again.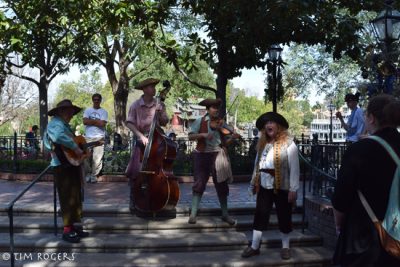 With that, we come to Cafe Orleans. Located in the New Orleans Square section of the Disneyland Park. Before getting to the food, I want to briefly advocate for hanging out in New Orleans Square. In the immediate area around Cafe Orleans, you can see, among others, Jambalaya Jazz playing New Orleans style street jazz and The Bootstrappers playing, for lack of a better term, folksy pirate music. While you wait for a table, this cavalcade of music will keep you entertained.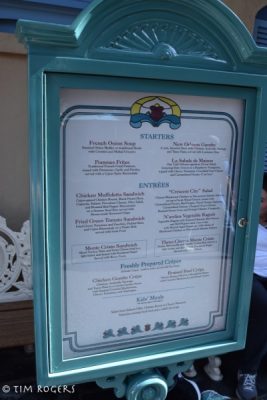 But to the food, in reading the Unofficial Guide leading up to this trip, one of the things I knew I wanted to get was the Pommes Frites. These are essentially fancy French fries, but officially "French Fried Potatoes tossed with Parmesan, Garlic, and Parsley served with Cajun Sauce Rémoulade." All that to say, they are great. If you just went to the restaurant, had these, and left you would probably be happy.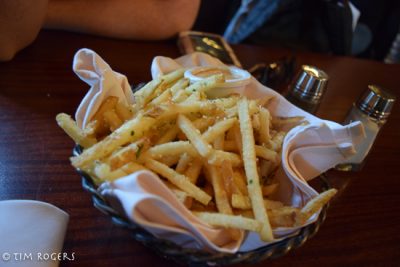 The menu item that really made us decide to go, however, was the Three-Cheese Monte Cristo. Traditionally, a Monte Cristo is a battered and fried sandwich with turkey, ham, and cheese. As such, I have never had one, and so when I saw a version here with Swiss, Mozzarella, and Brie I was excited. I didn't know what I was getting into, though.
By that, I mean, this sandwich was amazing. It comes with a side of berry purée (tasted like blueberries to us) and a dusting of powdered sugar and is enormous. We were initially debating whether to get two of these, and, luckily, only ordered one because we barely finished it between the two of us. It has great texture, great flavor, is sweet but not too sweet and overall is a great menu option.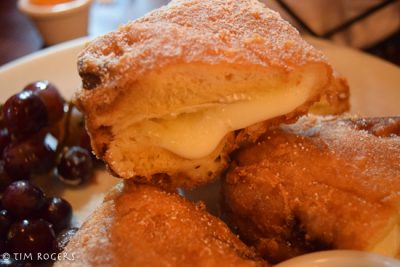 As our first real meal at Disneyland, Cafe Orleans set a high bar and is definitely worth a visit. I hope to head back again myself.
Have you dined at Cafe Orleans before? What were your thoughts? Share in the comments!
Did you like this article? Make sure to share it with your friends! Check below for easy ways to share!
Incoming search terms: