This post may contains affiliate links for your convenience. If you make a purchase after clicking a link we may earn a small commission but it won't cost you a penny more! Read our full disclosure policy here.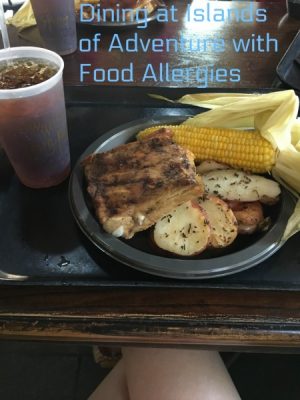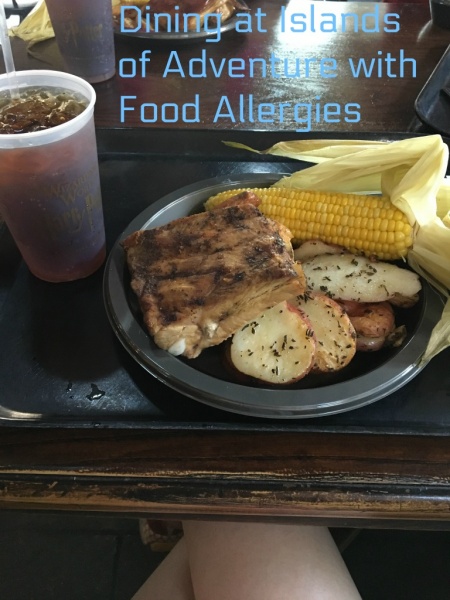 While Disney World is known for its food allergy and dietary restriction accommodations, Universal Orlando is also extremely accessible to those with food Allergies or other special diets. In a previous post, I discussed eating at Universal Studios with food allergies. This post will focus on Islands of Adventure.
Islands of Adventure Counter/Quick Service with Food Allergies
As discussed in my previous Universal Studios blog post, at counter services you will be given an ingredients list/allergy menu letting you know what your options are. This can be a bit complicated and time consuming when multiple food allergies are involved. If you are looking for the most safe options Three Broomsticks in Wizarding World of Harry Potter and the restaurants in Jurassic Park have the most options for gluten-free, dairy-free, tree nut/peanut-free, and egg-free. Most of these options are rotisserie chicken, ribs, and veggie based. The Jurassic Park restaurants had a safe (dedicated) fryer and gluten/dairy free bun options. As always, it's best to check the menus before you go.
Islands of Adventure Table Service with Food Allergies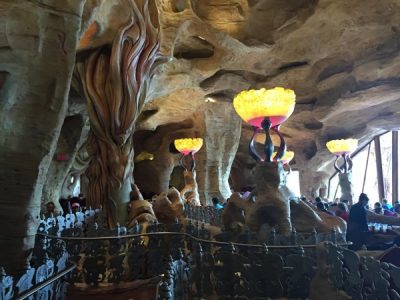 Mythos has consistently received good reviews and like a Disney Table Service you may request to speak to a chef. Additionally, they have a gluten free menu and several marked vegetarian/vegan items. If, like me, you have other food allergies, you will need to request to see a chef upon arrival.
Confisco Grille is the other table service restaurant and follows the same procedures.
Unlike Walt Disney World, these restaurants tend to have limited hours, so you may be better heading to City Walk or one of the resorts. Also, you should note your food allergies when you make the reservation and when you check in. I've had varied luck in the restaurants knowing about such restrictions in advance.
Islands of Adventure Snacks with Food Allergies
Snack options are a bit limited, but Top 8 Free Icees are available throughout the park. Another good option are the frozen lemonade/ices outside of Seuss Landing. Some of the candy at Honeydukes is free of certain allergens, but there are nuts, dairy, and other allergens used in both the in park and out of park packaging and factories. The candy store in Seuss Landing would have the same concerns. It is probably best to pack some emergency snacks or wait until you head back to the hotel for a break for snacks.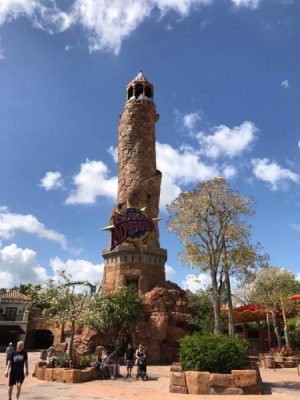 Islands of Adventure may require a bit more planning for those with food allergies or other dietary restrictions and your choices may be a bit limited. With a bit of pre-planning, however, you can have a safe and enjoyable day with several yummy options.
Have you dined at Islands of Adventure with a food allergy? What suggestions do you have? Share them in the comments.
Did you like this article? Make sure to share it with your friends! Check below for easy ways to share!
Incoming search terms:
gluten free at islands of adventure