This post may contains affiliate links for your convenience. If you make a purchase after clicking a link we may earn a small commission but it won't cost you a penny more! Read our full disclosure policy here.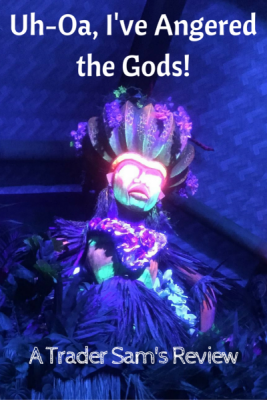 Let me start off by saying: I LOVE TRADER SAM'S!
I'm not a huge bar fan, but Trader Sam's Grog Grotto is so much more than a bar. It's a drinking experience.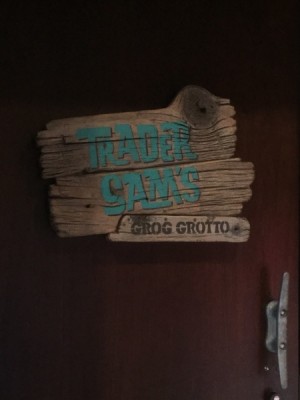 The entrance is a nondescript door in a back hallway that I walked past a few times during our stay at the Polynesian before I actually went looking for Trader Sam's. It's easy to find with the map, but if you don't know it's there, it's easy to breeze right past it. To me, this made it already feel magical, like a secret club that not many people know about.
When we entered I was absolutely blown away by the themeing. The Tiki Birds must have given Sam their decorator's number, because the Tiki touch was all around. It's dimly lit, accented with hanging lanterns, and "magic" windows. There's memorabilia all over the walls and plenty of references for the devoted Disney fan.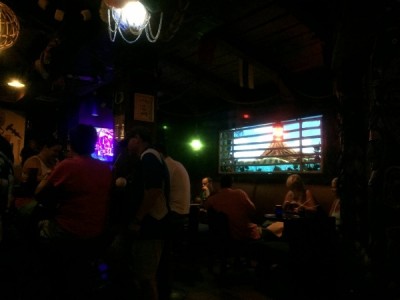 The room is small, but for me that went with both the theme and the secretive feel. The seating is comfortable, but be ready to share tables with other guests. That's one of my favorite parts about Trader Sam's, it's a shared experience that encourages you to get to know other people. If you have a larger group going you probably won't have to share seating, though it may be harder to find. Don't let the seating deter you. My husband and I saw so many people enter, look around, and leave because there weren't any empty tables though there were plenty of empty seats, including two at our own table. Eventually Jon and I waved two lovely ladies over to our table and encouraged them to sit with us. It was really nice getting to know them, swapping vacation tips and stories.
We started the night off by sharing a Nautilus (RIP 20,000 Leagues). It was delicious and the perfect size for splitting. It was sweet but not overly so. The mug is adorable, we took one home as our souvenir for that trip (it costs extra), and receiving the drink was pretty entertaining as well. Certain drink orders cause the bar to come alive, and this is one of them. We also got an order of the pot stickers to go along with it and they were very good.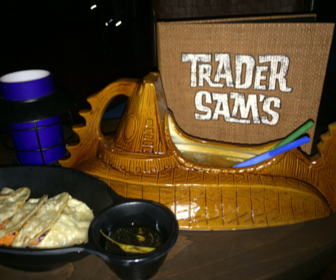 Later we shared the Uh-Oa! which was fruitier than the Nautilus and also cause a fun reaction. There's some participation asked of the guests, especially with this drink, and my recommendation is to go for it, full out. I had so much fun interacting with our server and enjoying the atmosphere. It was a very memorable date night, one I can't wait to repeat.
Trader Sam's is open daily 4pm-8pm for families, 8pm-midnight for adults 21 and up only.
Have you visited Trader Sam's Grog Grotto? What is your favorite drink? Share your thoughts in the comments.