This post may contains affiliate links for your convenience. If you make a purchase after clicking a link we may earn a small commission but it won't cost you a penny more! Read our full disclosure policy here.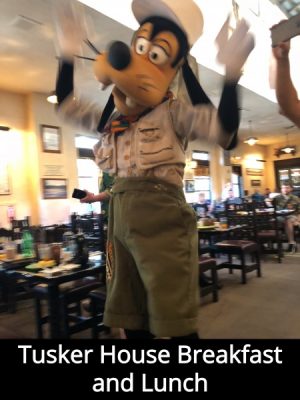 On my most recent trip to Animal Kingdom, I made my first visit to Tusker House.  I have to admit, that part of my reason for never trying out this restaurant was the description of African flavors.  As someone who isn't an adventurous eater, these two words kept me from putting it at the top of my must try list.
However, the breakfast menu seemed the least intimidating as it included several familiar items such as Mickey waffles, scrambled eggs, and assorted fruits.  But it also gave glimpses of some very unfamiliar items like a Ham and Cheese Frittatas and Sweet Plantains.  So when a reservation at 10:45 a.m. was available, I jumped on it, wondering if I would be able to eat both breakfast and lunch, since the posted time for the start of breakfast was 11 a.m.
Check-in Process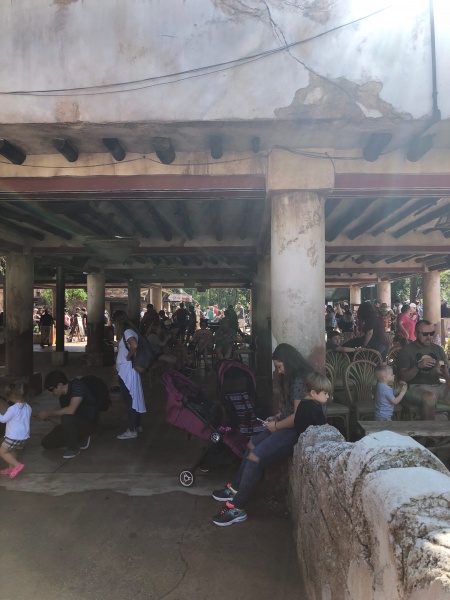 We checked in at 10:30 and waited for a few minutes in the shaded waiting area with our buzzer.
A Cast Member serving as the hostess called our name in just a few minutes.  One pro tip for your own visit it to make sure that you have your entire party there at all times.  A family in front of us was called and weren't able to be seated because part of the family was elsewhere in the park.
Our hostess walked us back towards the restaurant and gave us a brief tour and explanation of the food room.  She pointed out the various areas and then made sure to mention that the food would begin switching over to lunch items in approximately 30 minutes.  At that point, all the breakfast items would be relocated to the center area of the room.  The Cast Member encouraged us to eat items from both menus.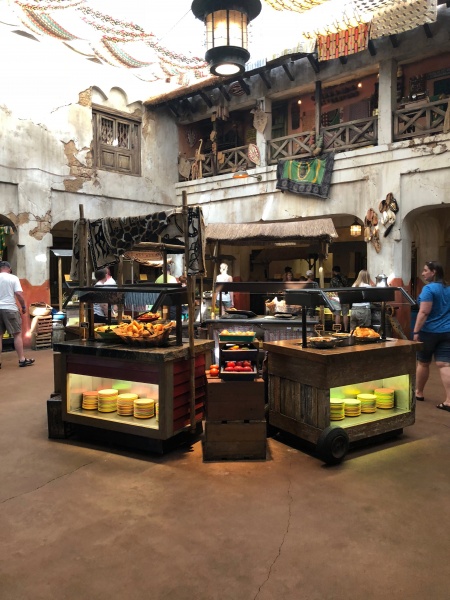 Breakfast
Afterwards, we were shown to our table.  And then we got to go eat.  I did a quick tour around the food room- literally the room where all the food items are at in Tusker House.  There are no people seated in this room.  I was thrilled at the variety of choices as I took in the options around the room.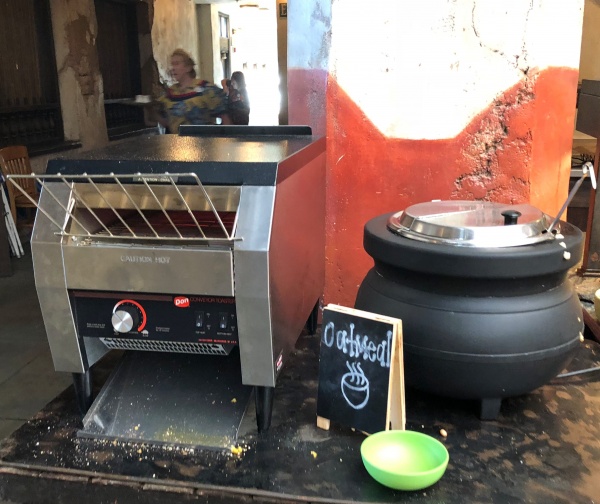 There was a large variety of the normal items.  I started clockwise around the room and noticed oatmeal, cereal, and bread items as the first three options.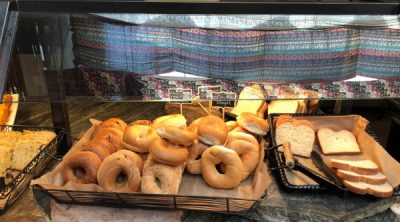 I continued my investigation of the available options and came upon some great fresh fruit and salad options, various potatoes, and a carving station with Rotisserie Ham.  You don't need to worry about picking up the wrong item or wondering what an item is.  All of the items are clearly labeled.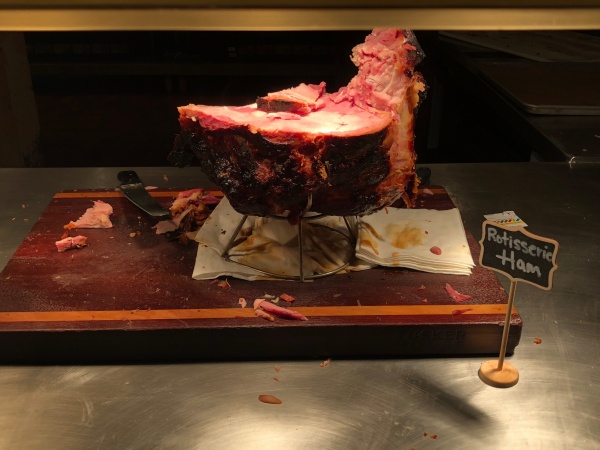 And as far as not being sure if you will like an item, since it was a buffet, I could take a small portion and not worry about it.  If I liked it, I could go back for more later.
Or so I thought.
Lunch
The switch over to lunch occurred between my first and second plate.  All of the remaining breakfast items moved from the outer part of the room to the inner part of the room.  Rotisserie Ham and other items that needed to be kept warm were gone or in the process of being removed.  While this was a slight disappointment, there were several additions that thrilled me.
One unique feature at Tusker House was the children's buffet which was positioned to be exactly their height added meat, cheeses, and pickles along with more of the items already available around the room.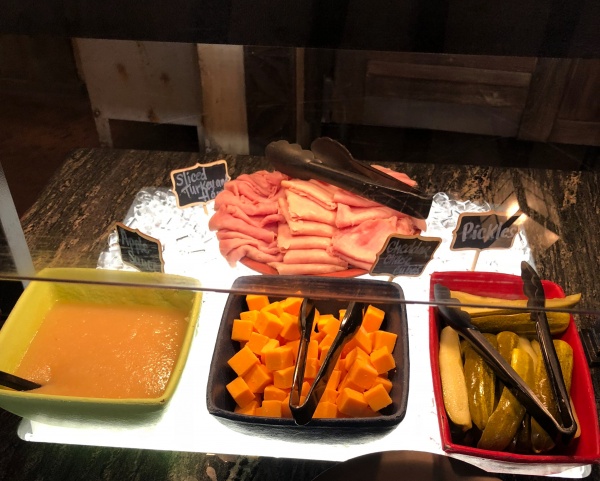 The other major addition was dessert.  While there were still donuts, coffee cake, and pastries at breakfast, the Chocolate Turtle Brownie and tarts were amazing.  I would go back to Tusker House just for the Raspberry Tarts (yes, they were really that great).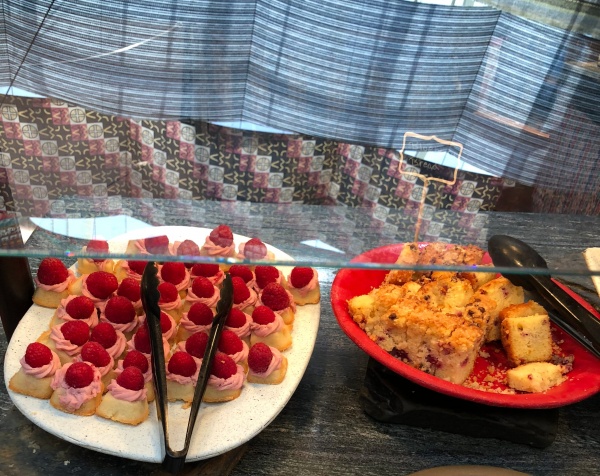 The other thing that happened as I was finishing up my meal was visits from Mickey, Donald, Goofy, and Daisy at our table and the parade of children through the restaurant.  It was especially nice to enjoy a relaxing meal while waiting for the character to come to me.  A Cast Member came through and checked to make sure that we had seen all of the characters at one point before our bill arrived.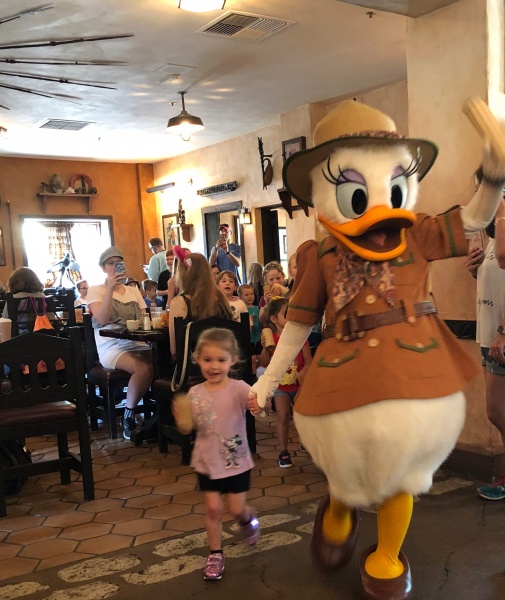 Breakfast or Lunch?
Would I visit Tusker House for Breakfast or Lunch again?  Quite simply, yes- but only if I could get a reservation that turned from breakfast into lunch.  For me, it was the perfect combination of adventurous but familiar foods.  This included breakfast favorites and some wonderful desserts on the lunch menu.  I also enjoyed the opportunity to have a meet and greet with Mickey and friends.  However, if I could only get a breakfast or lunch reservation, I would skip Tusker House.  Not because the food was bad but because of the excellent quick service options available at Animal Kingdom.  I would however, reserve a slightly earlier time so that I could have more time for breakfast before lunch starts.  But not too early because I want to make sure that I get some of those Raseberry Tarts.
Have you tried Tusker House yet? What were your thoughts?
What are your favorite frozen drinks at Walt Disney World? Share them in the comments, or on Facebook or Twitter.
Did you like this article? Make sure to share it with your friends! Check below for easy ways to share!
Incoming search terms:
https://www themouseforless com/blog_world/tusker-house-breakfast-lunch/