This post may contains affiliate links for your convenience. If you make a purchase after clicking a link we may earn a small commission but it won't cost you a penny more! Read our full disclosure policy here.
Have you ever heard of TSA PreCheck® or maybe even been randomly selected to receive this status when traveling by air?  In the past, we have noticed our boarding passes included this and we were allowed to use an expedited line at the airport.  We didn't even have to take off our shoes during the security screening process.  This past summer, with three round trip flights in six months ahead of us, I thought it would be worth looking into this TSA PreCheck®  Status a bit more as you cannot count on being randomly selected.
We would be flying to and from LAX (Los Angeles) International Airport, as well as MCO (Orlando) International Airport.  I hadn't been to LAX before, but we usually go through MCO twice a year and it's a very large airport.  Traveling with three young children can make it a little stressful when it's crowded and you're all trying to get through security.  And the thought of LAX just intimidated me, as I hadn't even been there and wasn't familiar with it to know what to expect.
Upon some quick research, I found that you could apply for the PreCheck® status for five years for $85. This would ultimately allow us to use the PreCheck® fast lane, keep items such as liquids (still within the 3 oz or less requirements) and laptops in our carry-on bags, and keep light jackets, belts, and shoes on.  I say "us" because both my husband and I would have to apply to take advantage.  Anyone over 12 years of age must apply for this status and receive their own Known Traveler Number (KTN).  Our children would be allowed to accompany us without their own KTN until this age.  For us, the price seemed well worth it.
I am super thankful that we have processes in place at airports to keep us and all travelers safe. I know this job must not be easy for TSA.   With that said, it can be stressful getting through those security lines with children who you are trying to keep your eye on, get all of your bags and strollers on the belt to be x-ray'd or wiped down, get your shoes and jackets off, and not hold up all of the anxious travelers behind you.  I always feel a giant wave of relief once we get through security with our children, bags, and belongings all together.  Basically, it seemed reasonable to pay $170 for the convenience over the next five years.
On August 5, 2016, my husband and I applied for TSA PreCheck® enrollment online at https://www.tsa.gov/precheck.  It took less than two minutes.  You do want to check to see how your name is displayed on the form of ID you'll be using.  For us, we were going to use our US Passports which include our middle names, so we needed to apply using those.  Once you apply, you are prompted to schedule an appointment for a background check and finger-printing.  We scheduled ours two weeks out when our schedules allowed.  The TSA website lists enrollment centers where you schedule your appointment and you make the appointment right there online.  I was able to schedule my husband and I ten minutes apart.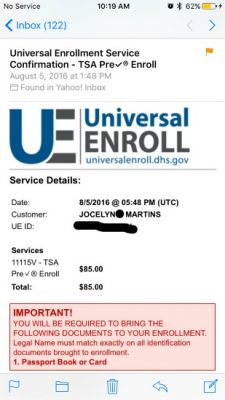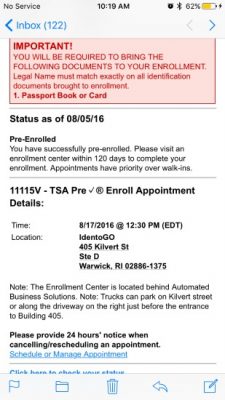 Email confirming application and instructions to make appointment
On August 17, 2016 we arrived a few minutes early to the enrollment center.  There was a very small waiting area and a few desks.  A woman took our names and told us to wait and we'd be called.  She also gave us each a single-sided sheet of information to read.  In about ten minutes, I was called back to a small office.  The gentleman there asked for my passport, took my picture (similar to how they do at the DMV), and scanned my fingerprints.  Oh, this was all after I paid the $85. 😉  Then I was excused.  I actually said, "don't you want to ask me anything? Know about my travel plans?"  He said no, if they needed to know more, they would contact me.  I was a little surprised by this.  My husband was called a couple of minutes later and was in and out just as quickly.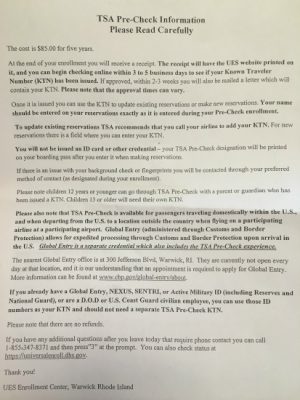 Reading material given in the waiting area
On August 21, 2016, which I want to note was a Sunday, I received an email stating that my eligibility for PreCheck had been approved.  It noted that I could go to the website and find my KTN under "check my status."  On the website itself, it stated that TSA had mailed me a letter that I should receive in ten days, but sure enough, my KTN was listed and I was free to begin using it. Oddly enough, I didn't get the same email for my husband and I started teasing him about any secrets he wanted to tell me.  After some internet searches, I found that it was not uncommon at all that one spouse receive it before the other.  He thinks it was because I was "seen" before 12:30 pm and he was seen after – wondering if the morning and afternoon appointments were processed in different batches.
In any case, his email came just five days later, in plenty of time to call our airline and add our KTNs to our upcoming flights.  We were also able to do this in our airline profiles online, but called the airline as well.  We also needed to update our reservations to include our middles names.  The name on our reservation must match the name the KTN was administered to.  Our airline customer service representative seemed familiar with the process and updated our names and all of our reservations.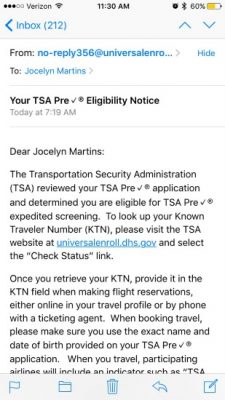 Email confirming eligibility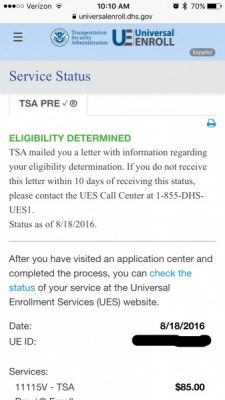 My Known Traveler Number (KTN) was available online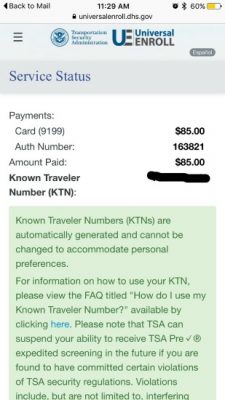 Overall, this was a very painless process.  We took a chance going for our appointments less than three weeks before our first scheduled flight but it worked out fine.  In fact, we recently went through the process for my dad and we made his appointment just a couple days after applying so from application to receiving his KTN was only six days!
The above reflects our personal experience with the process of applying for and receiving TSA PreCheck®.  It is not intended to be a comprehensive guide or explanation of what TSA PreCheck® stands for or how it will work for everyone.  
Have you applied for TSA PreCheck®? How was your process? Share your thoughts in the comments.
Incoming search terms:
https://www themouseforless com/blog_world/tsa-precheck-enrollment-process/
tsa precheck eligibility determined
what does eligibility determined mean for tsa
tsa precheck eligibility determined meaning
eligibility determined tsa meaning
tsa pre check status determined
TSA mailed you a letter with information regarding your eligibility determination
TSA mailed you a letter with information regarding your eligibility determination If you do not receive this letter within 10 days of receiving this status please contact the UES Call Center for assistance
tsa precheck status
ELIGIBILITY DETERMINED tsa