This post may contains affiliate links for your convenience. If you make a purchase after clicking a link we may earn a small commission but it won't cost you a penny more! Read our full disclosure policy here.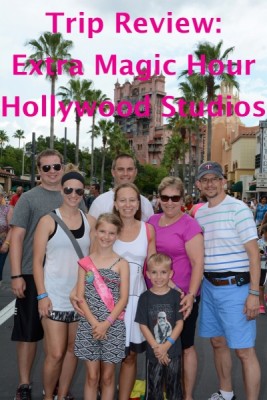 This is a trip review of our Extra Magic Hour at Disney's Hollywood Studios but first some background information.  This was a Walt Disney World vacation to remember. My husband and I along with our daughter (9), son (6), my parents, sister and brother-in-law all headed down in June for a Disney-themed celebration for two birthdays and a graduation from college.  We stayed at Disney's Caribbean Beach Resort, had park hopper passes as well the Disney Dining Plan (1 table service, 1 quick service, 1 snack per person per day).  Our first day we spent the evening at Epcot taking in a few rides, supper at Sunshine Seasons and walking around the World Showcase.  Animal Kingdom is where we spent our first full day.  We had FastPasses (FP+) for Expedition Everest, Kilimanjaro Safari, and Dinosaur and enjoyed our first table service meal at Tusker House.  Extra Magic Hours at Hollywood Studios is where we spent the next day of our vacation.  Here were our experiences.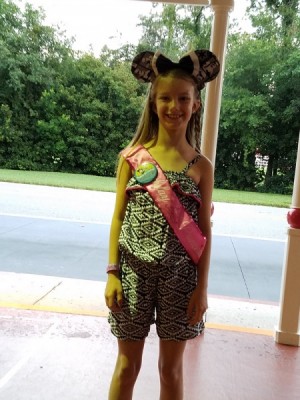 Up Early For Bus
My husband and I took our kids and met my parents bright and early at 6:30 a.m. for the bus to Hollywood Studios which was opening at 8:00 a.m. to Disney resort guests for Extra Magic Hours.  My parents hadn't experienced this perk, my sister and her husband decided to join us a little later and from our past experience my husband and I wanted to make sure we took advantage of this extra hour.  We were able to get through security, head to the bathroom and take some pictures before the park officially opened.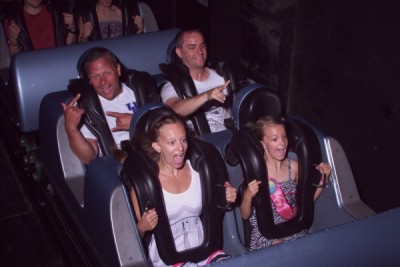 Loving Rock n Roller Coaster
Our goal going into the morning was to ride Rock n Roller Coaster as well as Tower of Terror as many times as possible before heading to other parts of the park at 9:00 a.m. when the park opened to others.  We decided to head right to Rock n Roller Coaster because we didn't have a FastPass+ for it so we wanted to make sure we got this done early on in the morning to avoid long lines.  We were able to get a rider swap for our son and my husband, Grandma and daughter (she is our daredevil) all headed to ride stand-by.  Grandpa decided to stay with our son so I quickly headed to my favorite ride Tower of Terror.  At this time, my sister and her husband came and they were able to walk on Rock n Roller Coaster along with my husband and daughter who decided to ride it again quickly.  Everyone had now had their fill of Rock n Roller Coaster so we headed over to do stand-by on Tower of Terror.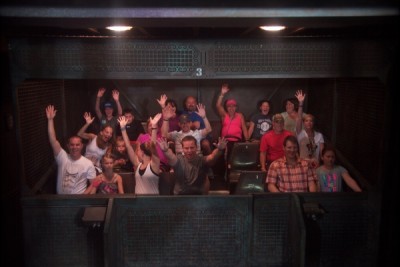 Not 100% Sure
This is one of the main rides our son was not excited for; however, our expectation was that he had to try everything one time.  He wasn't happy at all about it but we made it through even though he had tears.  Our daughter, who is a complete thrill seeker, wasn't too sure about this ride.  It wasn't the drops but the holograms used throughout that made her uncertain.  She wasn't really sure about the people and what happened to them.  This just reminded me that you never know what will cause kids to be unsure when it comes to rides or shows.
We still had a rider swap for Rock n Roller Coaster from earlier on, so I headed over with my husband and daughter while everyone else waited and took a quick break.   With the rider swap, you are able to take two additional people with you through the FastPass line.  This went really fast and we were in and out in a flash.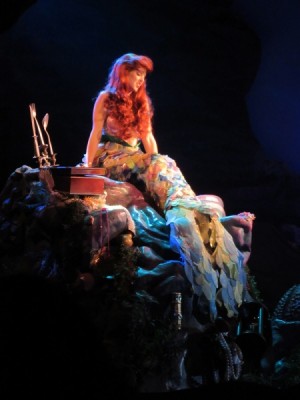 Voyage of the Little Mermaid
At this point the park had opened to everyone so we headed towards The Voyage of the Little Mermaid to get out of the sun and relax a little as well.  This is a classic and although our kids are still scared of Ursula, we really enjoy this show overall.  The singing, puppets and special effects are a fun way to bring this great story to life.
Star Wars Launch Bay
As we came out of the Voyage, we were right near Star Wars Launch Bay, so I flexed (I know right) and we headed in.  Although I am not a huge Star Wars fan, this was really neat to see and it also fun to watch my husband, brother-in-law and dad all become little kids again as they looked at all the amazing Star Wars memorabilia.  We didn't meet Kylo Ren or Chewie which is also an option for those that are huge Star Wars fans.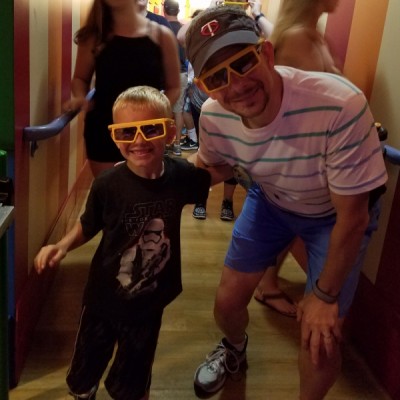 Toy Story Mania
Our first FastPass+ was coming due so we headed to Toy Story Mania.  Our kids remembered this ride from when they came at the ages of four and two so they were extremely excited to try it again.  It is a fun ride to do as a family as everyone can compete against one another.
At this point it was around 10:00 a.m. and we had accomplished not only the three main rides at Hollywood Studios but had also taken in a few bonus features.  It was time for a ice cream break.  We learned during our last two trips to make sure you use your snack credits early on as we always seemed to have some left over on previous trips.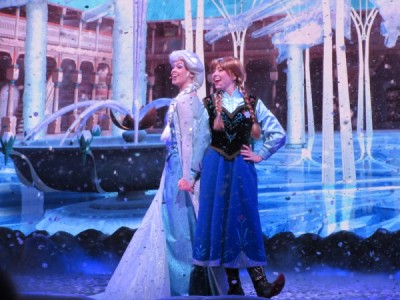 Frozen Sing Along
Following our quick break, it was time to split up for our next FastPass.  My husband and brother-in-law headed to Star Tours where the rest of us went to Frozen Ever After.  We had not seen this new show and being able to watch our daughter and other kids around us sing their hearts out was what Disney is all about.  It was absolutely magical.  If you have a Frozen fan or a princess in your family I highly recommend this show as it seats a lot of people, is air conditioned and is just overall fun.
Lunch was next and we ate at Backlot Express.  I feel like it is one of the downfalls of Hollywood Studios is that they don't have a lot of food options and a lot that they do offer is outside seating which we aren't a fan of in the summer months at Disney.  We took some time to relax and enjoy our food which was a combination of burgers and chicken nuggets.  As we were close to Muppets 3D, we decided to head there and cool off some more.  This show has a lot of work that could probably be done to it in my opinion, but it is still a classic that we see at least once a trip.  Our kids get a kick out of the hecklers and the silly special effects.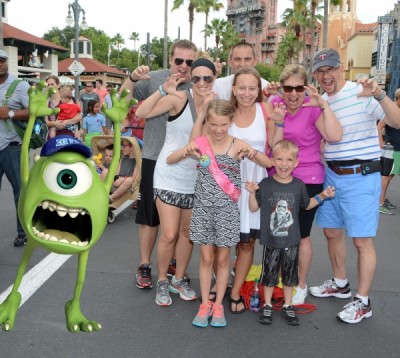 Real Monsters
A quick picture in front of Tower of Terror before a few of us headed back to ride with our FastPass.  This was our last adventure of the day before heading back to the resort of a nap and a quick swim.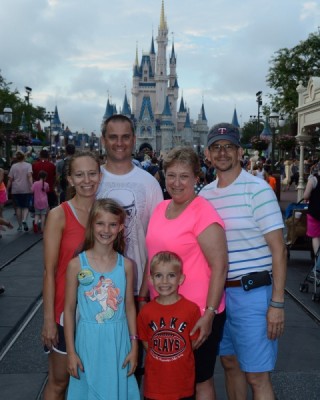 Back to Magic Kingdom
We headed back out around 4:30 p.m. to Magic Kingdom where we tend to spend the majority of our evenings as it offers so many options for food and for entertainment.  We did a few rides such as Magic Carpets and Pirates of the Caribbean before eating a delicious meal at Pinocchio's.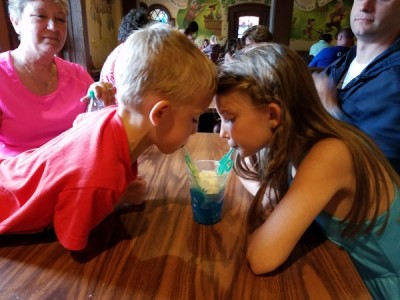 Getting along
I snagged a quick FastPass+ for my daughter and husband to ride Under the Sea while the rest of us walked around the new Fantasyland section of Magic Kingdom as my parents had not seen it yet.  It was a nice relaxing evening and a great way to wrap up our day.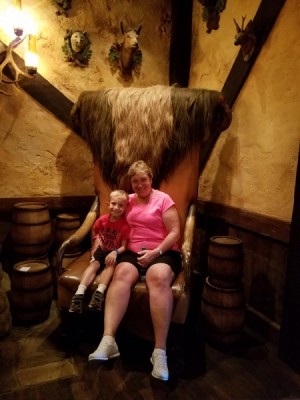 Hanging Out at Gaston's
Extra magic hours at Magic Kingdom and a lunch at Cinderella's Royal Table would be our next day's adventures.