This post may contains affiliate links for your convenience. If you make a purchase after clicking a link we may earn a small commission but it won't cost you a penny more! Read our full disclosure policy here.
As Disney's Hollywood Studios prepares for Star Wars Land and Toy Story Land, more and more fan favorites are being closed down in order to make room for new attractions.  To make way for new additions, areas located near the Streets of America are being closed in anticipation for new experiences.  Recently the action packed show Lights, Motors, Action! was announced that it would be closing down as part of this process.  We will take a quick look at what made this show a nonstop thrill.
Scene from Car Race
Originally from Disneyland Paris, this 25 minutes stunt show allowed guests to become part of the movie making process.  In Disney's Hollywood Studios, guests could see this show performed two to three times a day in a 5,000 seat grandstand.  So why did guests enjoy this show so much?  There are a few reason that I believe that made this a must-do when visiting the park.
The first reason I feel a lot of people headed to this show was because of the accessibility it had.  At 5,000 seats, spots were usually relatively available to those wanting to sit down and get away from the hustle and bustle of the park without leaving.  This show was an easier seat to come by, I felt, compared to Indiana Jones and Beauty and the Beast which is why we always used it as our sit-down show for the day.  I didn't feel like we needed a FastPass for it, or had to be there super early to get a good seat.  Lights, Motors, Action! gave people the opportunity to sit and be entertained without the stress of some of the other shows in the parks.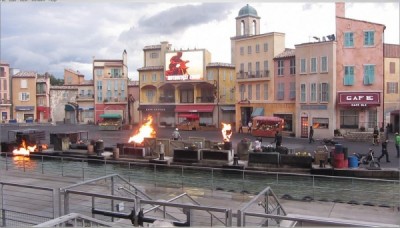 End of High Speed Chase
The main reason that this was a fan favorite however is because of the tire squealing, flames soaring, and non-stop action it provided to the audience members.  Audience members were taken on a non-stop, action-packed journey where villains in cars and motorcycles at amazing speeds hurtled over trucks and escape dangerously close crashes.  This excitement kept audience members on the edge of their seats in anticipation of what would happen next and in fear that something might go wrong.   Watching these death-defying stunts is a thrilling experience for audience members that brought people back over and over again as every show was one of outstanding precision and skill.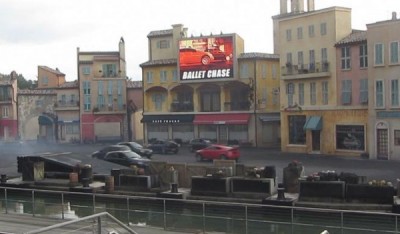 Amazing Drivers
Another reason that guests enjoyed this show was it allowed them to be part of the movie making experience.  Throughout all the excitement, filmmakers on set explain and demonstrate how they use the footage of the stunts in a scene from a movie.  These moments gave audience members a sneak peak at movie magic and how it all comes to life.  For those movie lovers this was a fun way to feel apart of the experience.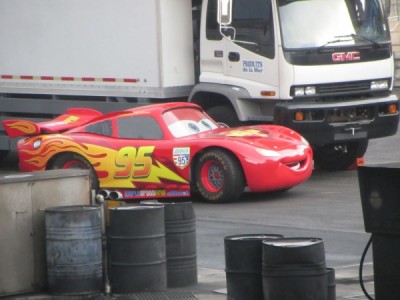 Lightning McQueen
Finally, don't forget everyone's favorite car Lightning McQeen who makes an appearance with his good friend and trusty sidekick Mater.   I'm not sure if this a top reason why people visited this show, but it sure was an added bonus for a lot of parents and kids alike.  Being able to see these two working together on set was a fun additional to the show.
Even though Lights, Motors, Action! wasn't a number one attraction at Disney's Hollywood Studios like Tower of Terror or Toy Story Mania was,  the action packed excitement will be missed by many guests at Disney's Hollywood Studios; however, knowing Disney, there are bigger and better things on the horizon which one can only dream about.
Will you miss Lights Motors Action! Extreme Stunt Show?