This post may contains affiliate links for your convenience. If you make a purchase after clicking a link we may earn a small commission but it won't cost you a penny more! Read our full disclosure policy here.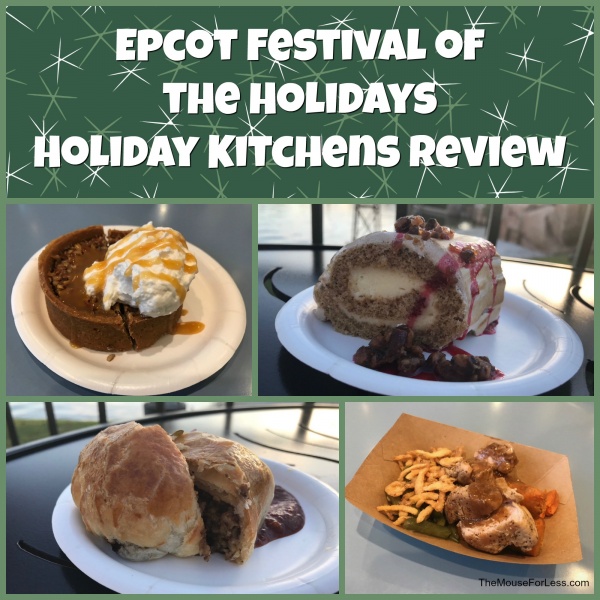 I was recently in Walt Disney World to celebrate the holiday season and was quite intrigued by the new Epcot Festival of the Holidays. Sure, it's just a name change of the Epcot Holidays Around the World and it included a bit of an expansion, but there's something so festive about experiencing Epcot around the holidays season, no matter what the event is actually called.
So, during the Epcot Festival of the Holidays I got to see some of the fantastic holiday performers, enjoy the sights and sounds of the park, and yes, I even managed to partake in a few of the food items served at the Holiday Kitchen kiosks which are located around World Showcase. These kitchens share with Guests some of the holiday-inspired tastes from many of the countries found in Word Showcase, from tamales from the Las Posadas booth in Mexico, to the cheese fondue found at the Bavaria booth in Germany, to the various cookies at the Cookie Nook in the Festive Center. There really is something for every taste.
While I didn't have the stomach space to enjoy something from every single booth (plus, I'll be in Epcot around Christmas proper too, when I'm hoping to try some more delicious items) I did want to share with you the few things that I did try, just in case you were heading to the park. That way you could figure out a head start on what to enjoy and what to pass on.
First things first, I made a stop at the Yukon booth located near Canada. I tried two of the treats from this booth.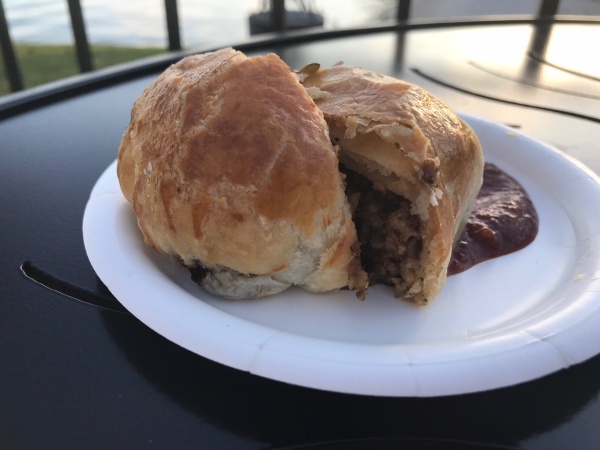 First, I wanted to try the Traditional French Canadian Tourtiere with Canadian Ketchup. This was kind of like meatloaf wrapped in a flaky pastry. Adding to the meatloaf feel with the special ketchup that accompanied it. Now, this wasn't your every day ketchup. Instead it was richer in color and in flavor. It paired with the meat pie wonderfully. I very much enjoyed this dish.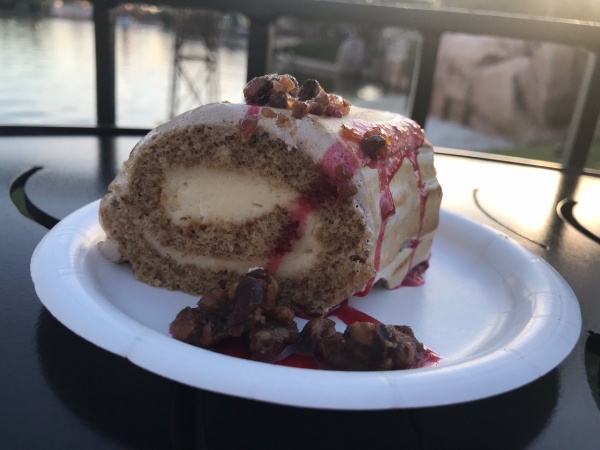 The next thing I tried was the Maple Bûche de Noël: Maple Mousse rolled in Gingerbread Chiffon Cake with Cranberry Sauce and Pecan Crumble. This was fantastic. It tasted like Christmas! The cake was moist and had a fantastic gingerbread/cream cheese flavoring. Oh and the pecans were incredible. They had that perfect sweet crunch that you look forward to.
I then moseyed my way over to the American Holiday Table booth.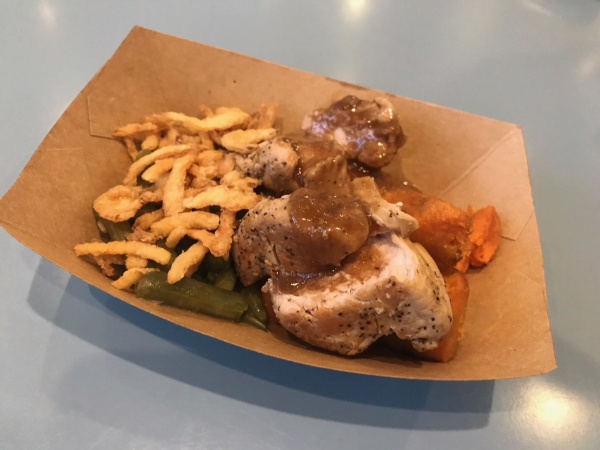 First thing I tried was the Seared Pork Tenderloin with Green Bean Casserole, Roasted Sweet Potato Wedges and a Champagne Demi-Glace. This was awesome. The dish was quite plentiful. The pork tenderloin was tender and the sauce was perfect. I also enjoyed the green bean casserole, which wasn't that soupy mess, but more green beans with crunchy onion straws on top. The sweet potatoes were also a nice addition. Again, I would absolutely get this again and wish that it would be something that they could serve at Liberty Inn at the American Adventure Pavilion. (Seriously, if Disney could sell some of these items and some of the barbecue items that it serves up at other festivals, the Liberty Inn would be such a force to be reckoned with as a dining option….instead, it's lack-luster burgers and ok hot dogs.)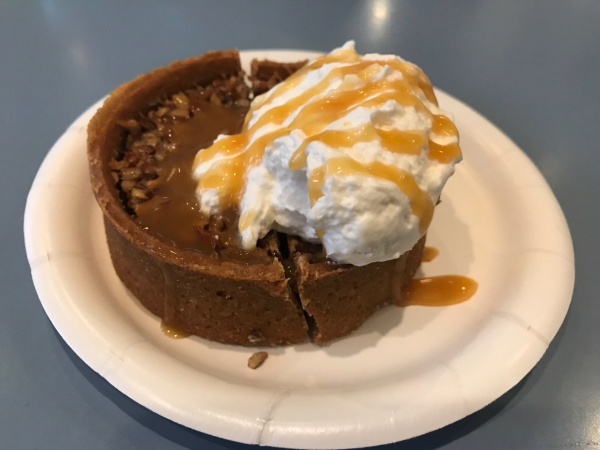 The second thing I got from this Epcot Festival of the Holidays booth was the Chocolate Pecan Tart with Whipped Cream and Caramel Sauce. This was the only miss that I had from the booths. I thought that there wasn't much chocolate flavoring. In addition, the tart was kind of hard to chew—kind of gummy, but not in a good way. I had expected a lot more from this.
My first go around with the Epcot Festival of the Holidays was a success and I cannot wait to take a second pass over Christmas!
What things have you tried at this year's Epcot Festival of the Holidays that I need to try? Share your suggestions and why in the comments.
Did you like this article? Make sure to share it with your friends! Check below for easy ways to share!