This post may contains affiliate links for your convenience. If you make a purchase after clicking a link we may earn a small commission but it won't cost you a penny more! Read our full disclosure policy here.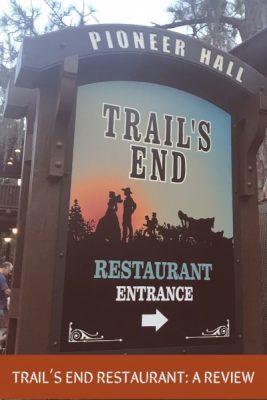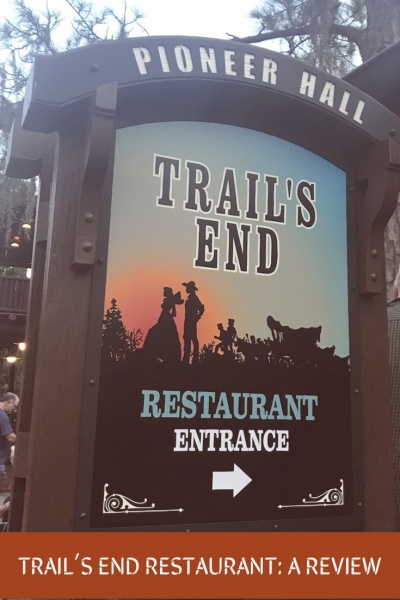 Fried chicken, macaroni and cheese, shrimp cocktail; these foods are all better when they're unlimited! Considered a Walt Disney World dining "hidden gem," Trail's End Restaurant boasts an impressive buffet, and almost always has Advanced Dining Reservations (ADR) available. I recently visited Trail's End Restaurant for their dinner buffet as part of an early Father's Day celebration, and I'm bringing you my review of our experience!
The Ambiance
Head to Fort Wilderness Campgrounds, pass by the Hoop-De-Doo Musical Revue, and you'll find this hidden gem, identifiable by an unassuming sign.  This restaurant is truly no frills; decorations are rustic, including mason jars, exposed wood beams, and more than one washboard. While not entirely my style, it was the perfect spot to celebrate Father's Day; my dad loves the rustic vibe, and definitely loves the unlimited barbeque! We checked in about 15 minutes before our reservation time, and were seated about 20 minutes later, just shy of our 6:25 p.m. reservation. Our server gave us the run-down of the restaurant: we chose our complementary non-alcoholic beverages (sodas and coffees) and were sent off to start feasting!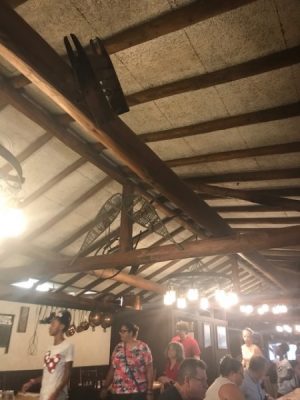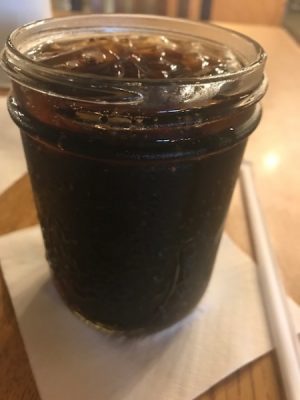 The Buffet Line                
While this restaurant used to have two buffet lines, they've reduced it to one, so the lines for food were a bit on the longer side, but tended to move quickly. Designed in a horseshoe layout with desserts on an island in the middle, we progressed from soups to chilled foods, to fried chicken, to a carving station. A chef was busy refreshing items on the buffet line throughout our entire visit, and all foods were fresh and delicious!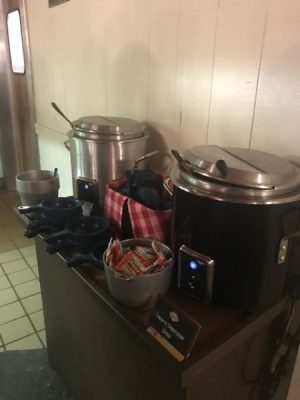 Soups and salads were up first: chili and a soup of the day (hearty vegetable, during our visit) are first on the line, followed by a selection of green salads, applesauce, coleslaw, potato salad, and shrimp cocktail. While I could've filled an entire two plates on the cold options, alone, I saved room on my plate for some warm offerings, as well!
A must-have for me is the cornbread (pro tip: head to the dessert bar to grab some honey butter for on top!); it was sliced in large portions and was fresh and delicious! Buttery corn, a root vegetable medley, a pasta of the day (pesto and goat cheese!), and the famous macaroni and cheese are up next. Yes, I went back for seconds of all of this!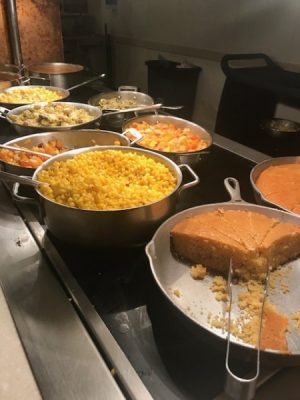 The real star of the show here has to be the fried chicken. This is the same chicken served up next door at the Hoop-De-Doo, and it does not disappoint! Hot, crispy, and constantly being fried up, this chicken is a must! Mashed potatoes, gravy, and salmon were also available at this section of the buffet. Is it wrong to fill up an entire plate of fried chicken? I'm just asking for a friend!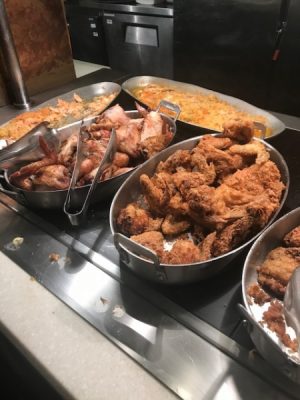 My dad's favorite part of the buffet was the carving station. Brisket, pulled pork, baked potatoes, and (for some strange reason) pizza occupied this section. At the end, you'll find fixins' for your potato, like butter, sour cream, and cheese.
For dessert, an assortment of options were available, most notably being the strawberry shortcake! Pound cake topped with strawberries and fresh whipped cream is always the right choice! Fresh banana pudding, apple cobbler, and assorted pastries also caught my eye! If you're looking for something fresh, apples and oranges are available, as well.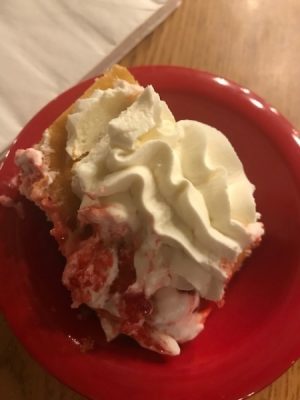 Our Thoughts on the Food
We all agreed that the food was fantastic! The food was all hot (or cold, if appropriate!), fresh, and delicious. Though the lines were long, we were still able to go up for seconds (and thirds, in my dad's case!). As I mentioned before, a chef was constantly checking the buffet line to ensure everything was at the appropriate temperature and nothing was running low. The stand-outs for our family were the fried chicken (of course!), the macaroni and cheese, the cornbread with honey butter, and the carving station. We found the dessert bar to be good, strawberry shortcake definitely being the star, but we agreed that the savory entrée options were more impressive. We will absolutely be back, but not for a while, since we're all still full!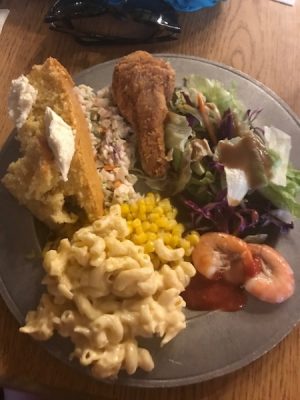 P&J's Southern Take Out
Attached to the buffet line is a take-out location, which I thought I'd mention. Though not technically Trail's End, this grab and go spot is located inside, and offers a great selection of meals, snacks, and more. If you're staying at Fort Wilderness or would prefer to dine outside, this location offers moderately-priced fried chicken, sides, sandwiches, and more.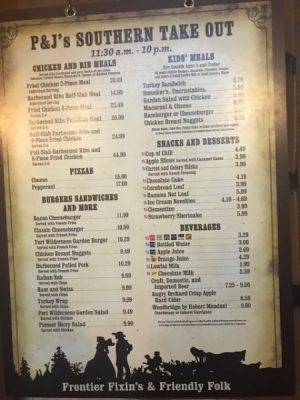 Have you visited Trail's End Restaurant? Let us know your thoughts in the comments, or on Facebook or Twitter.
Did you like this article? Make sure to share it with your friends! Check below for easy ways to share!
Want to visit Walt Disney World? Contact The Magic for Less Travel for more information and a free, no-obligation quote.
Incoming search terms:
trails end buffet
when did trails end wdw open