This post may contains affiliate links for your convenience. If you make a purchase after clicking a link we may earn a small commission but it won't cost you a penny more! Read our full disclosure policy here.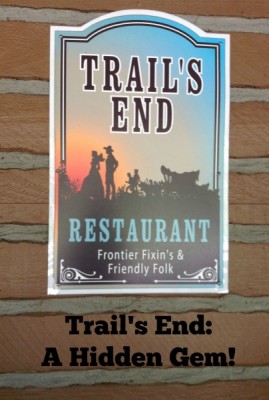 The Trail's End Restaurant, located at the Walt Disney World Fort Wilderness Campground and Resort, is not a dining location you hear about often.  As the restaurant's name suggests, it's a little off the beaten path for many Walt Disney World Guests.
We discovered this hidden gem a couple of years ago when we enjoyed lunch there as a break from the heat during a Magic Kingdom day.  We were blown away by how much we liked the food and atmosphere!  On our recent trip, we gave the dinner buffet a try.  It was one of our favorite meals!
Getting There
Getting to Trail's End is half the fun!  If you are not staying at Fort Wilderness, I suggest booking your Advanced Dining Reservation for a Magic Kingdom day.  You can take a boat from the Magic Kingdom to Fort Wilderness, and the restaurant is a short walk from the boat dock.  There is also bus service to Fort Wilderness from all parks, though that would take you to the opposite end of the campground and you would use the internal bus system to get to Trail's End.  We opt for the boat because it's fun and the dock has a convenient location.  For us, the boat does count as an "attraction!"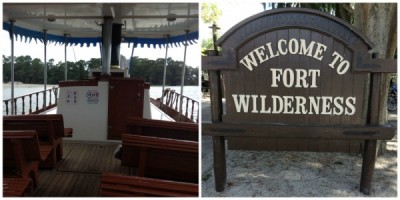 Fun Before Dining
This is a dining location to which we purposefully arrive early!  If you are taking a break from a park, there is no better place to relax.  My kids love the tetherball opportunity on the beach!  Younger kids will enjoy blowing off some steam at the playground.  All ages can enjoy the front porch with comfortable chairs and games such as checkers and hoola hoops to relax and entertain.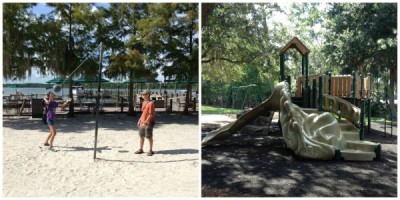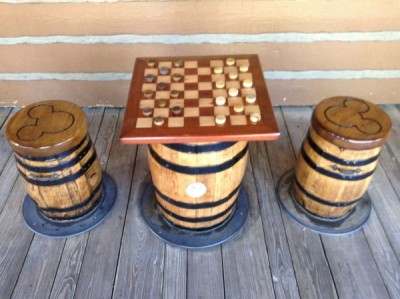 A short walk past Trail's End leads you to the Tri-Circle-D Ranch, where the horses that work at Walt Disney World live.  This is a nice place to visit!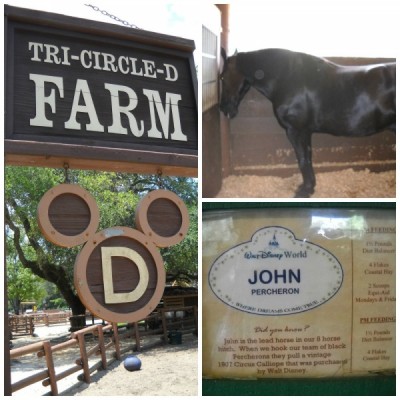 Atmosphere and Food
The restaurant has a comfortable frontier style setting, and the casual atmosphere makes for a relaxing dining experience.  Service was great, and our drinks were refilled promptly.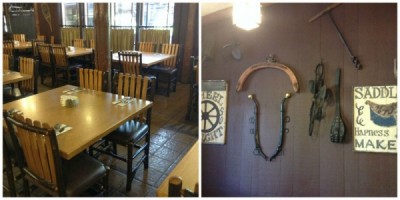 Every buffet item we've sampled here was top notch!   There are plenty of salads and cold items as well as hot side dishes.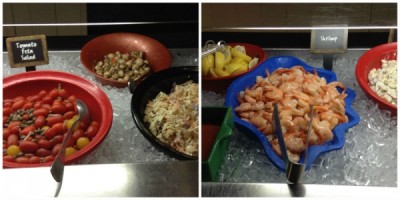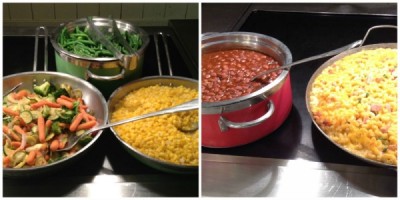 The meat selection is a good one and includes fried and baked chicken, barbecued ribs, salmon, and beef.

A baked potato bar is a nice option to have at a buffet!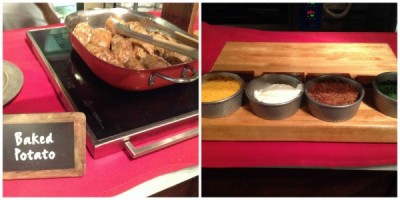 Desserts are plentiful!

For my plate, I decided to go picnic style in my selections!  I picked small samples of fried chicken, barbecued ribs, macaroni and cheese, mashed potatoes, green beans, cucumber salad, coleslaw, and potato salad.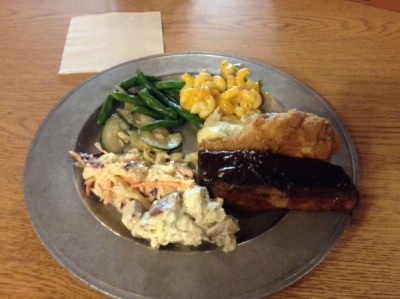 The chicken and ribs are the same as what is served at the Hoop Dee Doo Musical Revue, and were as delicious as always!  The salads were nicely done.  I was impressed with the macaroni and cheese!  In addition to the typical plain macaroni and cheese found at other buffets, there was an adult friendly macaroni and cheese with spices and ham added to it.  I found it to be quite flavorful!  My only dessert was a slice of watermelon, but the kids enjoyed the sweeter offerings.
If you are staying at the Fort Wilderness Campground and would like a take-out meal, you can order one at Trail's End to enjoy as a picnic at your campsite or cabin.  We liked seeing the Hidden Mickey in the food display!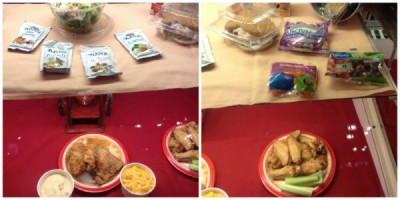 We enjoy Trail's End not only for the delicious food offerings but also for the fun of visiting Fort Wilderness!  Have you been to the Trail's End restaurant?
Incoming search terms:
https://www themouseforless com/blog_world/trails-end-restaurant-hidden-gem/