This post may contains affiliate links for your convenience. If you make a purchase after clicking a link we may earn a small commission but it won't cost you a penny more! Read our full disclosure policy here.
You might think that there are many more important things to do when visiting Disneyland Resort, but, trust me, Trader Sam's is not your average tiki bar—it is an attraction in its own right! The bar is fairly small with a capacity of only 47 guests and no reservations available.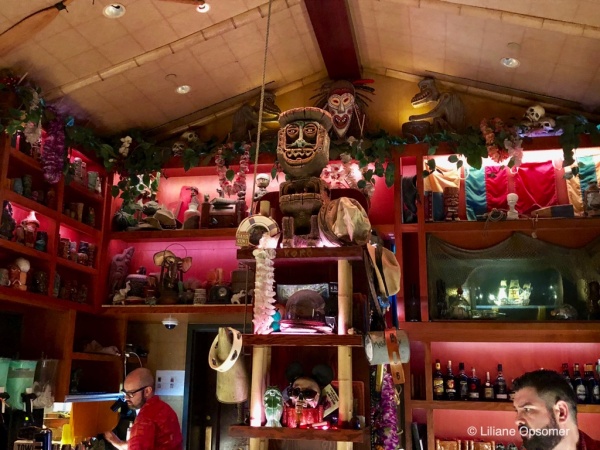 Looking around the bar is part of the fun. The official line is that the bar is decorated by Sam, with help from his friends at the Jungle Cruise Navigational Company. Others will tell that Trader Sam's decor was influenced by Walt Disney's Enchanted Tiki Room, Adventurers Club, Indiana Jones, the 20,000 Leagues Under the Sea film, and even Tokyo DisneySea's Tower of Terror. I have decided to believe all of the above and add some of my own truth. The fact is that the bar is filled with artifacts that all Disney theme park fans will enjoy. 
LET'S TALK DRINKS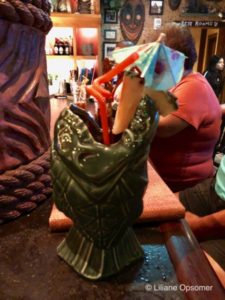 There are unique drinks on the menu, and ordering some of them will trigger special effects in the bar. The special effects are great to watch, but even more fun when your order is the one that triggers them. Fear not, the presentation of all drinks is pretty cool. Mess with the Polynesian Gods by ordering the Uh-Oa and the Tiki Goddess of Disaster will appear. Other drink orders will cause a volcano eruption or a rainstorm, courtesy of water bottle-squirting Cast Members. 
One of my favorites is the Piranha Pool (Stoli Strasberi Vodka blended with Pineapple Juice, Cream of Coconut, Strawberry Purée, and Blue Curaçao). The HippopotoMai-Tai (Coruba Dark Rum, Bacardi Superior Rum, Orange Curaçao, Orgeat (Almond) Syrup, Organic Agave Nectarm and fresh Lime Juice) is another favorite and very refreshing.
You can take this and other souvenir mugs home. They make a nice addition to your very own tiki bar. Prices range from $25 and up. Cheer up, the drink is included and Cast Members will give you a clean mug to take home.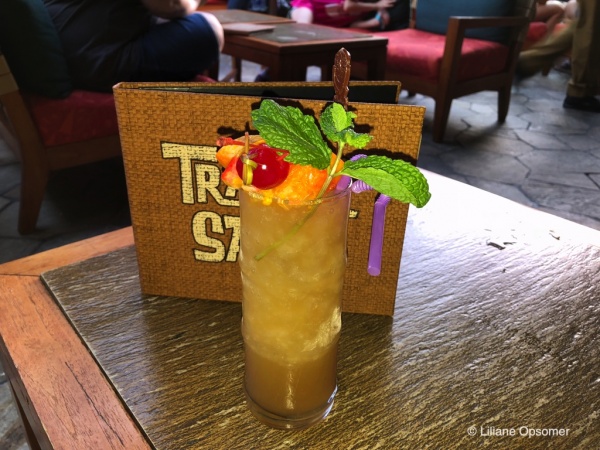 While it is really special to sit inside Trader Sam's, there is an outside terrace that is well appointed. If you cannot get a seat inside, make it a point to wiggle your way in to at least enjoy all the decor. Weekends are, of course, busier than weeknights, and it does help to be there the moment Trader Sam's opens at 11:30 a.m. If you are skipping a day in the parks, your best bet is to visit after lunch and before dinner. Another great approach is to sit on the terrace for a drink and wait until a table becomes available inside.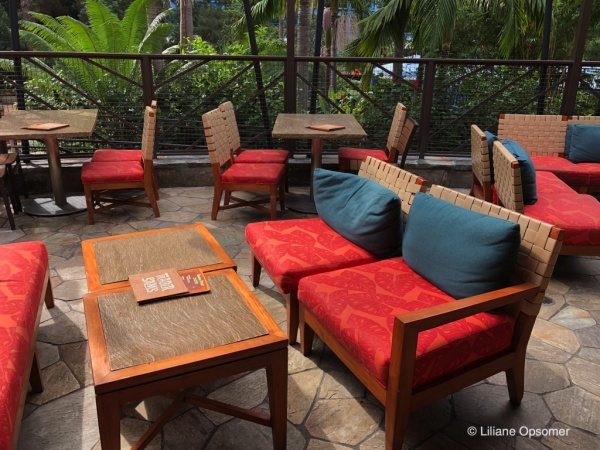 LET'S TALK FOOD
Food is prepared and brought in from the nearby Tangaroa Terrace. Shipwreck Nachos (K'lua-style Pulled Pork, fresh Pineapple Salsa, Hoisin Sauce, Togarashi Aïoli, and Barbecue Sauce) are perfect for sharing, while the Pork Gyoza (Steamed Pork and Vegetable Pot Stickers served with Ponzu Sauce) are great for a light lunch or a starter before dinner.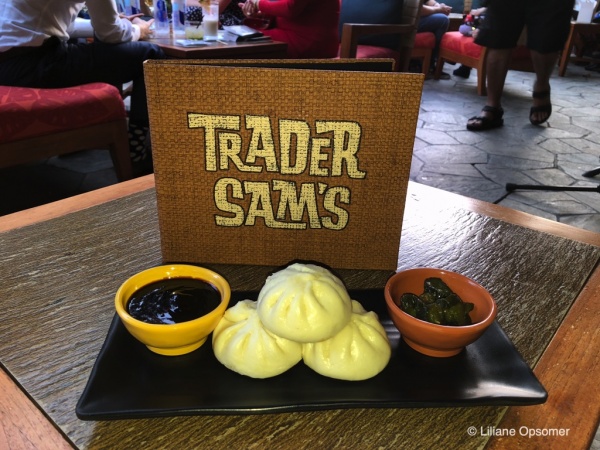 For the big hunger, go for the Angus 1/3-lb. Hawaiian Cheeseburger served with Grilled Pineapple, Applewood-smoked Bacon, Havarti Cheese, Butter Lettuce, Tomato, Onions, Togarashi Aïoli, and
Teriyaki Sauce.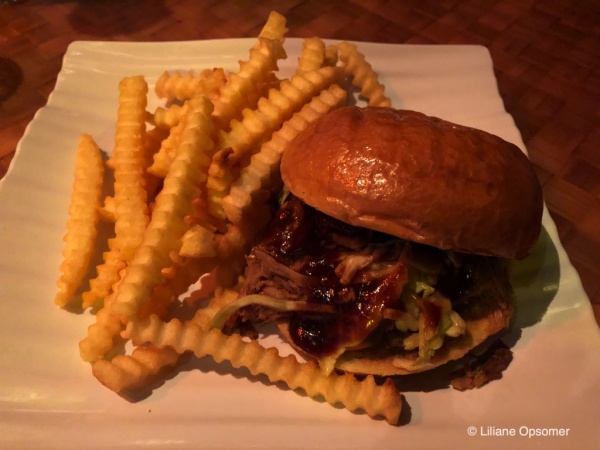 Trader Sam's Enchanted Tiki Bar welcomes children until 8:00 p.m. but is restricted to guests 21 and older thereafter. If you can't make it to California, no worries—the Tiki Goddess of Disaster is waiting for you at Trader Sam's Grog Grotto and Tiki Terrace at Disney World's Polynesian Village Resort.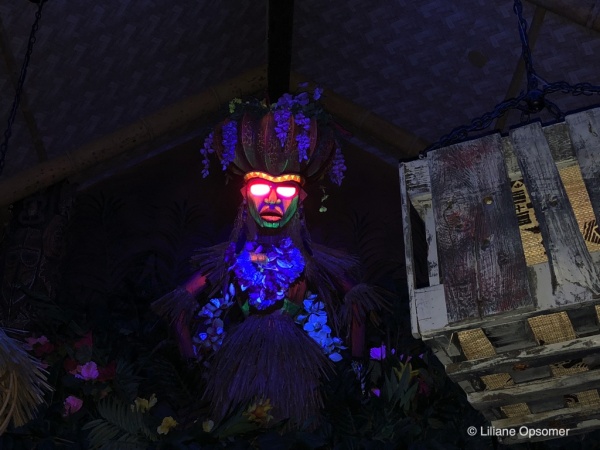 For all there is to see and do at Disneyland Resort, check out The Unofficial Guide to Disneyland.
Have you visited Trader Sam's Tiki Bar at Disneyland? What tips do you have for visiting? Let us know in the comments below or on Facebook or Twitter!

Did you like this article? Make sure to share it with your friends! Check below for easy ways to share!
Want to visit the Disneyland Resort? Contact The Magic for Less Travel for more information and a free, no-obligation quote.

Incoming search terms:
https://www themouseforless com/blog_world/trader-sams-enchanted-tiki-bar/