This post may contains affiliate links for your convenience. If you make a purchase after clicking a link we may earn a small commission but it won't cost you a penny more! Read our full disclosure policy here.
It's my very favorite time of the year: The Epcot International Flower and Garden Festival! From March 2nd through May 30th, 2016, you can enjoy a multitude of beautiful flowers, topiaries, outdoor kitchens, concerts, and souvenirs throughout Epcot. The topiaries are incredible; placed throughout the World Showcase and Future World, these gorgeous pieces of living art are definitely worth checking out. Today, I'm going to take you on a virtual tour of the Flower and Garden Festival topiaries, checking out a few of my favorites.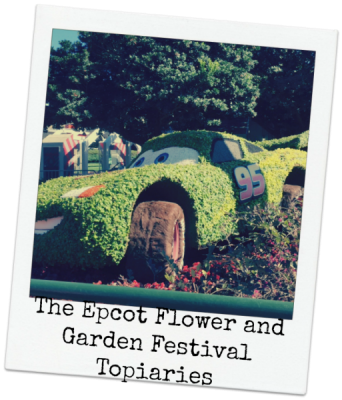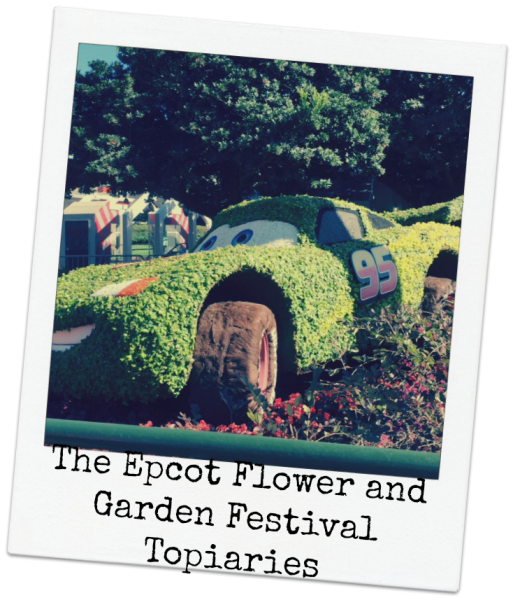 The Front Entrance 
Right upon entering Epcot, you'll be greeted by a little Flower and Garden magic. Daisy, Donald, Huey, Dewey, and Louie are doing a little bit of gardening. The backdrop of the Spaceship Earth makes for a spectacular photo opportunity, and cast members are ready to take your photo as soon as you arrive!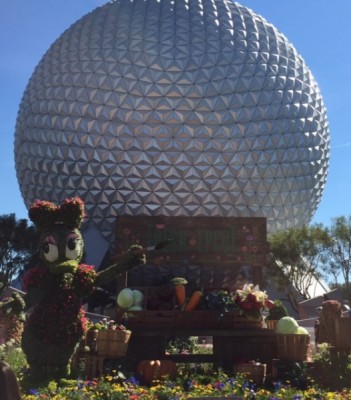 Daisy Duck doing some gardening at the entrance of Epcot.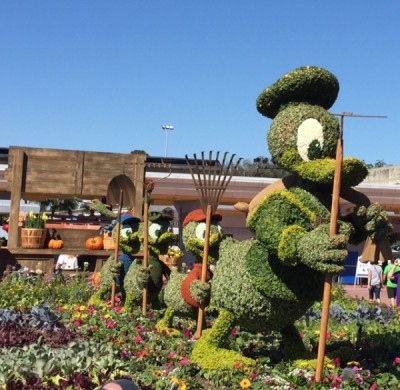 Donald Duck and his nephews are ready to tackle some yard work!
Future World
Once you're done admiring the great topiaries at the entrance to Epcot, head on in to Future World, where you'll find Buzz Lightyear, Ranger Mickey Mouse, and Fantasia displays. Though not a topiary, per se, the incredible flower work underneath the Monorail loop is not to be missed! Check out some pictures from the front of the park before we head back into the World Showcase.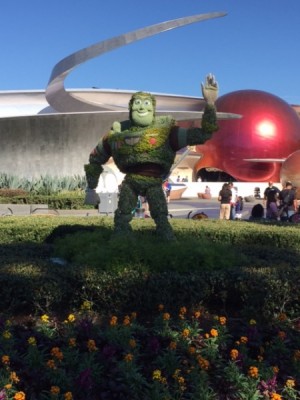 Buzz Lightyear is always ready for a mission in space!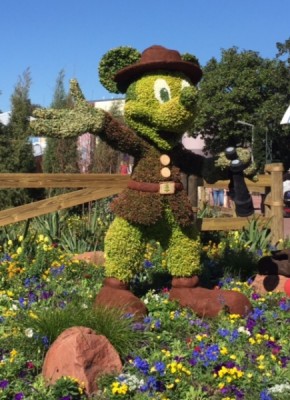 Ranger Mickey celebrates the 100th anniversary of the National Park Service.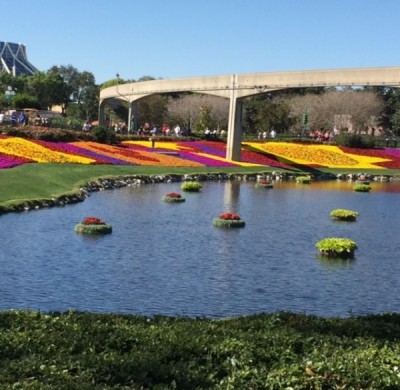 The outstanding garden surrounding the lake.
The World Showcase
We've tackled Future World, so it's time to meander through the World Showcase! Each topiary has a bit of a connection to the country they're housed in (Winnie the Pooh is in the UK, while Snow White is in Germany, etc.). My favorite way to explore the Flower and Garden Festival is to take my time. I like to pick up a snack from one of the outdoor kitchens and take lots of pictures of everything I see!I usually start at Canada and work my way around the "world" counter-clockwise. But before we get to the countries, we meet Minnie Mouse and Pluto!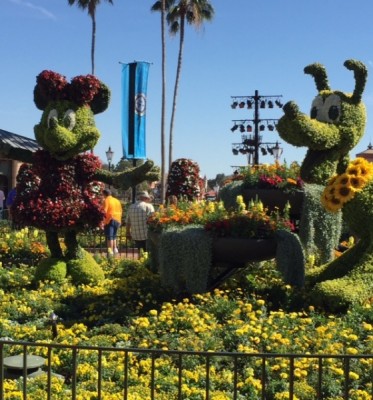 Minnie and Pluto, surrounded by beautiful flowers!
Canada Pavilion
The first stop is Canada, where you'll find Bambi, Thumper, and Flower. The Canada pavilion is full of beautiful flowers year-round, so the addition of Bambi and friends makes this country even more special!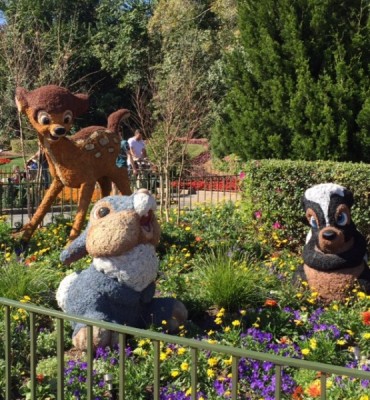 Bambi and friends frolicking through Canada.
United Kingdom Pavilion
The United Kingdom is one of my favorite pavilions; I'm a tea lover, a Downton Abbey fanatic, and lover of Digestive biscuits, so I usually make a beeline past Canada and straight to the UK when making my World Showcase lap. The United Kingdom Flower and Garden topiaries don't disappoint! Take a peek up in the sky and see if you can spot Peter Pan mid-duel with Captain Hook. Head further in to the pavilion to find my favorite silly old bear, Winnie the Pooh.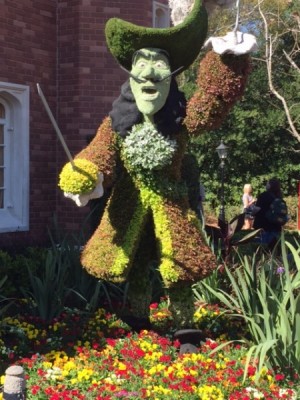 Captain Hook, ready to take on Peter Pan in a fight!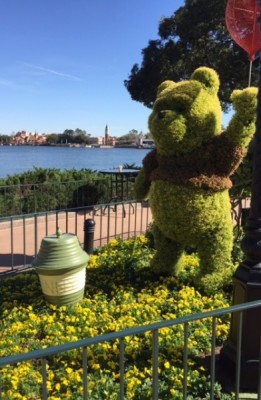 Winnie the Pooh doing what he does best: going after honey!
France Pavilion
The France pavilion is another one of my favorite stops along the World Showcase. If you're hungry, France is the perfect place to refuel. France also pulls out all the stops when it comes to Flower and Garden; beautiful dancing Cinderella and Prince Charming welcome you to the France pavilion (with a beautiful garden in the background), perfect for a photo op! You'll later encounter some members of Beauty and the Beast!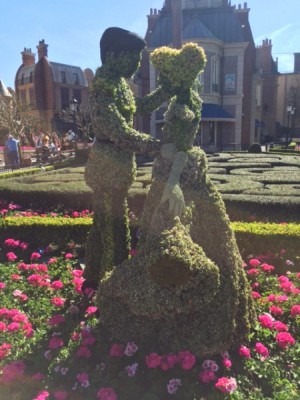 Cinderella and Prince Charming look almost real, dancing into France.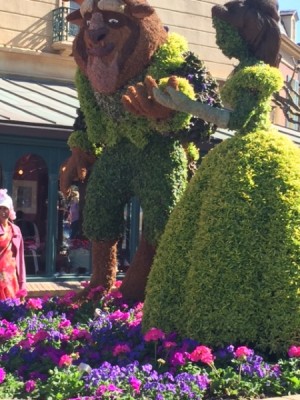 Belle and Beast are ready to dance.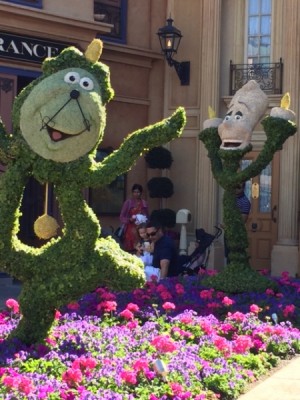 Cogsworth and Lumiere are ready to make you their guest in France!
And though we're touring the topiaries today, I have to mention this: the Fleur De Lys outdoor kitchen. This menu is out of this world, allowing you a small taste of some fantastic French food. My personal favorite? The cassoulet au confit de canard.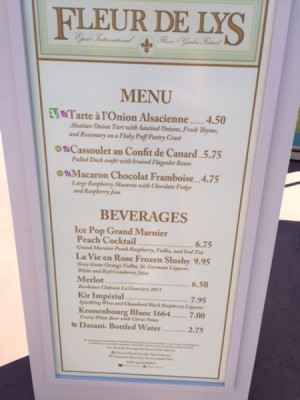 The Fleur De Lys outdoor kitchen is totally worth a splurge.
The American Adventure Pavilion
The America pavilion is home to the concert hall that hosts some of the great music that can be heard throughout the Epcot International Flower and Garden Festival. It's also home to the delicious Smokehouse outdoor kitchen (do yourself a favor and grab some delicious BBQ!). America is also home to Toy Story's own Woody. This topiary is a great backdrop for grabbing some BBQ and a beer!
Italy Pavilion
The Italy pavilion is a favorite stop for many, between the great street performers, the delicious pizza, and sweet chocolate souvenirs. A classic topiary can be found here: Lady and the Tramp. This adorable topiary has been a Flower and Garden staple piece for years, so be sure to stop and grab a picture in front of these giant pups!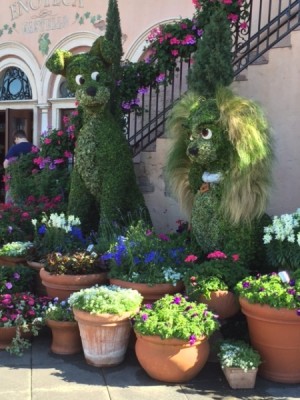 Lady and the Tramp are stationed right at the entrance of the Italy Pavilion.
Germany Pavilion
The Germany pavilion is another great place to stop and recharge your batteries. Grab a pretzel, a grapefruit beer, or a delicious caramel apple and make your way over to one of the many shaded benches to take in the view. Snow White and the Seven Dwarfs make up the Germany topiaries, and they do not disappoint. You'll feel as though you're in a tiny German town as you take in the scenery!
The Outpost
The space between Germany and China hosts a topiary that I consider to be a hidden gem: Check out a large gathering of Lion King characters as you pass through the outpost.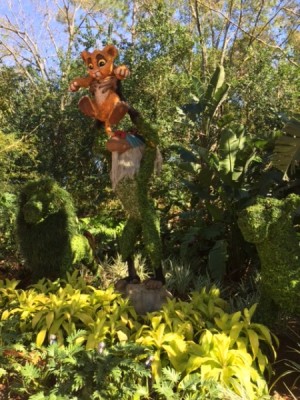 Stay tuned: Many topiaries will change color over the course of the Festival!
Norway Pavilion
Do you want to build a snowman? How about a topiary? If this made you think of Anna and Elsa, you're right on track. Norway is host to the incredibly realistic Anna and Elsa topiaries, which are definitely worth checking out!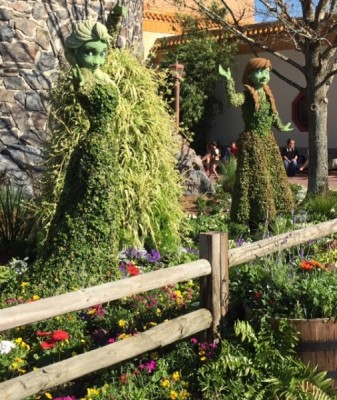 And there you have it! Some of my very favorite topiaries at the Epcot International Flower and Garden Festival. I hope you enjoyed!
What are your favorite stops on a trip to the Flower and Garden Festival? Which is your favorite topiary?