This post may contains affiliate links for your convenience. If you make a purchase after clicking a link we may earn a small commission but it won't cost you a penny more! Read our full disclosure policy here.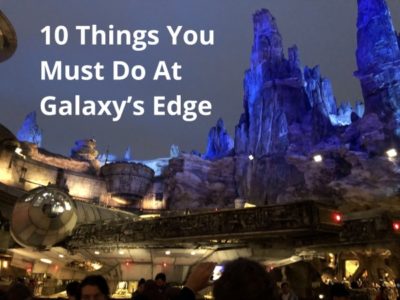 With the opening of Star Wars: Galaxy's Edge in Disneyland on May 31st and August 29th in Hollywood Studios, Disney invites you to step into their most immersive lands ever. Galaxy's Edge gets both Cast Members and visitors involved through sites, sounds, food games, attractions and experiences so that each guest can develop their own Star Wars story. So that you don't get lost here are ten experience you should try when you visit.
Attraction and Sights
The First Attraction: Millennium Falcon: Smugglers Run
Since Han Solo and Chewbacca first jumped into hyperspace on screen in the Millennium Falcon people all over the world have dreamed what it would be like to surf the stars in this icon. Now, with the opening of Millennium Falcon: Smugglers Run, Guests can take their seats as pilots, gunners or flight engineers and fly, shoot or keep the Falcon flying on a mission to smuggle goods to the resistance.
See the Sights of the Black Spire Outpost Marketplace
Disney could have recreated an existing Star Wars world like Tatooine, Endor or Dagobah but instead they decided to create a new world, Batuu, that Star Wars geeks and folks who have never seen a movie could enjoy equally. Black Spire Outpost abounds with architectural details highlighting its position as a formerly bustling trading colony bypassed when hyperspace was invented. As a star in it's own right you can wander through the outpost's shops where you can glimpse rare creatures in the Creature Stall cages, collect out of this world artifacts from Dok-Ondar's Den of Antiquities, or buy the latest in Batuuan clothing at Black Spire Outfitters. All the while you should explore the twisting, turning paths to find what you can discover.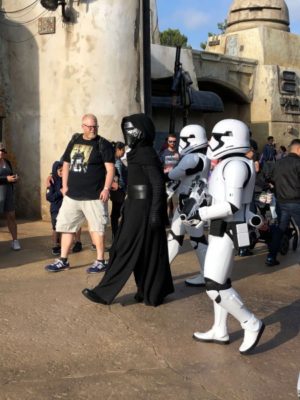 Looking for a Wookie (or Kylo Ren) in Star Wars: Galaxy's Edge
You never know who you will run into while exploring Star Wars: Galaxy's Edge so stay alert. Fans of the resistance should look for Chewbacca, the Millennium Falcon's Wookie co-pilot, Rey the scavenger pilot and resistance hero or Vi Moradi, the accomplished spy. But be careful in the presence of these resistance heroes as your time with the can be interrupted by the First Order's Supreme Leader Kylo Ren and his phalanx of Stormtroopers.
Unique Star Wars Souvenirs You Create
Discover your Lightsaber at Savi's Workshop
Every Jedi knows that each Lightsabers are crafted for one individual. A Savi's Workshop you can use the force within you to guide you through the process of crafting this elegant and traditional weapon. Which hilt will you choose? What décor suites you? Is your kyber crystal red, green, blue or maybe purple? When done you will have a truly unique trophy ready for display or for taking on the First Order.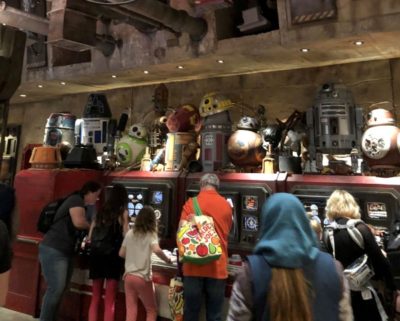 Building a Droid is only the start of the fun at Star Wars: Galaxy's Edge
R2-D2 and C3-PO are important characters throughout the Star Wars films. Their loyalty and heroism have saved the day more than once. BB-8, the latest Star wars droid hero was the speedy rolling star of The Force Awakens. R2-D2 and BB 8 are Astomech droids.  Astomech droids are designed to be on board mechanics and co-pilots on starships. Now you can custom assemble one of these handy R-series or BB-series Droids at the Droid Depot as you pick up parts off the conveyor belts. Don't send these guys back to wait in the room, though, because your new droid can interact throughout Star Wars: Galaxy's Edge.
A meal from a Galaxy Far, Far Away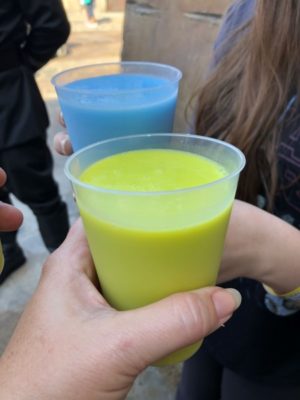 Blue Milk comes from a Bantha
Long a favorite of Luke Skywalker, both Blue Milk from Banthas and Green Milk from Thala-Sirens will be available at the Milk Stand in Star Wars: Galaxy Edge. Older eagle-eyed fans will recognize the Blue Milk from the opening scenes of A New Hope. Younger fans with an eye for detail saw Luke milk a Thala-Siren in The Last Jedi. But, what does Blue or Green Milk taste like? In Star Wars: Galaxy Edge you can find out. But can you find out where Disney keeps herds of Banthas and Thala-Sirens?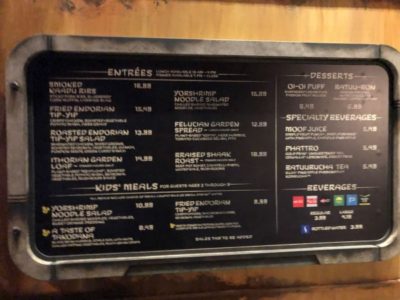 Anything Cooked by a Podracing Engine Has Got to be Good!
Nothing goes to waste when you are living at the edge of the galaxy. Opening up a market stall can't be easy. Ronto Roasters relies upon a podracing engine for heat and an old smelter droid to turn meat on a spit. Just thinking about the savory aromas of the open air cooking makes me want to try the Ronto Wraps or sweet-or-spicy Nuna Turkey Jerky. Thirsty? Ronto Roasters have plenty of specialty drinks, too.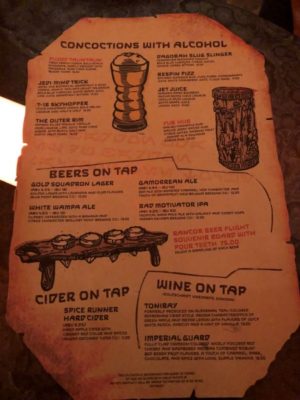 Take a Break at Oga's Cantina
Relax within the blaster-bolt scorched walls of Oga's Cantina, the Black Spire Outpost where resistance and First Order supporters alike go to relax and gossip over exotic beverages in unique containers. While at Oga's enjoy the celebrated musical stylings of DJ R-3X, the former droid pilot from Star Tours.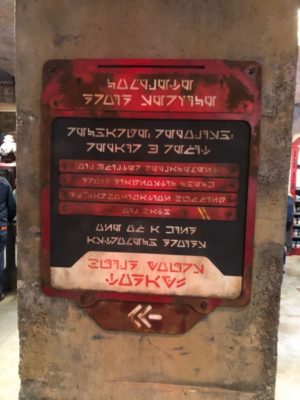 Transform your Mobile Device into a Key to Unlock New Adventures
The Star Wars: Datapad, part of the Play Disney Parks app, can scan translate alien languages, intercept communications and discover container contents throughout the land. Use the app to hack into droids or discover additional stories by slicing (unlocking) door panels.
Black Spire Outpost is in Danger! Show your support in Star Wars: Galaxy's Edge
Both the Resistance and the First Order want control of the Black Spire Outpost and you can help. No matter what side you are on play the "Outpost Control" game on the Play Disney Parks app. There you will join other Guests by hacking control of doorway light panels to gain control of the doors and a larger portion of the outpost. Played several times throughout the game you can help your side win and show greater allegiance to your cause.
The Uniqueness of Star Wars: Galaxy Ends Continues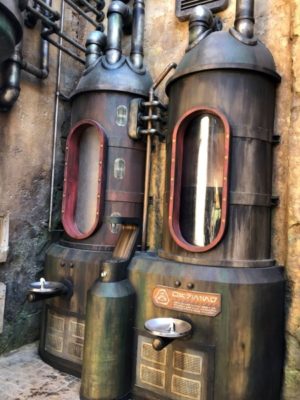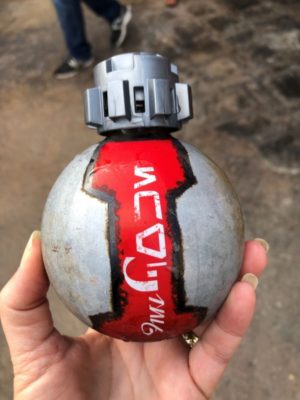 Even water fountains and Coca-Cola containers get in the act by making
Disney's Galaxy's Edge a complete, immersive experience.
This lists only 10 experiences that you can have in Star Wars: Galaxy's Edge But there are more. Cast Members are encouraged to develop characters. Unlike other lands the Cast Member will not have set uniforms, but can pick through an assortment of Batuuan, First Order and other Star Wars Regalia.
In addition, Star Wars: Rise of the Resistance, is scheduled to be open on both coasts by the end of 2019 as the second major attraction.
Final Notes
Pat saw Star Wars: A New Hope on opening day. Bob came late to Star Wars in June 1977, about a week after Star Wars: A New Hope opened. Both enjoy watching the new Star Wars movies with their son Stuart as soon as they can after they come out.  They plan to visit Galaxy's Edge as soon as possible.
Special Thanks
Special thanks go to Tara Zandra Anctil, a fellow Mouse For Less blogger who took these and many more pictures of Star Wars: Galaxy's Edge on the very first day it opened.  Even though she was exhausted from her fun filled day, Tara was nice enough to share 103 pictures for us to use.  They are awesome pictures that would excite anyone to go and discover the many adventures awaiting in the Black Spire Outpost out on the edge of the galaxy.
Are you exciting about visiting Star Wars: Galaxy's Edge? Have you visited already? What tips do you have? Let us know your thoughts in the comments, or on Facebook or Twitter!
Did you like this article? Make sure to share it with your friends! Check below for easy ways to share!
Want to visit a Disney Destination? Contact The Magic for Less Travel for more information and a free, no-obligation quote.