This post may contains affiliate links for your convenience. If you make a purchase after clicking a link we may earn a small commission but it won't cost you a penny more! Read our full disclosure policy here.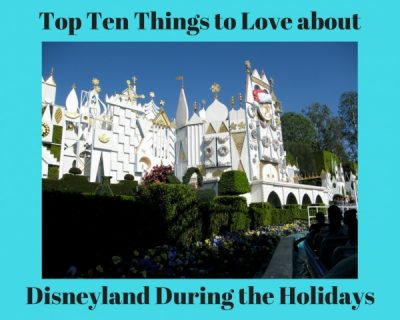 it's a small world holiday
Now that Thanksgiving has come and gone, it's time to start looking forward to the winter holidays! For some luckily families, that will mean a trip to Disneyland, the Happiest Place on Earth.
Disneyland is tons of fun no matter what time of the year it is, but there are certain experiences during the winter holidays that make it positively magical. Here are my top ten!
IT'S A SMALL WORLD HOLIDAY
I don't care if you've ridden this ride so many times that your ears begin to bleed if someone even mentions it. You simply have to check out this attraction during the holiday season.
The famous clock tower dons a Santa hat, and the entire structure is strung with a dazzling display of lights. Inside, the dolls from around the world add some holiday songs to their repertoire.
If riding the attraction is not on your agenda, try to visit it at nightfall anyway, to watch the fireworks from this location. It's been known to "snow" in this location after the finale!
THE HAUNTED MANSION HOLIDAY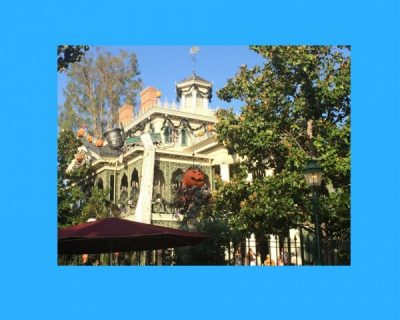 If you've never visited Disneyland during the Fall or Winter, you're in for a treat. It seems that Jack Skellington, who knows everything there is to know about Halloween, still wants to try to celebrate Christmas. So he and his friends take over the Haunted Mansion, with frightfully silly results.
The highlight of the attraction is the monstrous gingerbread house during the banquet scene. Each year, the house is unique, so even if you've visited before, you're in for a surprise!
CHARACTERS IN THEIR HOLIDAY OUTFITS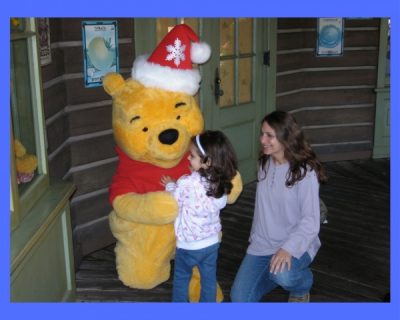 Mickey, Minnie and the gang are all dressed up for the holidays and would love to take their photo with you! Think of what a great photo Christmas card this would make!
A CHRISTMAS FANTASY PARADE
Usually scheduled twice a day at Disneyland Park, this seasonal parade features Disney characters both classic and new getting ready to celebrate the winter holidays. Of course, no holiday parade would be complete without a sleigh carrying everyone's favorite man in red.
BELIEVE…IN HOLIDAY MAGIC
This holiday fireworks displays features Christmas and Hanukkah songs, spectacular pyrotechnics, and a sprinkling of snow right in the middle of Southern California. And seeing Sleeping Beauty Castle dripping with thousands of icicles is something you will never forget.
Up to $75 Disney Gift Card!
Deal
Book a Disneyland package of $1500* or more and receive a $25 Disney gift card. Packages of $3000 or more receive a $50 Disney gift card. Packages of $5000 or more receive a $75 Disney gift card. Gift cards are accepted at many Disneyland Resort locations and can be used to pay for shopping, dining, and so much more. We are sure you will find a way to put this to good use!   Read More
More
Less
MEETING SANTA CLAUS
Speaking of everyone's favorite man in red, you can catch him in both parks and all three hotels. At California Adventure, head for the Redwood Creek Challenge Trail. In Disneyland Park, he'll be seeing you in Critter Country. At all three hotels, simply ask at the front desk where he'll be greeting guests.
CHRISTMAS IN CARS LAND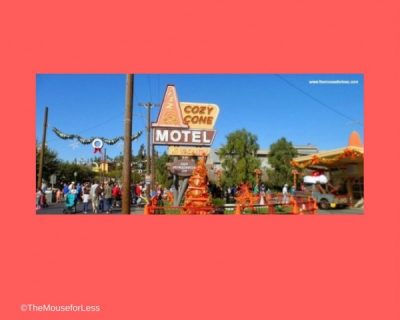 For the first time ever, two attractions at Cars Land in California Adventure will feature holiday overlays! Both Mater's Jingle Jamboree and Luigi's Joy to the Whirl feature holiday decorations and all-new soundtracks, with our heroes singing their favorite Christmas songs, with an automotive twist, of course.
FESTIVAL OF HOLIDAYS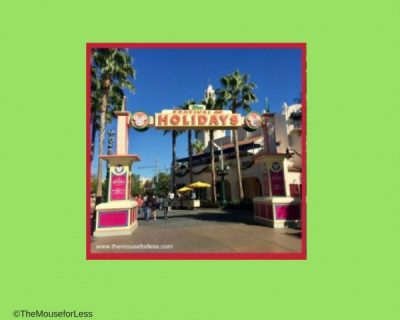 Also in California Adventure, several special entertainment options bring the holiday season to life, California style. Throughout the park, dancers and singers will serenade you with holiday favorites. The Festive Foods Marketplace offers 12 kiosks of special holiday treats from different cultures that inhabit California. And Viva Navidad features Disney characters celebrating Christmas during a Latin street party.
WORLD OF COLOR – SEASON OF LIGHT
World of Color – Season of Light brings water effects, projections, and beautiful music to the evening. Scenes from favorite Disney and Pixar films are interspersed with holiday music both new and classic.
DECORATIONS AT THE RESORT HOTELS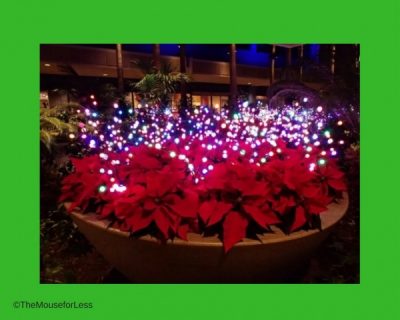 You can enjoy the holiday spirit even if you're not using a park ticket for a day! All three of the Disney owned and operated hotels, The Grand Californian, The Disneyland Hotel, and the Paradise Pier Hotel, feature stunning Christmas trees and other festive holiday touches.
What are your favorite things about celebrating the holidays at Disneyland? Share them in the comments. 
Did you like this article? Make sure to share it with your friends! Check below for easy ways to share!