This post may contains affiliate links for your convenience. If you make a purchase after clicking a link we may earn a small commission but it won't cost you a penny more! Read our full disclosure policy here.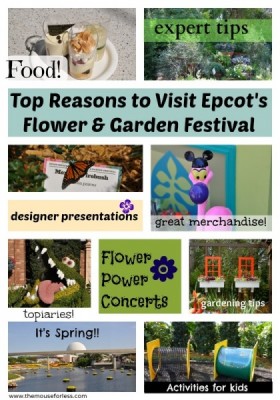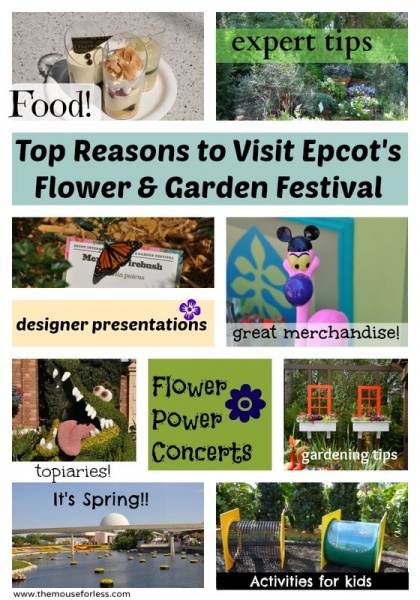 It's coming! In just two weeks, the Epcot International Flower & Garden Festival begins. This is one of my favorite reasons to visit Epcot (just in case I needed a special reason) and well worth the trip. This year, the festival runs from March 5-May18, so there is plenty of time (75 days total) to experience all of the fun.
Why do I love visiting this festival? Here is my top ten list of reasons I'm counting the days until my next visit. These are not in any particular order. I tried to order them, but my favorite changes with each topic!
10. Spring!
After this long, cold, snowy winter that so many of us have experienced, any sign of spring is welcome. And there is nothing that will warm you up more after the long winter than flowers everywhere.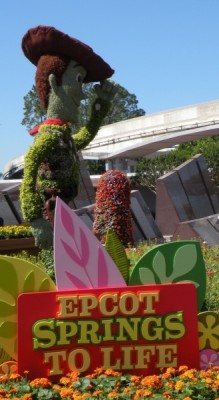 9. Fun for the Kids.
I know that telling the kids that you are going to spend the day (or more!) at a Flower & Garden Festival might not be met with cheers. The good news, though, is that this is a Disney event. There is fun for the whole family, and the Flower & Garden Festival is no exception. While a lot of the festival appeals to adults, there are plenty of activities planned with the whole family in mind.
Each year there is an area dedicated to the kids climbing and playing. This year will be Mike & Sully's Monstrous Garden. A park -like setting will always bring a smile to the young visitors faces. Let them burn off a little of that limitless energy in a fun setting.
In addition to Mike & Sully, many of the topiaries depict characters that the kids will recognize. Plus, there is a scavenger hunt! Guests can pick up a Garden Passport and have it stamped in each Garden Marketplace they visit.  Families will also enjoy the walk through the butterfly gardens, and this year's new walk-through hummingbird garden.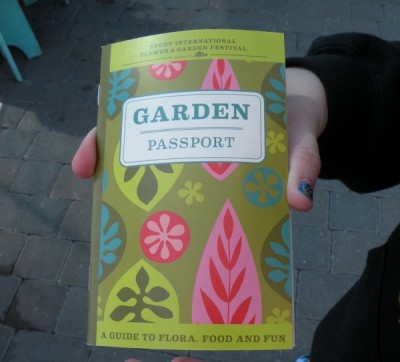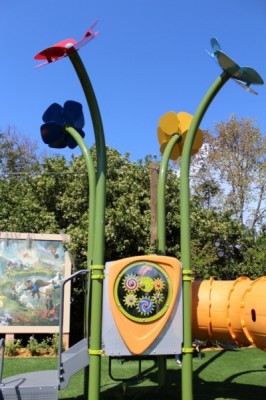 8. Gardening Ideas
Since not all of us have a landscaper on speed dial (do any of us have that?), it's always fun to see new ideas for our yards and gardens. I've seen many of these ideas while visiting the festival. Some of them just make me envious of those of you who live in a more tropical climate. Some I think I could actually pull off in my own yard. We have discovered new plant ideas, taken photos of flower bed ideas, and found interesting things to use to decorate our yard.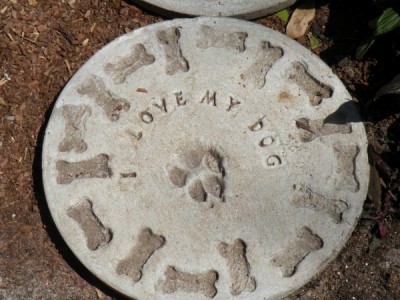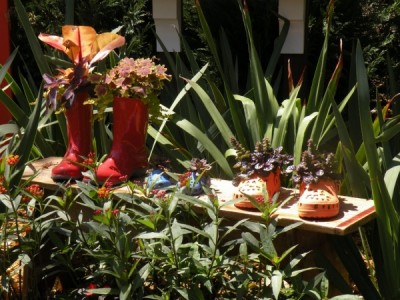 7. Tips and Pointers from Experts
My thumb is not green. Thankfully there are lots of ways to get tips at the Flower & Garden Festival (and my green-thumbed husband can implement them, too). Start at the Festival Center (housed in the former Wonders of Life Pavilion) way at the front of the park. Here you will find such things as "Ask an Expert,"  "Planting Pointers," and Greenhouse Stage.  So go ahead, bring your questions and ideas to discuss with the people who know. In addition to the festival center, there are experts in various areas around the festival ready to answer your questions and give you ideas. It's fun to strike up a conversation with these experts – you never know what you may learn.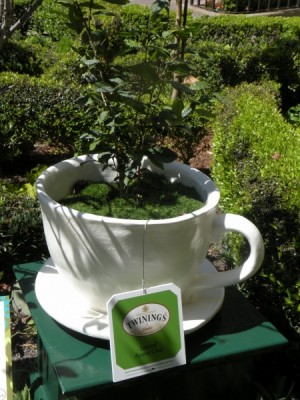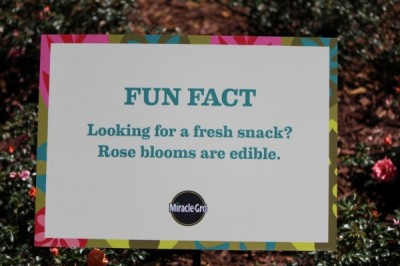 6. Butterfly House
Yes, this was mentioned once, but it's worth mentioning again. The butterfly house is great. Take a stroll through this amazing area filled with plant life that makes butterflies happy. There is information about the butterflies, displays of chrysalis, and fairy houses where Tink and Periwinkle hang out amongst the butterflies.  If you stay still, you are likely to get some great photos here, too. You might even find one lands on you.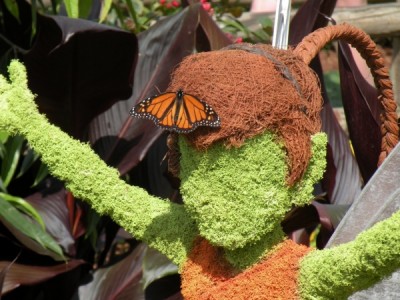 5. Festival Merchandise
Well of course no trip is complete without a little shopping, right? The festival merchandise is fun because it is unique. You will, of course, find Disney character-themed items.  There are also other items ready to decorate your yard your garden this summer. Remember that items can be shipped directly home, too. So if you find something you like, ask about having it meet you at your doorstep rather than stuffing it into your luggage.
There are also several festival- or garden-themed items. There are unique trading pins, apparel, hats, and more. Festival Merchandise can be found at the Festival Center, but can also be found throughout World Showcase.  As you are strolling around looking at the flower displays, don't forget to check out some of the unique shops as well.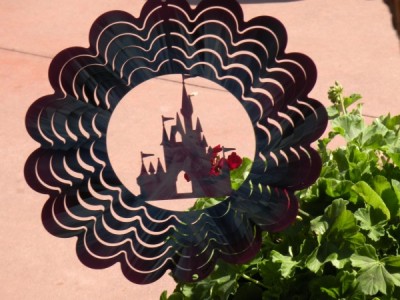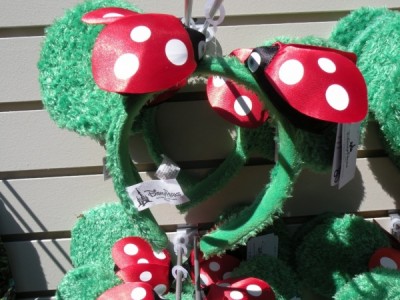 A few years ago, HGTV took over sponsorship of the Festival. With that sponsorship came presentations from HGTV designers. On the weekends, these designers give talks on different aspects of design at the Festival Center. The stage they are on is smaller, and the audience not huge. There is usually an opportunity to ask questions of the presenters and interact with them. If you are a fan of a particular designer who will be there, this can be a lot of fun.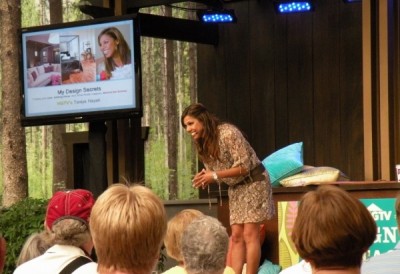 Concerts in the American Gardens Theater (in the America Pavilion of World Showcase) are so much fun. Entertainers from the 60s and 70s (hence the "Flower Power" name) come out to sing some of your favorite tunes. Even if you aren't extremely familiar with the artist, who doesn't love a free outdoor concert on the weekend? It's a fun, festive atmosphere, and you just might find that some of these singers are still quite entertaining. If you want a spot to sit, you might have to get to the theater a few minutes early. All of the seats are great for listening, though, even if you aren't close to the stage. And even if you are just strolling by, the music is fun to hear.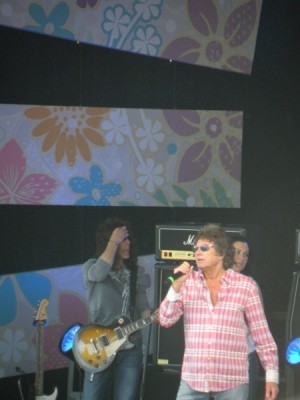 2.  Topiaries
The topiaries at the Flower & Garden Festival are really where it all started. There are some amazing creations that you just won't believe are made of plants. Over 100 topiaries can be found all around Epcot. Many are Disney-themed. All are amazing. Each year they get better and better. This year will feature new Muppet topiaries complete with Kermit and Miss Piggy. The Monsters University topiaries form last year were amazing, so I cannot wait to see how great the Muppets topiaries are this year.
While I could continue to describe them to you, I'm going to share some photos of my favorites from last year. Trust me when I say it was difficult to narrow even this list down to just a few.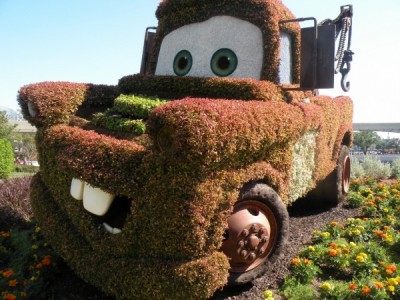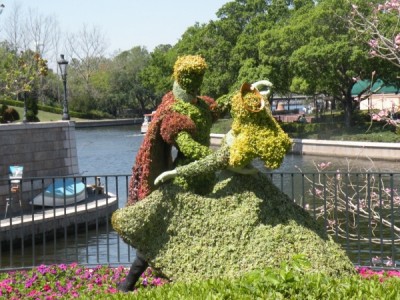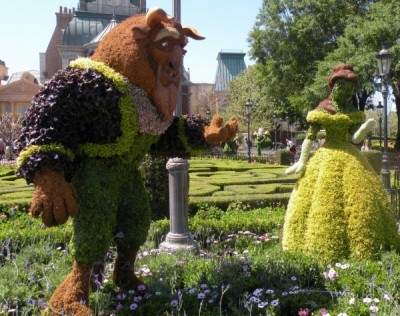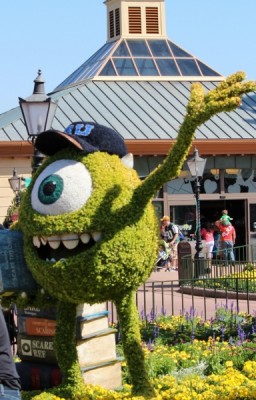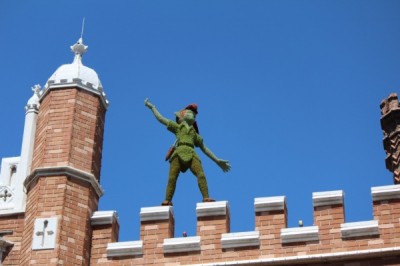 1. Open Kitchens
Something new to the festival last year, and continuing this year, is Open Kitchens. These little kiosks are placed throughout the World Showcase pavilions. They feature small taste portions of food and drink that highlight fresh ingredients and tastes from different countries throughout World Showcase. There are also sections highlighting Florida, Urban gardens, and pineapples. It is fun to try new foods, and it helps to know that they are snack portions, so if you don't like something, it's not a big investment. Many of the items are available using snack credits as well. So if you are using a Disney Dining Plan, this is a fun way to use snack credits.  My only complaint is that we were getting full before we made it to the end of World Showcase. Make sure to come hungry because the  portions can easily replace a meal if you try a few. This was a great addition to the festival last year and I cannot wait to see what new creations are available this year.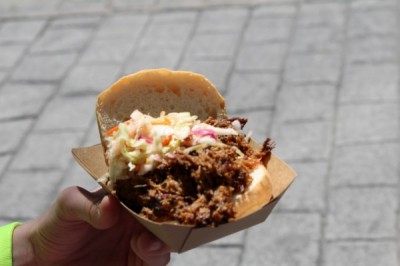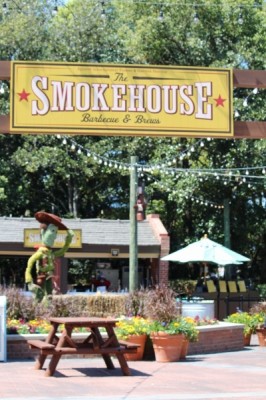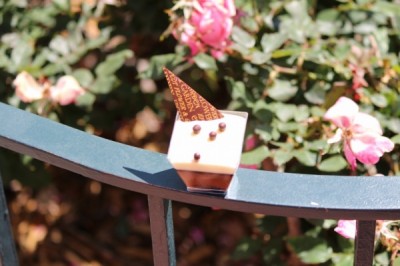 Strolling, snacking, enjoying the outdoors and some amazing topiaries is a great way to spend the day. Celebrating spring is going to be a top priority this year, and spending some time with my family to stop and smell the roses (and all of the other flowers) is just how I would like to celebrate.