This post may contains affiliate links for your convenience. If you make a purchase after clicking a link we may earn a small commission but it won't cost you a penny more! Read our full disclosure policy here.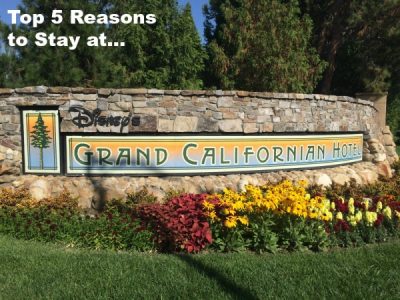 Welcome to Disney's Grand Californian Hotel
Choosing a Disneyland resort is somewhat easier than choosing a Walt Disney World resort, simply because the number of onsite choices is so much smaller. Once you've decided to stay on property, you have three Disney owned and operated hotels from which to choose.
Here are my top 5 reasons to stay at the Grand Californian Hotel:
THE ONLY DISNEYLAND HOTEL DESIGNED BY DISNEY
Hidden Mickey in the hallway carpet
When Walt opened Disneyland way back in 1955, there was not enough money in the budget for Disney to open their own hotel. They turned to outside companies and let them use the Disney name. Decades later, the Disney company purchased the Disneyland Hotel and what would be called the Paradise Pier Hotel, and they gave them both a sparkling Disney facelift.
However, the Grand Californian was designed and built by Disney, from the ground up. This resort recalls Walt Disney World hotels such as the Wilderness Lodge, for good reason: Peter Dominick was the architect for both of them.
The Grand Californian was designed in the Arts and Crafts style, which happens to be my favorite architectural style. Just stepping into the resort's massive, high ceilinged lobby never ceases to take my breath away.
THE VIEWS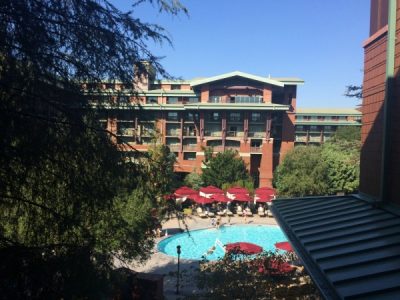 View from our balcony
The hotel was opened at the same time as California Adventure, and many (though not all) of the rooms have views of the park. The Paradise Pier views at night are stunning, when all the twinkling lights lining the attractions are turned on. If a view is important to you, make sure you request one, and be prepared to pay for it – unsurprisingly, rooms with theme park views are among the most expensive in the hotel.
But even if you don't want to splurge for a theme park view, some rooms have balconies that look out over the pool, or the monorail, or Downtown Disney.
YOU'RE A DISNEY VACATION CLUB MEMBER
The Villas at the Grand Californian were the first Disney Vacation Club properties at Disneyland. Units are available as studios, 1-bedrooms, 2-bedrooms, and 3-bedrooms. Although the units are available to rent when not booked by DVC members, these units are usually hard to get unless you're in DVC.
Disney Vacation Club members also get access to an observation deck with stunning views into California Adventure. During presentations of World of Color, the music is piped into this area, so you can enjoy the show from this location. (The angle is strange, however, so if you've never seen World of Color, I'd still recommend doing so from the park itself.) On chilly nights (yes, we do get them in Southern California during the winter!) heat lamps are turned on to keep things nice and cozy.
View from the Disney Vacation Club observation deck
Newly Renovated Rooms!
The rooms have recently been renovated and they are beautiful!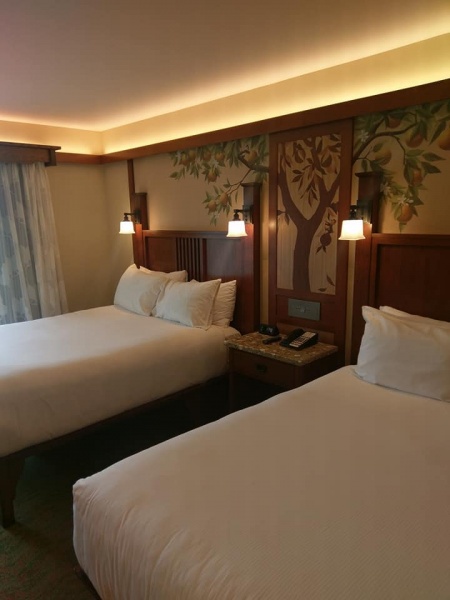 PROXIMITY TO THE PARKS
This hotel offers an unparalleled location. It's smack in the middle of Downtown Disney, and is within very short walks to both parks. During our last stay, my family made it from Mickey's Toontown (which is in the very back of Disneyland Park) to our room in 10 minutes. Mind you, I was born and raised in New York so I'm a fast walker, but even so, it was ridiculously easy to get back into our room.
On our very first stay here, we were lucky enough to have a room facing the Grizzly Peak section of the park. Our room was also right above the hotel guests' exclusive entrance into California Adventure. (NOTE: this entrance is offered to guests of all three Disneyland owned and operated resorts, not just the Grand Californian.)
After we got off of Grizzly River Run, soaked to the skin, we decided to time how long it would take for us to get back to our room to change our clothes. Mind you, all the conditions were perfect: we had a room very close to the elevator, which was waiting for us as soon as we arrived. Still, I was shocked to see that we were back in our room in 57 SECONDS. That's right, less than a minute from exiting the ride to walking in our hotel room. As I said, the location of our room helped immensely, so you might not have the same faster-than-light speed experience, but needless to say, the hotel is very close to the parks.
What are some of your favorite reasons to stay at Disney's Grand Californian Resort? Share them in the comments!
Did you like this article? Make sure to share it with your friends! Check below for easy ways to share!