This post may contains affiliate links for your convenience. If you make a purchase after clicking a link we may earn a small commission but it won't cost you a penny more! Read our full disclosure policy here.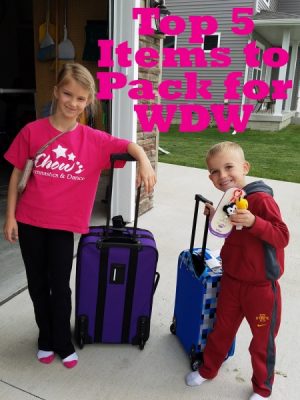 Ever feel like you need to pack the whole kitchen sink when traveling only to forget something?  When we travel to Walt Disney World, I start the packing process early to make sure we have everything I think we could possibly need.  Yep.  I am the classic over packer.  So what are the top five things I would never head to Disney without?  Mouse ears?  Autographs books?  Money?  Read on to know what I would suggest everyone bring on their Disney vacation.
Extra footwear
The first thing I that is a must pack would be extra footwear for everyone.  No matter when you are visiting Disney, those afternoon rain showers might find you and having some extra footwear will save you from being miserable.  We always make sure we pack at least two pairs of shoes for everyone traveling.  This allows us to change them out every other day, but also make sure we will always have a dry pair.  This was super important when we visited last June and it poured (like monsoon poured) a couple of times during our trip.  Having extra shoes allowed us to avoid wearing squishy shoes.  Along with extra shoes, make sure you pack extra socks.  I have even thrown extra socks into my park bag so I can switch them out if they are wet, sweaty, or just not fitting right.  Having extra footwear is a must when traveling to Disney.  You will spend so much time of your feet that it is super important to make sure you take care of your feet by having dry, comfortable shoes.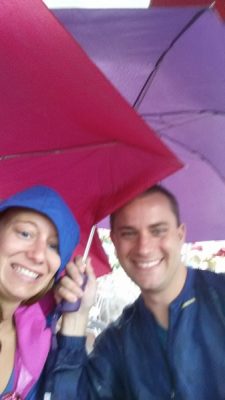 Sporting our rain coats and umbrellas
Rain Gear
Along with extra footwear, we also travel with rain gear when heading to Walt Disney World.  Having rain gear ready and on hand has saved us many times while in Disney.  The afternoon rain storms come up quickly and having our own rain coats and umbrellas have allowed us to just keep on going instead of ruining the day.  If you are able to be prepared for the weather, you will be able to enjoy more of your vacation.  Make sure you take notice of the weather prior to leaving and plan accordingly.  Rain, wind, sun, heat, cold you never know what weather you might experience while in Disney and I like to make sure I am prepared for it all.  I don't want weather to ruin our much anticipated trip.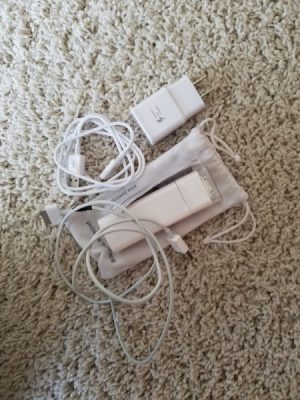 Cell phone chargers
 Cell Phone Chargers
It is an absolute must to travel with extra cell phone chargers when visiting Walt Disney World.  You will not only want chargers for the resort in the evenings or during rest time, but you will also want to carry portable chargers with you in the parks themselves.  With the use of the MyDisneyExperience as well as the millions of pictures you will want to take, your cell phone battery is sure to drain quickly.  Making sure you have a few extra portable cell phone chargers will help you stay connected throughout your vacation and prevent you from missing that magical moment.
For more tips about keeping your phones charged, make sure to check out this useful page.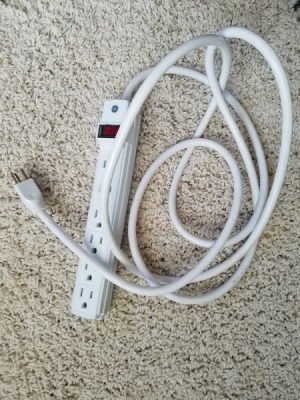 A couple power strips really helps
 Power strip
We absolutely love staying at Disney's resorts; however, they have a very limited amount of plug-ins.  Because of this, we feel that bringing power strips are a must when visiting.   We actually have started bringing two power  strips with us when traveling.  We use one by the bed to charge our cell phones in the evening, but we also use one in the bathroom or even by the door for kids' electronics or other items that might need to be plugged in randomly.  Bringing these with gives us more flexibility when it comes to charging and plugging in.
 Organization Items
Help keep laundry together
I am going to cheat on this one a little as there are a few items that are must for me when it comes to keeping our resort room under control and helping keep us all organized.  The first one is a pop-up hamper.  Whenever we travel it seems like laundry multiplies even more than it does at home and then we are in a tiny little resort room.  In order to keep the dirty clothes under control, we have started to use pop-up hampers from the dollar store.  This allows us to keep the dirty laundry all together, off the floor and organized.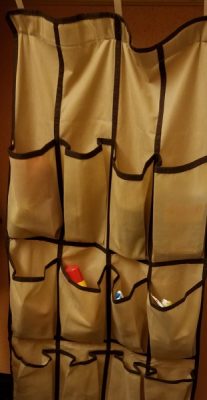 easy way to organize
An over the door shoe holder is another must when it comes to packing for Walt Disney World.  I have come to love this when traveling as we can actually unpack our toiletries and allow us to see what we brought with us.  I am able to put hair items, tooth brushes, medicine all in a specific shoe spot instead of leaving it all on the sink  This makes is so easy for kids to get what they need on their own instead of digging for it.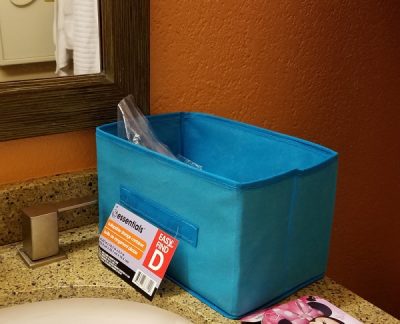 Great for so many reasons
Another must for me when traveling are cloth cubes.  These cloth cubes are a lifesaver.  I bring them not just to Disney but whenever we travel.  I use these cubes to keep us organized and our items together.  In Disney, I use one by the door where everyone can drop their sunglasses, magicbands, buttons etc that we will need when heading back out.  I also have some in the bathroom area where I put the kids' pjs or outfits for the next day.  They can just grab their box and they are ready to go.  I also have used it for sunscreen, bug spray, water bottles etc by the door so we can easily grab or apply what we need.  These just help things stay picked up in the resort room.  I can not imagine our Disney vacations without these things to help keep our world organized.
When you are packing for you Walt Disney World vacation, don't forget to pack these essentials to help keep your vacation running smoothly.  What items do you have to travel with? Share in the comments!