This post may contains affiliate links for your convenience. If you make a purchase after clicking a link we may earn a small commission but it won't cost you a penny more! Read our full disclosure policy here.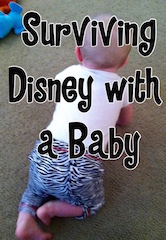 Every year, my extended family gathers at Disney World for a week-long vacation full of fun and memory making. When my husband and I had our first baby, we realized that the timing of this annual pilgrimage would mean we would be braving the parks with a sixth month-old little princess.
As new parents, this was a bit terrifying. We briefly thought of not going – but we decided to persevere and trust in the magic of Disney. Here are some of the things that helped our trip with an infant go smoothly:
Bring family
Whether on the plane, in the airport, or throughout the parks, you can always use extra hands when you have a baby on-board. Additionally, grandparents, aunts and uncles are usually willing to babysit, which can give you and your spouse some downtime or a special date night.
Stay Onsite
By staying at one of the Disney-owned hotels, you can take advantage of the Disney transportation options that allow infants to sit on an adult's lap. Additionally, the proximity of staying onsite – especially for those hotels that you can walk to from certain parks – really helps with naptime or when the unexpected happens and you need to get back to your room quickly. 
Choose a Villa or Suite
If you are staying onsite, staying in a one or two bedroom villa is a great option with an infant. They come equipped with a washer, dryer, and full kitchen. They also provide an extra room to put the baby when he or she is sleeping, so everyone else can stay up a bit later and not bother the little one's sleep schedule.
Even if you are not staying onsite at Disney, many suite or condo options are available with these same types of amenities elsewhere in Orlando. Having more than one room for our hotel accommodations since having a baby has proven to be essential for us, not only when visiting Disney, but anywhere we go!
Have Baby Necessities Delivered
Have your groceries and other baby necessities delivered or shipped to your room. This allows you to cross a huge headache off your list! You can read all about the different ways to have groceries delivered or shipped to your hotel here. We used these services in the past – and found it incredibly helpful for baby formula, diapers, wipes, baby food, disposable bibs, suntan lotion, etc.
Have realistic expectations
Remember your days of commando park hopping? Forget them with an infant! Having realistic expectations, even when it means going to the Magic Kingdom and riding one or two rides, is imperative. You don't want to push a little one too much.
We would head out early in the day, do a few rides in a park, and then go back to the room for an afternoon rest. We would then head out again in the late afternoon.
Take advantage of the baby care centers at the parks
Make sure you know where all the baby care centers are in each one of the parks. They provide a quiet area for feeding, changing tables, and items for purchase in case you get in a pinch, like diapers and formula.
Bring a Baby Carrier
You will find a baby carrier priceless during your trip! We used it in the airport, in the parks and while shopping. It was especially useful in lines. I would recommend making sure you are familiar with your carrier before getting to Disney. My daughter loved one type of carrier, but hated another.
Bring a Stroller
While it is a bit bulky, I recommend bringing your own stroller. With infants, you use your stroller far beyond the parks (on your resort's grounds, at Downtown Disney, the BoardWalk, etc.), so just relying on the rentals in the park is not a good option. There are many stroller rental companies that service the Orlando area as well, but we found that we also used the stroller in the airport, so bringing our own was the best option for us.
An additional tip regarding strollers: Check to see if your brand offers an attachable cooler especially made for your stroller. We purchased this before visiting Disney and it proved to be very useful. Other than bottles and formula, some of the adults even snuck a water bottle or leftovers in there.
Disney with an Infant: It Can Be Done! 
After our trip, we have realized that traveling to Walt Disney World with an infant is nothing to fear! As always, Disney goes above and beyond to cater to families. We always knew that, but our first experience with our baby made us really appreciate it!
While a little intimidating at first, a trip to Disney with an infant can be a success! We realized that our baby might not remember it – but us parents will surely never forget!
What tips do you have for touring a Disney Park with an infant? Make sure to share in the comments.