This post may contains affiliate links for your convenience. If you make a purchase after clicking a link we may earn a small commission but it won't cost you a penny more! Read our full disclosure policy here.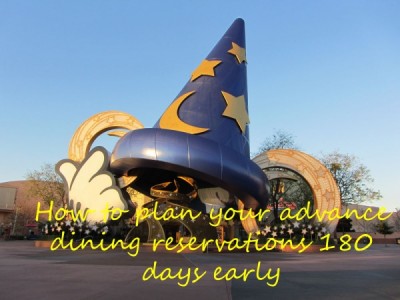 How to plan your Advance Dining Reservations
One of the best parts of visiting Walt Disney World isn't the characters or the rides, but the food.  Disney provides so many different and unique food options in and outside the four main parks that guests could spend their whole vacation just eating.  As with the characters and rides, restaurants have become extremely popular causing the need of Advance Dining Reservations or ADRs to be extremely important.  Those guests staying on Disney property are able to book restaurants at 180 days prior to their vacation.  This process is loved by some (myself included) and hated by others (my husband included).  I love the pre-planning, research and excitement it brings whereas by husband doesn't like that he has to figure out what he wants to eat 180 days ahead of time.  As this can be extremely stressful, I have a few tips to pass along as to how I go about getting ready for the big 180 day mark.
Question One:  Where will we be?
The first decision I like to go through is where do we want to be on each day.  Again, sometimes it is hard to determine exactly where you want to be in six months from now, but there are a few things that might help you out in making this decision.
Extra Magic Hours
Sign at Hollywood Studios
First look at which parks are offering Extra Magic Hours (these are extra hours given to those staying on Disney property).  If this is something you would like to participate in, either morning or evening extra magic hours, this will help you determine where you might want to be.  On the other hand, if these aren't something you want or can participate in, then it is often suggested to stay away from the park offering this perk as crowds tend to be higher.
Crowd Level
Another way to determine where you would like to be is using the variety of different crowd calendars/predictors out there.  There are a variety of different companies (some free, some not) that provide predictions on what they feel crowd levels will be like during your vacation.  Some vacationers live by these, others use them as a guide.  You can determine how much you would like to follow them.  Keep in mind, they often don't consider Extra Magic Hours, so if that is a perk you are taking advantage of crowd calendars might be harder to use in your decision making.
Shows, Entertainment, Rides
The main focus should be the different rides, shows and evening entertainment you would like to see while vacationing.  Knowing which of these are a must for you family will help you determine how much time you need to spend in different parks giving your a better idea of where you might be eating.
Taking into consideration Extra Magic Hours, crowd levels as well as which parks we might want to be in more all help me determine which parks we will be in each day.
What types of foods do we want?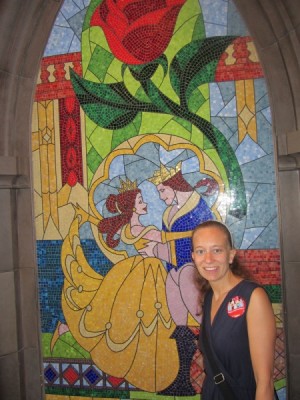 Be Our Guest is a popular choice
Service Style
After deciding which park we want to be in each day, I then begin to dive into our food style as a family.  This is where I start to look at what we want as a family.  Disney restaurants offer buffets, family style, as well as menu ordering.  It is important to think about what your family would prefer.  Although we liked buffets when we went with our son who was two, when my husband and I headed back for our anniversary, we wanted to just sit and be served.  As we are heading back this summer with our kids and extended family, we know that buffets would be better for the kids to allow for choice, but we also don't feel like we want to spend all of our table service choices at buffets so we are going to mix it up a little.
Cuisine Choice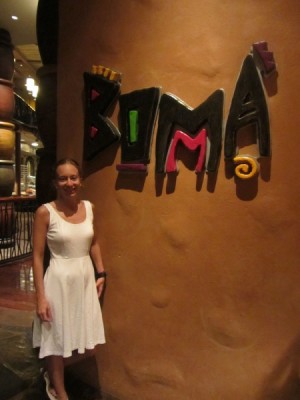 We branched out at Boma
Next we need to determine what type of cuisine we want to eat.  Our family enjoys Italian, Mexican, and American, but seafood, Japanese, and African are a little more extreme.  We had to decide if we were going to use our trip to branch out of our food safety bubble or stick to what we know we like.  Disney, especially Epcot, has so many unique choices that it is the perfect time to branch out and try something new.  With that said, I do get nervous spending money on a place I am not sure my kids will eat.  Finding a restaurant with a happy medium is key for us.
What are my options?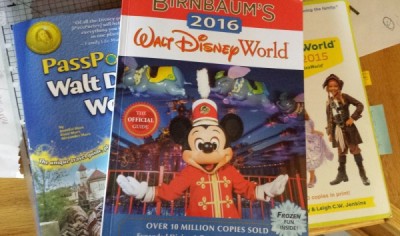 Just a few resources I use
Now that I know which park we will be in as well as what type of service and cuisine we want, it is time for my favorite part!  Research!  I love digging into the specific restaurants at each park as well as Disney Springs and resorts.  I use a variety of different websites, books and blogs to gather information about the restaurant.  I look for reviews (always taken with a grain of salt) as well as a detailed list of the menus offered, times they service food, characters that are available and just the atmosphere that goes with the restaurant itself.  I start by taking notes of different options that I think my family would like to tryout and then take that narrowed down choice to them for feedback.  As you are looking at options, don't forget that Disney resorts have great food choices as well.  Once I know where I want to eat, it is time to make a plan for the 180 mark.  I will share my strategy as we get closer as well as how my booking goes for a large party after I am done.  Hopefully these tips will help you know how to narrow down your selections for restaurants and prepare you for making your reservations.
What tricks do you utilize to help decide what Advance Dining Reservations you make for your vacations? Let us know in the comments!