This post may contains affiliate links for your convenience. If you make a purchase after clicking a link we may earn a small commission but it won't cost you a penny more! Read our full disclosure policy here.
Country Inn and Suites, Cape Canaveral
If you've asked me for advice about a Disney cruise, you've heard me say this: You should arrive at your departure port a day early and stay in a hotel the night before your cruise leaves. This is for peace of mind. We've all experienced a flight delay. If your delayed flight causes you to miss a dinner reservation at Kona Café (sigh), that can be a minor inconvenience. But if that delayed flight causes you to miss your entire cruise, that is devastating.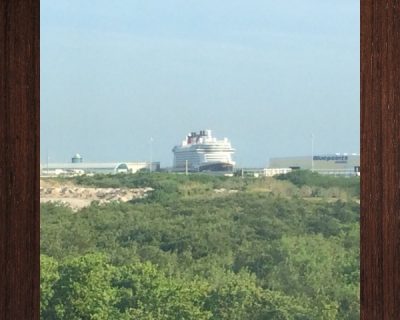 We could see the Disney Dream from our hotel room!
But what should you look for when you're choosing that all-important pre-cruise hotel? Since my family is going through this process for the second time, I thought I'd share with you all what we looked at when choose our pre-cruise hotel this time.


LOCATION, LOCATION, LOCATION!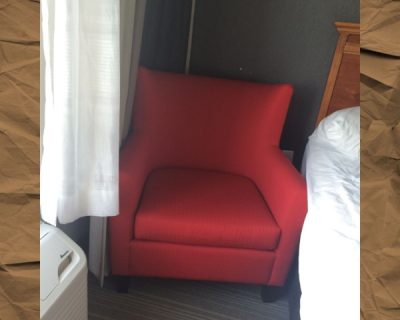 Our room was very comfortable
Ideally, you'll want to find a pre-cruise hotel that is very close to the cruise ship terminal. If you are leaving from Port Canaveral, you will find many hotels with a Cape Canaveral address that might look good. Check how long it will take you to get from your hotel to the terminal. We are doing this right now with hotels in Vancouver. Vancouver is a bustling cosmopolitan city. Some hotels brag excellent access to find dining, museums, and local sights. We just want a place as close to the port as possible!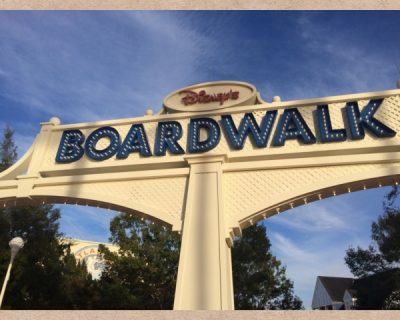 Or would you rather spend a night at Walt Disney World?
Some Disney guests choose to spend a day or two at Walt Disney World and then take Disney's shuttle to the port for their Disney Cruise. Keep in mind that Orlando is not right next door to Port Canaveral. Make sure you figure out what time you need to get on that shuttle far in advance.

TRANSPORTATION TO AND FROM THE PORT
Of course, once you are at that hotel, you need to figure out how to get to the port from where you are. Does your hotel have a shuttle that will take you there? Is it within walking distance? Even if it is, do you really want to walk to the port dragging all your luggage? Did you drive to the hotel? If so, can you drive to the port? What about parking?

For our first cruise, we opted to rent a car at the Orlando airport, which we drove to our hotel. The next morning, we were up bright and early so we could return our rental car at the nearby location. Then the rental agency provided us with a free shuttle to the port. It was very convenient.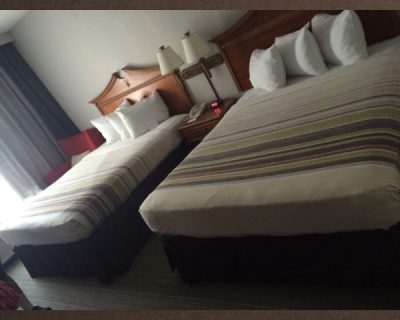 Don't pay for more than you need!
PRICE


If you are just looking for a clean room for your pre-cruise hotel stay, a soft bed and a good shower, you don't necessarily want to splurge for a high-end resort with a complete spa, mini waterpark or karaoke bar. For our first cruise, we found a hotel that had a complimentary breakfast buffet but no other bells and whistles. Since all we were doing at this hotel was sleeping and showering, it was perfect for us.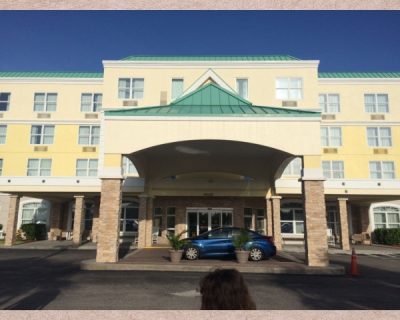 We loved the Country Inn and Mini Suites!
The bottom line? It might seem that a hotel stay is just another expense that you'd rather not pay. But it is such a good idea. Car breakdowns happen. Flights get delayed or canceled. And you don't want to miss out on your cruise because of it. Trust me: Book the hotel stay.
What suggestions do you have for booking a pre-cruise hotel stay? Share your thoughts in the comments or on Facebook or Twitter!
Did you like this article? Make sure to share it with your friends! Check below for easy ways to share!  
Want to visit a Disney Destination? Contact The Magic for Less Travel for more information and a free, no-obligation quote.

Incoming search terms:
https://www themouseforless com/blog_world/tips-for-choosing-your-pre-cruise-hotel-before-a-disney-cruise/
hotels to stay inbefore disney cruise
https://www themouseforless com/blog_world/tips-for-choosing-your-pre-cruise-hotel-before-a-disney-cruise/#:~:text=If youve asked me all experienced a flight delay
staying at a disney resort before cruise