This post may contains affiliate links for your convenience. If you make a purchase after clicking a link we may earn a small commission but it won't cost you a penny more! Read our full disclosure policy here.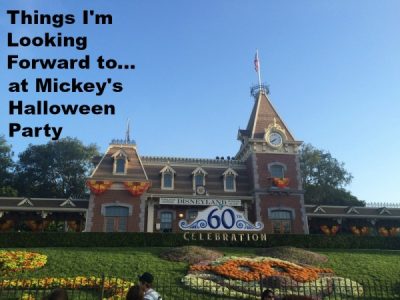 Disneyland Park decked out for Halloween
You'd think, after going on Disney trips since 1976, I'd have seen it all and done it all. But you'd be dead wrong. The world of Disney travel has exploded since Walt first built his sweet little park in 1955. And there are plenty of items I need to cross off my Disney bucket list.
It's been a tradition in my family to go to Disneyland for each of my daughter's birthdays. I don't pull her from school (yes, I'm one of THOSE Moms) so if her birthday fell on a weekday, I'd generally take her to Disneyland on the Saturday closest to her birthday. Since she was born in September, this meant that most of the time it was 1) crowded and 2) blistering hot.
This year, her birthday falls on a Friday, and I had the thought – what if we changed things up a bit? I don't mean skipping Disneyland – heaven forbid. But what if, instead of spending a lot of money to go to Disneyland the day after her birthday, dealing with Saturday crowds and oven cleaning cycle heat, we bought tickets to Mickey's Halloween Party instead?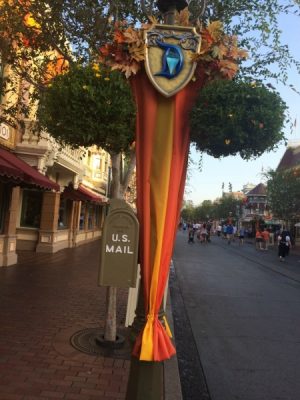 fall banner on Main Street, U.S.A.
Sure enough, when the dates for Mickey's Halloween Party were announced, there was one being held on my daughter's actual birthday! This meant that as soon as the afternoon bell rings for her school, we can pop her in the car and drive straight to Disneyland. Admission to the party is less than a regular day's ticket, and since we can get into the park at 4:00pm and the party doesn't end until midnight, most of that time, the sun won't be beating down on us.
Since I've never been to the party I'm not exactly sure what to expect. But since I'm a Southern Californian, I know lots of people who have gone, and I've been listening to their descriptions with glee. Here are the things I'm looking forward to the most:
COSTUMES!
There are restrictions to what sort of costumes both adults and kids can wear, so mine is going to be less of a costume and more of a Disney bounding situation. Or Marvel bounding, if that's a thing. (And if it's not, I just made it one. So there.) My husband 3-D printed me this awesome belt buckle, which I will be wearing over an all black ensemble, and I'm planning on dying my hair red for the occasion: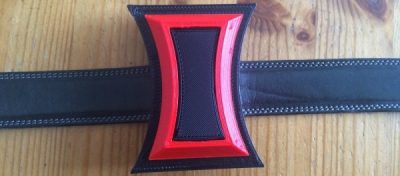 the belt for my costume, 3-D printed by my husband
My daughter has decided to be Tinker Bell, surprising absolutely no one: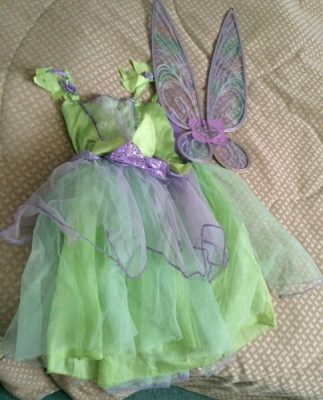 Tinker Bell costume is ready to go!
And my costume adverse husband is getting into the act even if I have to drag him kicking and screaming. He's basically going to wear street clothes with this sticker on his shirt: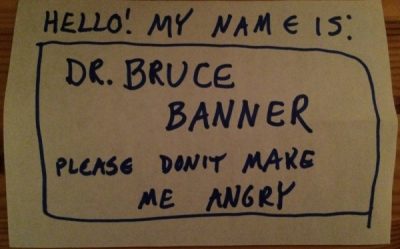 the perfect costume for a guy who hates costumes
HALLOWEEN SCREAMS:
I am wondering how late we'll all be able to stay up, but I'm really hoping that we can make it for the Halloween fireworks, exclusive to the party. It's been quite a while since we've been at any Disney park at night, so we're ready for some fireworks.
THE FRIGHTFULLY FUN PARADE:
High on our list of things to do is stuff you cannot do at any other time. This parade is new and exclusive to the party, so I don't want to miss it.
TRICK OR TREAT STATIONS:
Fill it up!
One of the things my friends rave about is the high quality treats that are given out at the party. My daughter is going to try to gorge herself on these. I will try my best to resist.
HAUNTED MANSION HOLIDAY: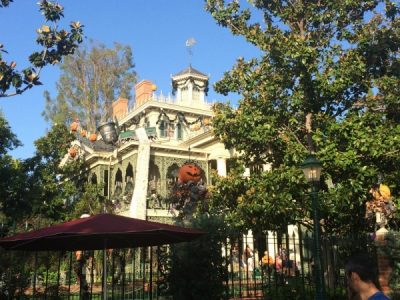 The Haunted Mansion Holiday!
Yes, of course this is open during Halloween time at Disneyland, whether or not you're at the party. But it's so much fun to see the holiday overlay each year. I can't wait to find out what the gingerbread house will look like this year!
Are you going to this year's event? What are you looking forward to experiencing? Share in the comments!
Incoming search terms:
https://www themouseforless com/blog_world/things-im-looking-forward-mickeys-halloween-party/