This post may contains affiliate links for your convenience. If you make a purchase after clicking a link we may earn a small commission but it won't cost you a penny more! Read our full disclosure policy here.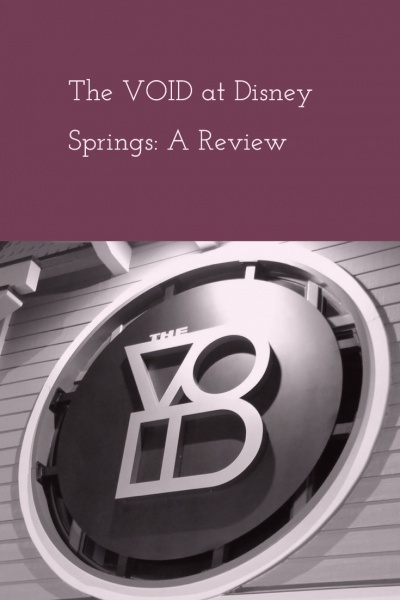 My husband is a huge  Star Wars fan; when it comes to Star Wars, he seems to have seen it all, done it all, and read all about it! This year, I finally came up with the perfect Christmas gift (in addition to completing his limited edition vintage movie poster collection!): a trip to The VOID at Disney Springs to experience Star Wars: Secrets the Empire! Now, he'd probably be the better one to tell you all about this experience, given his comprehensive knowledge of all things Star Wars, but I attended this experience, too, so I'm bringing you my review of this virtual reality attraction!
THE FINE PRINT
The VOID has experiences all over the country, with two different virtual reality experiences right in Disney Springs! Here, you can choose between Wreck-It Ralph or Star Wars; for my husband, this is obviously a no-brainer! The VOID is located in the Marketplace, right across from Earl of Sandwich. We made the ridiculous decision to go check it out on Christmas Day, so crowds were pretty wild, but you are able to reserve your spots online, so we knew we were guaranteed to experience the fun!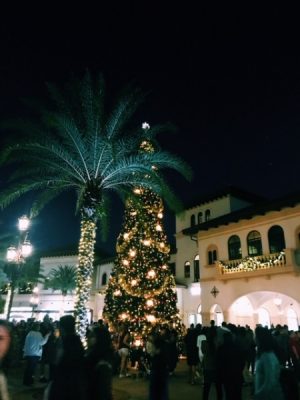 Since this was a Christmas gift, I went ahead and purchased a gift certificate code online, which was really easy to redeem on the website (or in-person, if you decide not to make an online reservation). I would definitely recommend purchasing and reserving your spot ahead of time, as it really expedited our check-in process!
With regard to pricing, the website specifies separate pricing for weekdays versus holidays/weekends. Weekdays will run you $29.95 plus $4.80 in taxes and fees, and the weekend/holiday rate is $32.95 plus $4.99 in taxes and fees. A word of warning: I purchased the gift certificate intended for 2 participants at $80, but our total tab came to only $75.88, so I'd recommend skipping the gift certificate option, since I actually lost a few bucks doing it this way.
CHECK-IN AND SUITING UP TO PLAY
We arrived about 15 minutes early for our scheduled 5:30 p.m. time slot, even though the website tells you that showing up right on time is okay (I'm one of those people who like to be early!). We checked in with the Cast Member, who queued us up out front with another family. We actually got to enter about early, and were off!
Up next, we headed to the iPad kiosks to check in. We filled out our names, signed the consent form, and printed our identification bracelets; the whole process was totally simple, and took no time at all! From there, we were moved into a staging area; we each took our positions at another kiosk, designed our Storm Trooper avatar (I obviously went with pink!), and learned about our mission (more on that later).
Our final staging area was where it got exciting: getting suited up in our gear! We each wore a helmet with virtual reality goggles and a backpack of sorts, strapped onto our bodies. The gear was surprisingly heavy, but totally manageable! We were given the opportunity to try out our headgear in this staging area, so my husband and I practiced communicating with each other through the headsets, and just getting the hang of seeing through the virtual reality screen.
We were also given the opportunity to ditch our personal belongings in a locker; I left my purse, cell phone, and Mickey ears behind, and secured our locker with a code we created.
THE STAR WARS EXPERIENCE!
Since the facility was not running at full capacity, Stuart and I had an entire room to ourselves (each experience can accommodate up to 4 guests, so we could've been partnered up with another couple, but lucked out!). Our mission was "to recover Imperial intelligence vital to the rebellion's survival." We started off by traveling to Mustafar (where we could feel and smell the burning fire!), grabbed our blasters, and had to navigate enemy territory.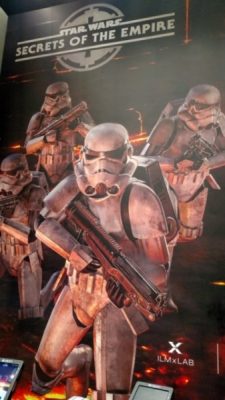 The experience was absolutely immersive; there was one point where we had to walk across a narrow pathway, and I almost lost my nerve (until I remembered that it's all virtual)! We could interact with each other, and could even see our own hands holding our blasters in front of us. We had to solve a few puzzles (I left this up to my husband while I shot at some bad guys), and got a few surprises, as well!
OUR OVERALL OPINIONS
Not wanting to give away all of the secrets of our experience at The VOID, I recommend you go and check it out yourself! Though the experience is very short, about 45 minutes from check-in to departure, for us, we thoroughly enjoyed our experience! My husband was blown away by the realistic nature of the experience. He's always dreamed of being part of this universe, so the experience exceeded his expectations.
Not being a Star Wars fan, myself, I wasn't too sure how much I'd enjoy The VOID, but I was pleasantly surprised. I loved the immersive nature, the opportunity to use blasters, and the fast paced adventure we were on. I also suffer from motion sickness and often have to skip out on attractions at the parks (Star Tours is not for me, sadly!), so I was worried I might feel queasy during this experience, but I felt perfectly fine, never feeling dizzy or disoriented! I also never felt claustrophobic, despite wearing a snug helmet; the technology really makes the experience feel real, so I felt like a rebel disguised as a Stormtrooper, not like someone playing a video game!
Though this experience is quite pricey for the short amount of play time (about 15 or so minutes of actual gaming, and no annual passholder discounts offered here), Stuart and I both agreed that we'd love to come back and experience the Wreck-It Ralph side of The VOID. If you have a Star Wars fan in your life, this is a can't miss attraction!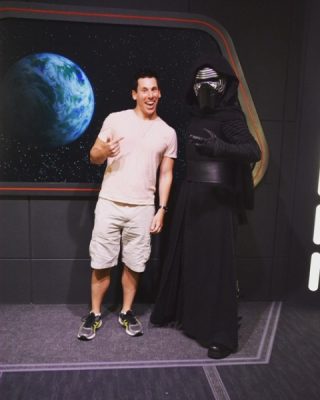 Have you tried the experienced The VOID before? What were your thoughts? Let us know in the comments, or on Facebook or Twitter!
Did you like this article? Make sure to share it with your friends! Check below for easy ways to share!
Want to visit Walt Disney World? Contact The Magic for Less Travel for more information and a free, no-obligation quote.