This post may contains affiliate links for your convenience. If you make a purchase after clicking a link we may earn a small commission but it won't cost you a penny more! Read our full disclosure policy here.
The entrance to the Three Broomsticks
I've been to the Wizarding World of Harry Potter at Universal Studios Hollywood before, but this month I got to have lunch at The Three Broomsticks for the first time.
The Three Broomsticks is a recreation of the Hogsmeade tavern of the same name that students at Hogwarts would visit. The building is gorgeous, with dark wood everywhere.
Although it was about 11:00 a.m. on a Monday in July, the restaurant was not very busy. We got into a line that looked long, but that moved very quickly, thanks to well staffed ordering stations.
Don't be surprised if the witch or wizard taking your order asks if you'll be paying with "cash or Muggle plastic." And if you do use that Muggle plastic, you might be handed a feather quill pen to sign your receipt.
The menu is fiercely British: think bangers and mash (sausages and mashed potatoes), roast chicken, shepherd's pie (ground beef and veggies with a mashed potato topping) and fish and chips. There is a children's menu and also vegetarian and gluten-free options on the menu.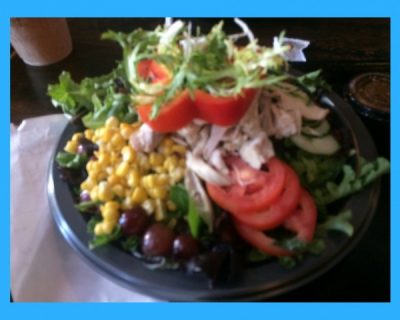 Roasted Chicken Salad
Everything sounded delicious, but, to be honest, I wasn't in the food for hot, hearty, heavy entrees on a sweltering July day. So I opted for the roasted chicken salad. The portion was huge, and the vegetables, including greens, red bell pepper, tomatoes, cucumber and raw corn, were fresh and crisp. Grapes added a nice touch of sweetness. And the chicken was moist and flavorful.
Cheese Toastie with Chicken
My daughter surprised me by skipping the children's menu and trying the cheese toastie with chicken. It's chicken breast covered in cheese and mustard on a thick piece of toasted bread, topped with a fried egg. It came with "chips" (French fries).
Again, the portion was huge, and my daughter couldn't finish it, but the chicken was prepared just as well as mine was. The bread was nicely toasted without being overly dry.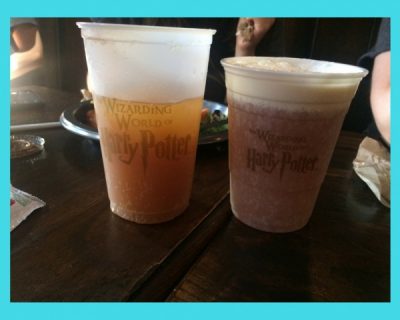 Pumpkin Fizz and Butterbeer
For drinks, we decided to live like real magical folks and try two Hogsmeade specialties: the Butterbeer and the Pumpkin Fizz. Personally, these were not for me. Both drinks were very sweet. The Butterbeer flavor is strongly butterscotch, with a hint of marshmallow. I much prefer these flavors in ice cream form, which you can get at a cart towards the back of the Wizarding World.
The Pumpkin Fizz was spiced nicely, but it was like drinking a slice of carbonated pumpkin pie. If that's your thing, you'll love it. But I had about 3 sips and was done. It was just too sweet for me.
All in all, I really enjoyed eating at The Three Broomsticks. Something about sitting on real, solid wooden chairs at a dark wood table under vaulted ceilings while the Harry Potter soundtrack plays is very appealing. I'd love to try this place again in winter (yes, it does get cold in Southern California sometimes!) so I can dig into some of the more hearty entrees.
Have you tried The Three Broomsticks at Universal Studios Hollywood? What were your thoughts? Share in the comments, or on Facebook or Twitter.
Did you like this article? Make sure to share it with your friends! Check below for easy ways to share!
Incoming search terms:
https://www themouseforless com/blog_world/the-three-broomsticks-universal-studios-hollywood/
https://www themouseforless com/blog_world/the-three-broomsticks-universal-studios-hollywood/#:~:text=The Three Broomsticks is a gorgeous, with dark wood everywhere