This post may contains affiliate links for your convenience. If you make a purchase after clicking a link we may earn a small commission but it won't cost you a penny more! Read our full disclosure policy here.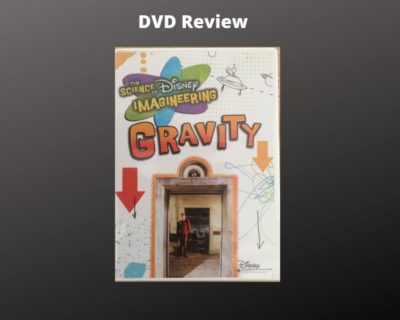 The Science of Disney Imagineering: Gravity
The next Science of Disney Imagineering DVD that my daughter and I watched together was Gravity. I knew this was going to be a fun one. After all, so many Disney theme park thrill rides involve the thrill of feeling gravitational forces.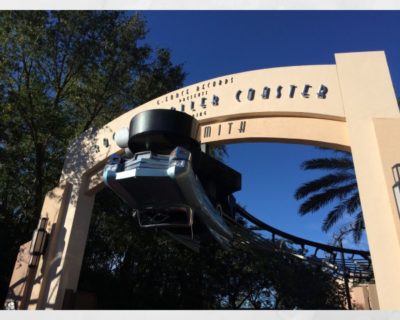 Riders feel 5 g's on the Rock 'n' Roller Coaster!
This DVD began with Asa, our Imagineering guide, describing how gravity works both here on our planet and on other planets in our solar system. Then he began to show us how gravity makes some of the Disney theme park attractions so thrilling.
He starts in Disneyland, where he speaks with an Imagineer about how the Matterhorn was designed. This was the world's first tubular steel continuous track roller coaster. Imagineers designed it so that once the bobsleds got sufficient height, gravity did some of the work of keeping them moving on the way down.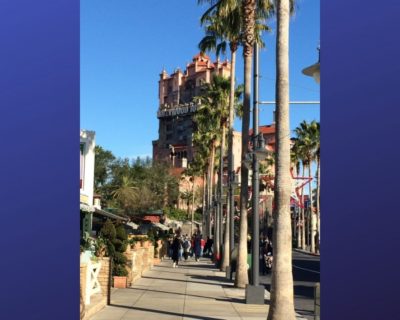 Walt Disney World's Twilight Zone Tower of Terror
Next, we move over to Walt Disney World and the Rock 'n' Roller Coaster. This coaster was designed much later, and doesn't rely on a long, slow uphill climb in order to make its dips and twists seem thrilling. The high-speed launch uses a linear synchronous motor to accelerate the cars from 0 to 57 miles per hour in a little under three seconds. This gives riders a sense of feeling high gravitational forces. In fact, riders experience 5 g's, which is higher than a rocket launch!
Speaking of a rocket launch, our next stop is Epcot, where we learn how Mission Space's centrifuges give guests a thrilling ride due to centripetal force, which mimics the feeling astronauts experience when they are launched from the Earth. Riders feel the equivalent of 2 and a half g's if they are brave enough to experience Team Orange.
Of course, you can't talk about gravity and Disney without a visit to the Twilight Zone Tower of Terror. Asa takes us to California Adventure for this one, as this DVD was produced before that ride was transformed into Guardians of The Galaxy: Mission Breakout. We learn that what feels like a terrifying free-fall is actually a carefully orchestrated ride in which guests are pulled both upwards and downwards to simulate a dropping, out of control elevator.
The quiz portion of this DVD was tricky, and I'm not ashamed to admit that we got a couple of questions wrong. The experiment looks like a super fun one: building your own hovercraft! Out of all the experiments on these DVDs, this one definitely has the most unusual components. You'll have to make a trip to the hardware store if you'd like to try this one.
Once again, this is a fun, educational DVD that is sure to delight young scientists and Disney theme park fans.
Did you like this article? Make sure to share it with your friends! Check below for easy ways to share!
Want to visit the Walt Disney World Resort? Contact The Magic for Less Travel for more information and a free, no-obligation quote.