This post may contains affiliate links for your convenience. If you make a purchase after clicking a link we may earn a small commission but it won't cost you a penny more! Read our full disclosure policy here.
ARG!   The Pirates Adventure in Adventureland is an interactive activity for all ages.   You need to enlist at the building set up on the walkway towards Splash Mountain (next to where the McDonald's French fry stand used to be).   My son and I recently had a chance to try this out on our trip to Disney World.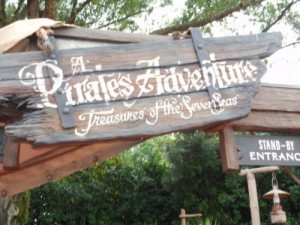 It appears they are expecting big crowds as there is a standby line, although I did not see fast pass machines, and there was no one in line, despite the fact that it was storming and most of the rides in Adventureland were shut down.    We walked right in and were recruited to help find the treasure.   You are told which map to use (there are five) as you are enlisting on the computer with the following information:
The top cover of our map read "The King's Ransom"
As you open the map you see a note on the inside page:
We're off to retrieve the Treasure of the Arctic!  There are just a few minor complications:
No one knows what the treasure looks like
A ship full of nefarious smugglers is planning to raid the fort where the treasure is kept
Legends say that the fort is haunted by the ghosts of Spanish Conquistadors
Nevertheless I have the utmost confidence in your ability to find the treasure.  I shall stow away on board the smugglers ship to assist you in the search.
(Signed) Captain Jack Sparrow
Open the last page and you see the entire map.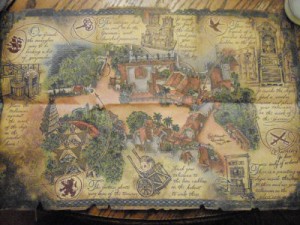 Close ups of the map in 2 sections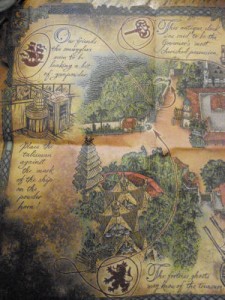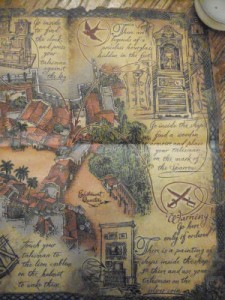 The Map has different symbols on it, and arrows pointing to where you can find that symbol/clue.
I will admit to being a bit confused by much of it, so was following my son around not really catching on.   Maybe I was over-thinking it as now that I type it out it seems to make more sense.
So using the map, you try to track down each symbol and activate it with your "talisman".   (room key or park pass is your talisman).  You will come across displays like this and activating them will cause a reaction related to your quest.
Here are some of the clues we were finding: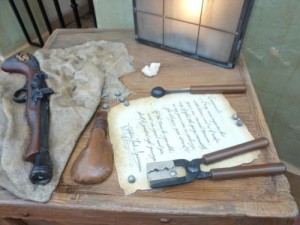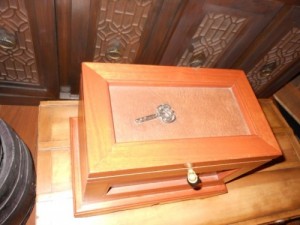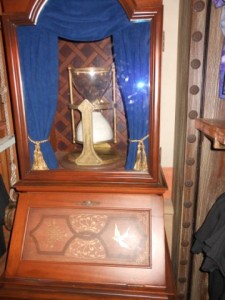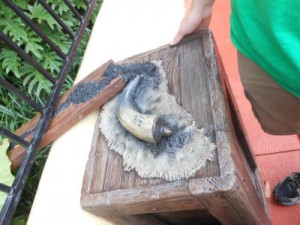 As you can see, many of the clues just fit right into the theming of the area, and you would most likely have no idea there was a treasure hunt going on, had you not enlisted!
Here is one of the reactions we set in motion, you have to pay attention or you can miss these.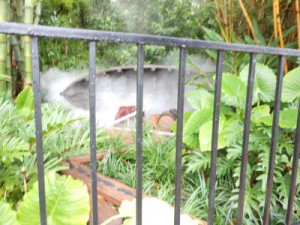 All in all it was a fun experience took about 15 minutes to complete and you can go back and do the others if you want.   We will probably do another 1 or 2 on a future trip.    It's a good activity if you are waiting for a fast pass window, or a dining reservations.
You can find out about more pirate activities at both Walt Disney World and Disneyland at https://www.themouseforless.com/walt-disney-world/parks/gems/pirates/.