This post may contains affiliate links for your convenience. If you make a purchase after clicking a link we may earn a small commission but it won't cost you a penny more! Read our full disclosure policy here.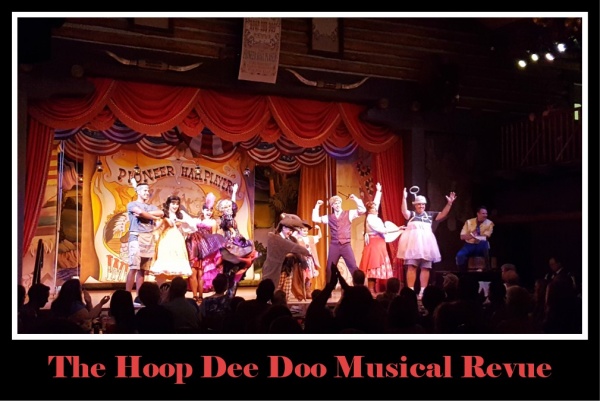 There are so many great dinner options within the Walt Disney World Resort, but if you are looking for something truly unique, check out The Hoop Dee Doo Revue. The Hoop Dee Doo Revue is a musical dinner show that is perfect for guests of any age!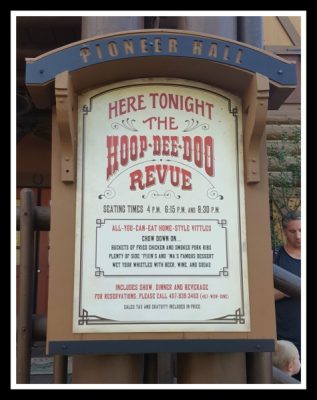 Getting to Pioneer Hall, which houses the Hoop Dee Doo Musical Revue, is quite an adventure. There are two ways to travel: take a boat from the Magic Kingdom or park at the front of the Fort Wilderness Resort and take a shuttle bus. No matter which option you choose, you need to leave extra early for your reservation. I thought the recommendation of allowing an hour and a half to get there was crazy at first, but now I see why this is suggested. If you have never been out to Fort Wilderness, it's huge!
We opted to drive and take the shuttle bus. After parking our car, we easily found our way to the shuttle bus depot. The bus will take you all the way to the back of the resort. As you travel, you will see the campgrounds and cabins that make up this unique resort.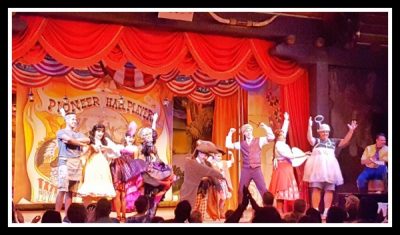 We finally reached our destination and made the short walk to Pioneer Hall. We checked in and took advantage of a PhotoPass opportunity while we waited for the doors to open. It wasn't long before we were escorted to our table and took our seats for the show.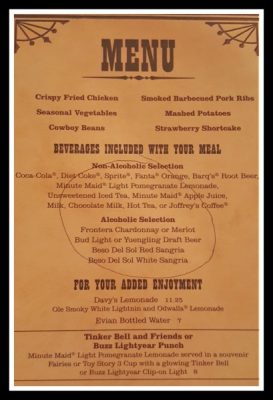 There is seating on the main floor as well as balcony seating. We sat on main floor, just to the left of the stage. The pricing for the show is tiered, so the tables closest the stage have higher prices than the balcony. I don't think there is a bad seat in the house though.
The performers move all around the room throughout the performance, so you should be able to see from any table. There are 3 shows each evening and I found that the 4:00 pm show had more availability when I booked. If you want to sit in a specific section and it is not available, try a different show time if your schedule allows. The earlier you make your reservation, the more options you will have.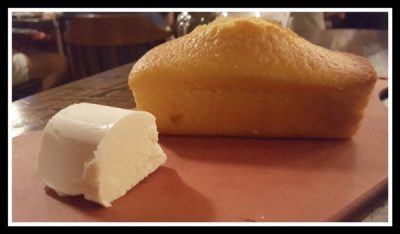 This is an all-you-care-to-enjoy dining experience and the meal began as soon as we arrived. There was cornbread and salad already waiting on the table for us! The cornbread was sweet and soft. I have pretty high standards when it comes to cornbread and thought this was really good. I enjoyed the salad, but only ate a little bit because I knew that more delicious food was coming my way!
The meal price also includes a beverage. You can choose from: a variety of soft drinks, tea, juice, milk, coffee, beer, wine, or sangria. I chose a white sangria, which I found to be light and refreshing.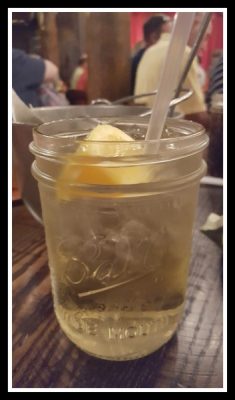 We had a little time to start on our salads before the performance began. This show is full of high-energy entertainment from beginning to end! There is singing, dancing, comedy, and lots of action.  It is definitely a show that the entire family will enjoy. The best part is, the meal flows seamlessly into the performance!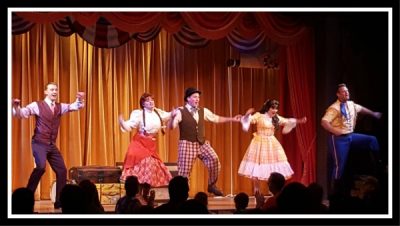 Just as you are really getting into the show, the servers return with your main course. Buckets of fried chicken and ribs are placed on your table to the beat of the music.  It's all part of the performance! Meals also include: corn, mashed potatoes, and baked beans. Macaroni and cheese isn't listed on the main menu (except as a kids' selection), but you can request it.  We did!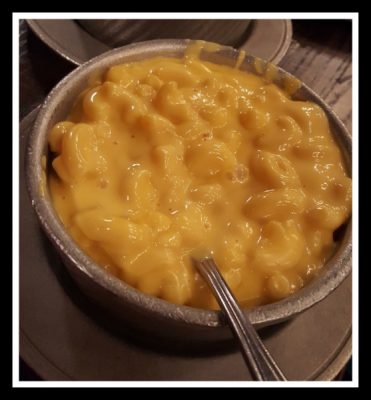 The fried chicken was crispy and delicious. I really enjoyed it. The mashed potatoes were my favorite side dish. They were fluffy and creamy. So yummy! The baked beans and corn were fresh. I wasn't thrilled with the ribs. They were a bit dry, even with tons of barbecue sauce on top. I gave them a try, but opted for a second piece of chicken instead of more ribs.  Overall though, everything was fantastic.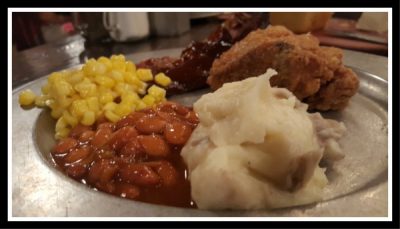 You have a little time to dig into your meal before the show starts back up again. The second part of the show is just as exciting as the first. Go ahead and clap along with the music and celebrating with the other guests when birthdays and anniversaries are announced.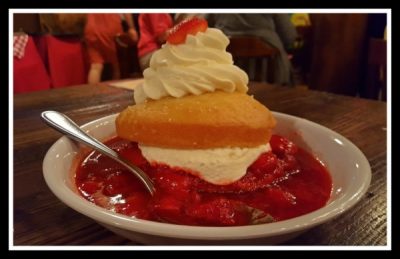 Of course, no dinner show would be complete without a little dessert. Or should I say, A LOT of dessert! The strawberry shortcake was enormous! We loved it. Part of me wished that I had eaten less during the main course, but that fried chicken was just so good!
I highly recommend a visit to the Hoop Dee Doo Revue on your Disney Vacation. The food was fantastic and the show was so much fun. We had an amazing time and I hope that you will too!
Have you seen the Hoop Dee Doo dinner show? What did you enjoy the most? Let us know in the comments!
Did you like this article? Make sure to share it with your friends! Check below for easy ways to share!