This post may contains affiliate links for your convenience. If you make a purchase after clicking a link we may earn a small commission but it won't cost you a penny more! Read our full disclosure policy here.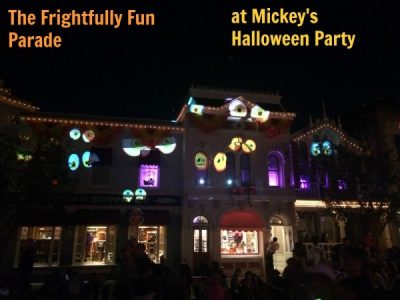 Eerie projections entertain before the parade
My family experienced Mickey's Halloween Party at Disneyland Park for the first time on September 30th. One of the things we did not want to miss was the Frightfully Fun Parade. This is the first year this particular parade was running down Main Street, U.S.A.
For those of you who have never heard of it, Mickey's Halloween Party is a special ticketed event that takes place on select nights in the Fall at Disneyland Park. On those evenings, the park closes early to non-party guests. Those who have party tickets are able to enjoy many of Disneyland's regular attractions with much shorter lines. And there are also experiences exclusive to the party, like the treat trails, live entertainment provided by the Cadaver Dans, talking scarecrows, a special fireworks presentation, exclusive party desserts for sale, and the parade. In other words, without a party ticket, you won't be able to see this parade.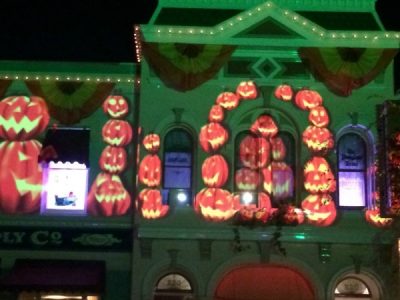 another spooky projection
It's shown twice during the party, and we chose to view the earlier one, which was scheduled to begin at 8:30 p.m. At about 8:00 p.m. we snagged a piece of the curb on Main Street. Although we got a pretty decent spot, my short daughter was having trouble seeing. Some very nice folks in front of us let her stand with them.
While we waited for the parade, I grabbed some free ice water from Coke Corner and snapped some photos of the delicious Halloween treats sold in the shop windows.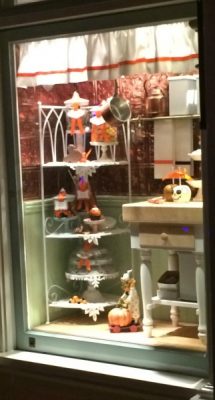 Halloween Treats for Sale
Spooky Halloween projections played across the Main Street storefronts along with appropriately themed music: songs from A Nightmare Before Christmas, "Grim Grinning Ghosts," and "Heffalumps and Woozles". These were really fun and helped pass the time while we waited.
The parade was started off with the Ride of the Headless Horseman, who rode down Main Street while the eerie voice of the narrator shared a bit of his story from the Legend of Sleepy Hollow.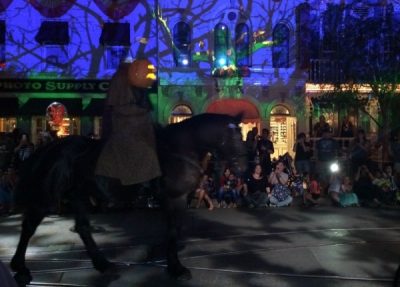 The Ride of the Headless Horseman
I expected the parade to start right away, but it didn't. There was a considerable pause before it started. I don't know if it's always this way or if there were technical difficulties.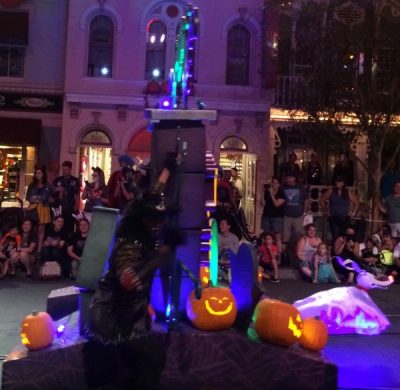 Zero starts off the parade
Zero the ghost dog started things along. Soon, the mayor of Halloween Town rode by in his hearse, announcing that the parade was in full swing. Jack Skellington and Sally were also on hand.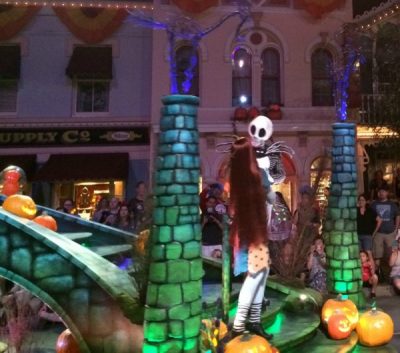 Jack and Sally in the Frightfully Fun Parade
The Haunted Mansion was represented, perhaps to remind guests that there are ghosts here year round! Madame Leota charmed us from the window, and grave diggers scraped the pavement with their shovels.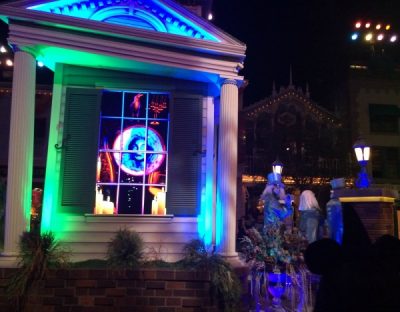 Welcome, foolish mortals, to the Haunted Mansion
Disney villains were up next, beginning with Dr. Facilier. The evil stepsisters and Hades followed not too far behind.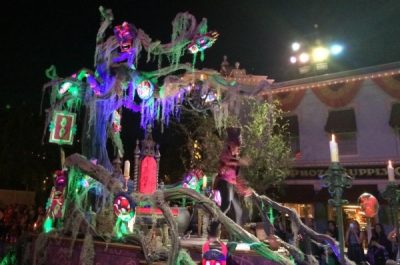 Dr. Facilier in the Bayou
This parade is a lot of fun, although shorter and less elaborate than others we've seen at both Disneyland and Walt Disney World. However, if you're planning on visiting Mickey's Halloween Party, I highly recommend you watch one showing of this frightfully (not really) fun (definitely) parade!
Have you seen the Frightfully Fun Parade? What were your thoughts? Share in the comments.