This post may contains affiliate links for your convenience. If you make a purchase after clicking a link we may earn a small commission but it won't cost you a penny more! Read our full disclosure policy here.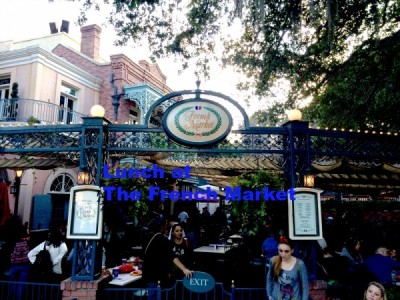 Welcome to the French Market!
The French Market, in New Orleans Square, is one of my favorite quick service spots at Disneyland. For starters, this place doesn't feel like a quick service spot. Food is served cafeteria style. The seating is outdoors, under shade, with a view of the train station. If you're lucky, you can time your meal to a live performance by the Royal Street Bachelors, who play Dixieland jazz on a stage in the seating area.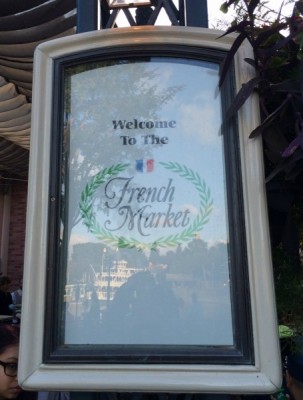 The French Market is located in New Orleans Square
My rule of thumb when eating quick service at a Disney theme park is to get to the restaurant at 11:00 a.m. to avoid crowds. However, on this day, a notoriously slow loading Finding Nemo Submarine Voyage changed our plans. We didn't get to the French Market until 12:26 p.m., and consequently, the place was packed. We sent my Mom to grab a seat for us while the rest of us got our food.
Even though the line was quite long, it moved quickly. I looked for a former favorite of mine, the N'Awlins Salad, only to find it missing from the menu! This salad featured a tangy apple carrot slaw, candied pecans, and dried cherries.
In its place was a new item, the New Orleans Salad, which featured hard boiled eggs and crispy bacon. I am not a hard boiled egg person, so I ordered mine without it. The salads are all tossed to order, so this was no problem.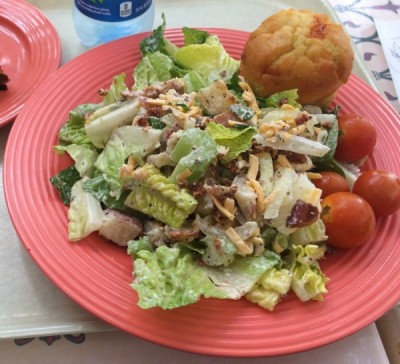 New Orleans Salad with Jalapeño Corn Muffin
This salad was very good. The crisp, smoky bacon was a perfect complement to the greens. The dressing was light. Roasted potatoes added an unexpected creamy texture.  It came with a a jalapeño corn muffin, which only had a slight bit of heat to it.
My husband ordered the same salad with the egg. He also enjoyed it. He got a Mint Julep to go with it. I have never understood the appeal of these drinks. To me it tastes sickly sweet. But he loves it.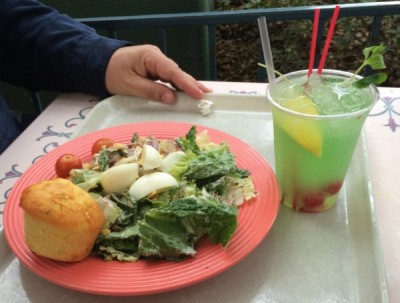 New Orleans Salad with Mint Julep
My daughter got the kids macaroni and cheese meal, which came with carrot sticks, celery and grapes, which was a nice change of pace from the standard bags of baby carrots and sliced apples that usually accompany Disney kids meals.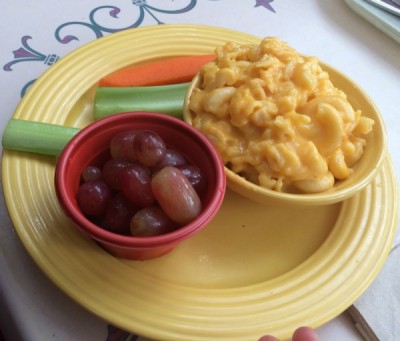 Kids Mac and Cheese with celery, carrots and grapes
For dessert, the three of us split a slice of 60th Anniversary Cake. Reviews on this one were mixed. It's basically a chocolate cake layered with thick chocolate frosting, chocolate mousse, and a passion fruit filling. My issue was the ratio. There was not enough actual cake for me. My parents and sister also shared a slice and none of them liked the passion fruit filling, saying it tasted more like mango. I, however, liked the filling. I just wish there was more cake in this, um, cake.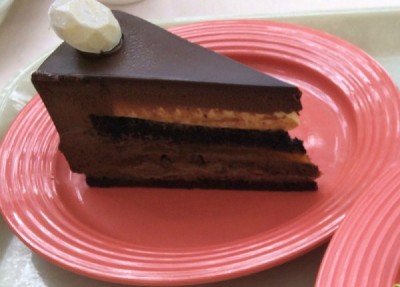 60th Anniversary Cake
The bill for the three of us was $47.02. We will definitely return to the French Market.
Have you visited The French Market? What are your thoughts? Share in the comments!
Incoming search terms:
https://www themouseforless com/blog_world/the-french-market-in-disneyland/