This post may contains affiliate links for your convenience. If you make a purchase after clicking a link we may earn a small commission but it won't cost you a penny more! Read our full disclosure policy here.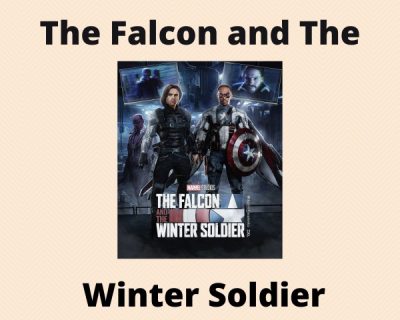 Now streaming on Disney +
Marvel is making its presence known on Disney + in a big way. In addition to putting its family-friendly films and TV shows on the service, Marvel has also committed to making high-quality Disney + original series.

Things got off to a great start with WandaVision, a show that gave us a very different look at the Marvel Cinematic Universe. In fact, many fans were mind-boggled with the first couple of episodes, which featured episodes patterned after old sitcoms, with nary a fight action sequence in sight.

Marvel Studios' second Disney+ original, The Falcon and The Winter Soldier, does not put fans in this position. The very first scene is a high-octane, visually stunning action sequence of the Avenger Sam Wilson, otherwise known as Falcon (Anthony Mackie), on a mission to stop a kidnapping.

But since this is a TV show and not a film, the creators wisely give us a lot of character development to offset the action. Soon after Falcon touches down, we are treated to a scene in which Bucky Barnes, otherwise known as The Winter Soldier (Sebastian Stan), is in court-mandated therapy.

It is this balance between exciting action and character development in the show's first two episodes that has me intrigued. Marvel Studios seems to be taking a cue from the more successful entries from Marvel Entertainment, which involved breathtaking action sequences coupled with meaningful conversations with the characters in which they reflected on everything that they do and what goes on around them.

This first two episodes of this show tackles some tough issues, such as mental health, personal identity, governmental responsibility and racial discrimination. I am curious to see if these themes continue throughout the series.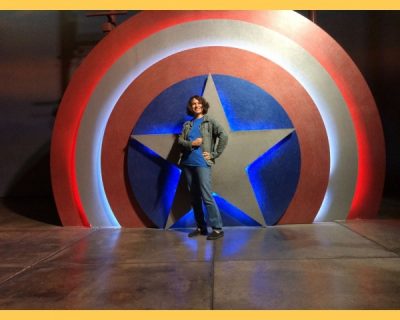 Captain America meet-and-greet area in California Adventure
This show is rated TV-14 LV, which refers to some bad language (a couple of the "s" words but so far no f-bombs, and knowing Marvel, there probably won't be any) and violence (which so far has been strictly of the comic book variety so often shown in the Marvel films) which parents should take into account when deciding whether or not to watch this as a family.

In case you want to watch this show without seeing all the Marvel films that feature the main characters (or you need a refresher!) there are four episodes of Marvel Legends you should see first. Each episode is about 5 minutes in length and feature a different character. In addition to the title characters, there is a Legends episode for Sharon Carter (Emily VanCamp) and Helmut Zemo (Daniel Brühl).

The first episode was released on Friday, March 19th. Subsequent episodes will be released on Fridays, totaling six episodes in all. I don't plan on missing any.
What do you think about The Falcon and The Winter Soldier? Share in the comments or on Facebook or Twitter!
Did you like this article? Make sure to share it with your friends! Check below for easy ways to share!  
Want to visit a Disney Destination? Contact The Magic for Less Travel for more information and a free, no-obligation quote.

Incoming search terms:
The Falcon and The Winter Soilde fans blogspot