This post may contains affiliate links for your convenience. If you make a purchase after clicking a link we may earn a small commission but it won't cost you a penny more! Read our full disclosure policy here.
The Epcot Food and Wine Festival is filled with food and beverages throughout its many kiosks. While the wine, beer, and dinner selections may be most popular, it's sweet desserts should not be overlooked. This article will point out some of my favorite sweet treats from the Festival.
1. Cannoli al cioccolato from the Italy Kiosk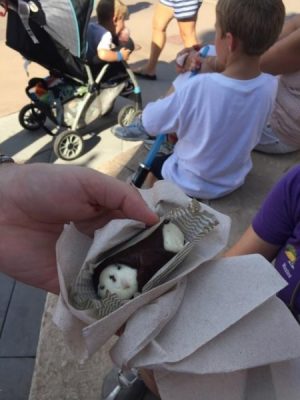 I have a hard time resisting a cannoli, and this chocolate cannoli is no exception. The shell is crunchy and covered in dark chocolate. The filling is authentic ricotta with candied fruit scattered throughout. This is a small portion, so you may want to pick up a couple of them if visiting with family or friends. In 2016, the cannoli costs $4.25 or one snack credit.
2. Belgium Waffle with Berry Compote and Whipped Cream from the Belgium Kiosk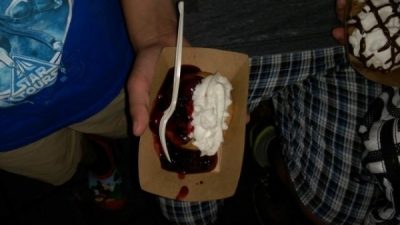 The Belgium kiosk knows how to make a good waffle- with a crisp exterior and a sweet and soft interior. Personally, the chocolate version is my favorite, but my family outvoted me when it came to this waffle with berry compote. It is sweet and tart at the same time, and the dollop of cold whipped cream is the perfect topping to make this a wonderful dessert option. You can buy the waffle with berry compote in 2016 for $3.75 or one snack credit.
3. Orange Blossom Brewery Toasted Coconut Porter Float with Caramel Ice Cream from the Champagnes and Desserts Kiosk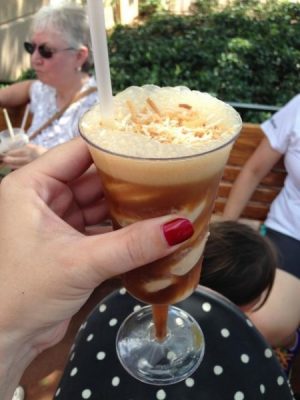 Part beverage, part dessert, this cold treat is the perfect choice for a hot day in the World Showcase. It was similar to a root beer float, but in place of the creaminess you would find in a root beer was a more complex porter. The ice cream was very sweet, and the coconut make the whole drink seem a little more exotic. It wasn't exactly what I expected, and that's part of why I loved it so much. In 2016, this kiosk has replaced the porter float with a couple of "hard soda" float options. I would definitely recommend trying these. They retail for $6.00 in 2016.
4. Warm Chocolate Pudding with Kerrygold Irish Cream Liqueur Custard from the Ireland Kiosk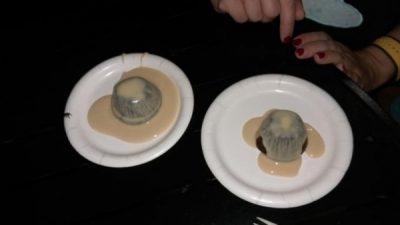 The warm chocolate pudding has been on the festival's menu list for a long time, and continues to be a crowd favorite. If you like chocolate lava cake, this is very similar. It is a small rich dark chocolate cake with a liquid chocolate interior and a warm cream topping. I have learned my lesson with this item and am sure to order extra so that I can keep one of these for my own! This dessert is $3.75 or one snack credit.
5. Apple Strudel with Vanilla Sauce from the Germany Kiosk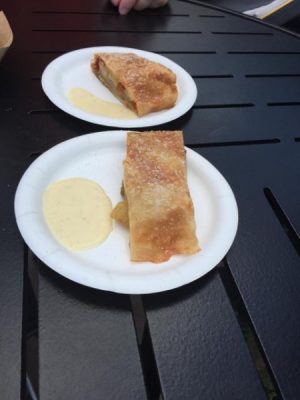 I know this seems like a basic item, but the Germany kiosk's apple strudel is not to be missed. It is very similar to the version served in Beirgarten Restaurant, without having to take the time and expense of eating a full buffet meal. This version of strudel has crisp apples, cinnamon, and raisins in a buttery philo dough crust. This is a crowd pleaser for the whole family. In 2016, it costs $3.75 or one snack credit.
Did I miss any of your favorite sweet treats from the Food and Wine Festival? If so, leave me a comment and let me know.
Incoming search terms:
https://www themouseforless com/blog_world/the-best-sweet-treats-at-epcots-food-and-wine-festival/