This post may contains affiliate links for your convenience. If you make a purchase after clicking a link we may earn a small commission but it won't cost you a penny more! Read our full disclosure policy here.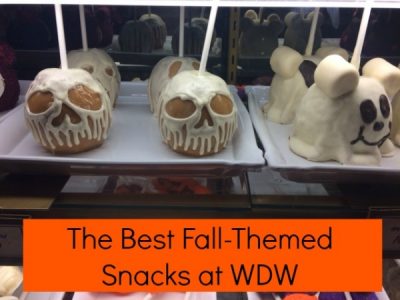 Anyone who knows me is aware of my obsession with Walt Disney World during the fall. There's nothing better than walking down Main Street U.S.A. surrounded by larger than life pumpkins, scarecrows, and Mickey decor. The only thing I enjoy more than the fall decorations has to be the many fall-themed snacks. Doesn't everything taste better when it's pumpkin shaped, or topped with a witch's hat? Here, I'll show you my top 5 fall-themed snacks throughout Walt Disney World.
1. Pumpkin Spice Funnel Cake, American Adventure Pavilion
I'll admit it: I go crazy for anything pumpkin spice flavored. I'm usually in line for a Pumpkin Spice Latte the first day they arrive at Starbucks, and I'm always willing to try the latest pumpkin craze. It should be no surprise that the pumpkin spice funnel cake at the American Adventure pavilion tops my fall-themed treats list. Head to the World Showcase in Epcot to try this delicious treat. For $8.50, you'll get a large funnel cake, big enough to share. These crispy, fried treats come dusted with a touch of powdered sugar, but if you're feeling like an extra splurge, you can get a scoop of vanilla ice cream on top! If pumpkin spice isn't your favorite flavor, classic funnel cakes are available, too.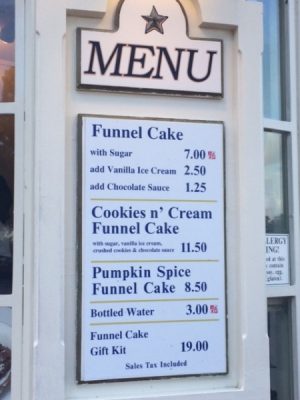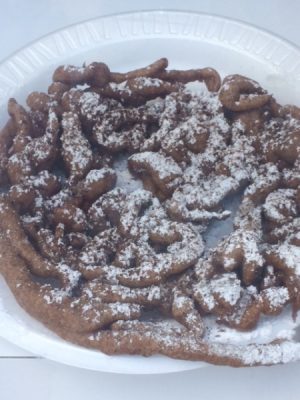 2. Pumpkin Pie Chai, Joffrey's Kiosk
To continue to indulge your pumpkin spice obsession, look no further than Joffrey's Coffee & Tea Company kiosks. We found some pretty spectacular seasonal beverages at the kiosk located in Future World, right near Ellen's Energy Adventure. Pick up a pumpkin pie chai or pumpkin pie latte, both available hot or iced. Classic creamy chai lattes and espresso lattes are made extra special with the addition of pumpkin pie syrup to create a phenomenal seasonal treat. If pumpkin isn't your thing, the Harvest Latte combines espresso, milk, caramel sauce, and green apple syrup. The pumpkin pie chai tasted just like a slice of pie, perfect for those cooler Florida evenings. And if you're looking for something extra, you can order your seasonal drink spiked!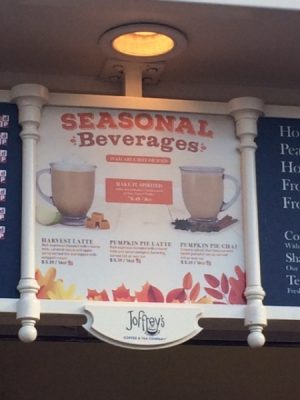 3. Fall-Themed Apples, Main Street Confectionery, Big Top Souvenirs
Nothing says fall like crisp apples. It doesn't hurt when the apples are cloaked in creamy caramel, silky chocolate, or crunchy candy coating. Walt Disney World whips up some of the most fantastically themed apples you'll ever see. Located throughout WDW, you'll be able to find spooky apples at many stores, but my favorite locations are the Main Street Confectionery and Big Top Souvenirs in the Magic Kingdom. Whether you're in the mood for something cute, something spooky, or something with mouse ears, the pastry chefs at WDW have got you covered. For me, a must-eat is the poisoned apple, but the Mickey Mouse jack-o-lantern apple is about as cute as can be. And as a bonus, you can get the apples wrapped up for travel, making them the perfect souvenir for friends and family back home.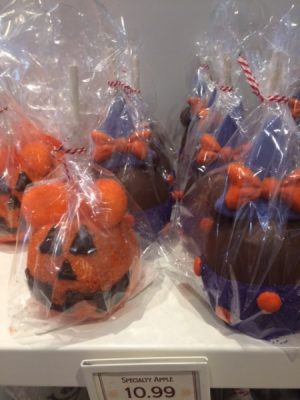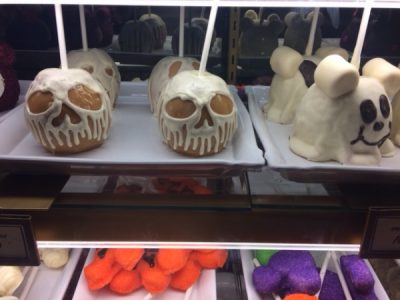 4. Fall Cupcakes, Big Top Souvenirs
If you're looking for something sweet, the Halloween cupcakes at Big Top Souvenirs are just perfect! These classic yellow and chocolate cupcakes are topped with festive frosting. Choose between a chocolate cupcake topped with white mummy frosting or a yellow cupcake topped with a Mickey Mouse pumpkin. If cupcakes aren't your thing, Mickey pumpkin and mummy-themed treats can be found elsewhere in the pastry case at Big Top Souvenirs (marshmallows, crisped rice treats, cake pops, and more!). If you're looking to get into the Halloween spirit, search no further! Big Top has you covered.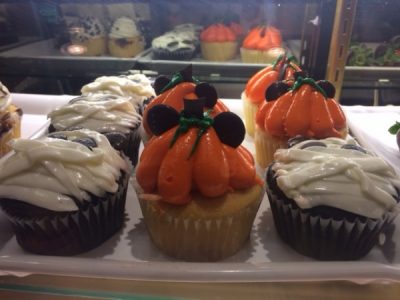 5. Fresh Carrot Cake with Cream Cheese Frosting, Hops and Barley Kiosk
If you happen to be in Epcot during the
Food and Wine Festival
, I've got your new favorite treat. This treat makes my list because it's a Food and Wine exclusive, it's flat out delicious, and the spices present are reminiscent of fall. Head back over to the American Adventure pavilion and pick up a warm carrot cake. This treat comes right out of the oven; it's warm, moist, and packed with flavor. Probably the best part, the individual cake comes buried in a warm cream cheese drizzle. Though not necessarily a fall treat (I'll eat a carrot cake any day of the year!), the exclusivity of the cake to the Food and Wine Festival makes it an important part of my list!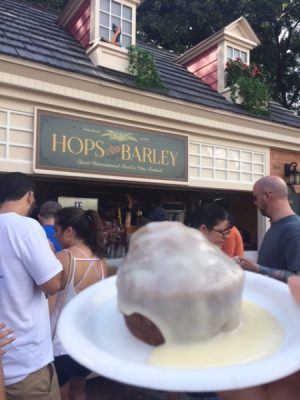 Summary
Walt Disney World in the fall is truly a magical experience. From the beautifully decorated Main Street U.S.A. to the delicious treats located throughout the parks and resorts, fall is everywhere! Stop by the American Adventure pavilion in the World Showcase for a funnel cake or fresh carrot cake, or head to the Main Street Confectionery to pick up an adorable Mickey Mouse jack-o-lantern caramel apple. There's a great seasonal snack for everybody!
What's your favorite seasonal snacks? Share in the comments.
<