This post may contains affiliate links for your convenience. If you make a purchase after clicking a link we may earn a small commission but it won't cost you a penny more! Read our full disclosure policy here.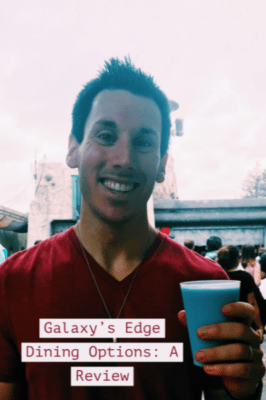 My husband and I recently returned from Galaxy's Edge. He's a super-fan, and I was just along for the ride (and let's be honest, the food). We were able to taste quite a few of the food offerings during our time there, and I'm bringing you my opinions of the items we tried!
Stop #1: Blue Milk
Did you really even go to Batuu if you didn't make a pit-stop for some blue (or green) milk? We headed straight to the Milk Stand to grab a glass. At $7.99, we felt that this was a steep price for a non-alcoholic beverage, even if it ended up being delicious. Described by Disney as "plant-based blend of coconut and rice milk with alluring fruity characteristics," we honestly weren't thrilled, but had to give it a go! Options also include Green Milk, and boozy milks (blue milk with rum and green milk with tequila).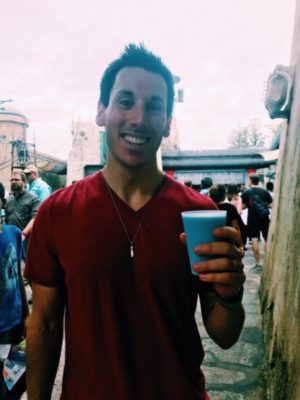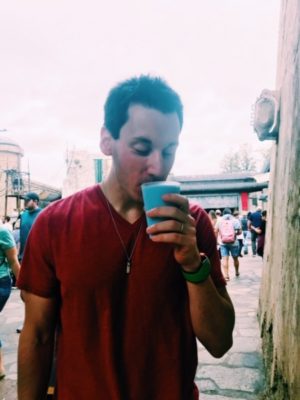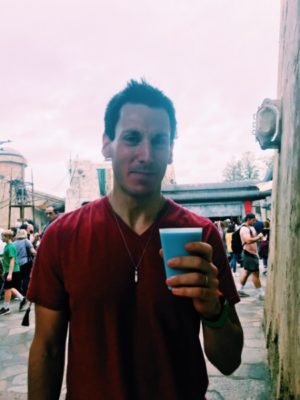 Our Thoughts: Gross. Just seriously not good. We took about 1 sip each (as documented above, you can see how my husband felt!), tossed it in the trash, and went on with our day. I mean, maybe if you enjoy thick, slightly slushy plant-based milk you could enjoy this? Or maybe it's better with rum? We agreed that it tasted like a slightly tart cold medication, or a creamy Jolly Rancher (neither of these are good options). While it's a fun experience, we really kept wishing it was soy or dairy milk with added vanilla or chocolate flavoring. In blue milk's defense, we did overhear quite a few people enjoying it! To each their own!
Stop #2: Docking Bay 7 Food and Cargo
When lunchtime rolled around, we headed over to the counter service option in Galaxy's Edge: Docking Bay 7. The lines were pretty long, but we were able to find some seats without an issue. There is also seating outside if the weather is nice! We ordered the Batuuan Beef Pot Roast and the children's Endorian Fried Chicken Tip Yip. At $18.99 for the adult pot roast and $9.99 for the kids meal (which does include a kids drink), we thought this was pretty pricey for counter service, especially considering the moderate portion sizes. The pot roast was served with pasta, kale, and a mushroom sauce, and the chicken was served with macaroni and cheese and some roast broccoli.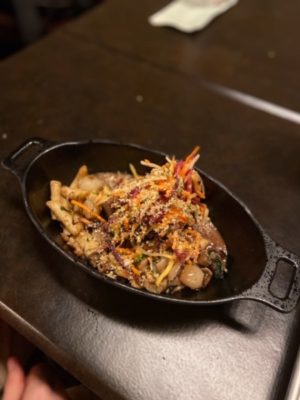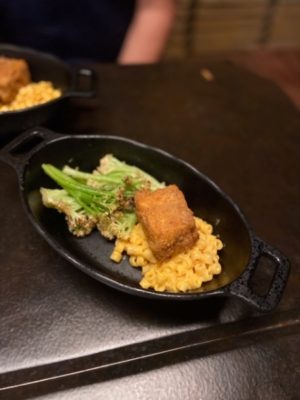 Our Thoughts: We felt that this meal was really delicious. The pot roast did require a knife, and wasn't "fall off the bone" tender, but the flavor was wonderful. We enjoyed the pasta with mushroom sauce, as well! The kid's chicken was more than enough food for me; it appeared to be a half portion of the adult chicken. We really loved the breading of the chicken, and the broccoli was seasoned nicely! We left feeling comfortably full.
Stop #3: Ronto Roasters
Ronto Roasters is walk-up option. It has no seating, and is perfect if you're on the move! With a very limited menu, you can choose from turkey jerky, a chicken wrap, or the Ronto Wrap. I went for the latter; the Ronto Wrap: roasted pork, grilled pork sausage, peppercorn sauce, tangy slaw wrapped in pita bread. For $12.99, this option is a meal in itself. We found a standing table and dug right in!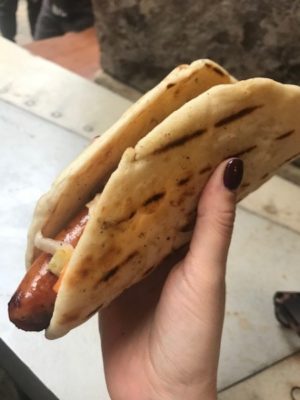 Our Thoughts: The Ronto Wrap was my favorite thing I had to eat all day. I was a bit concerned about the peppercorn sauce being overly spicy, but it provided a mild heat that didn't make me sweat! The sausage was delicious and savory, and paired beautifully with the fresh, crisp slaw. The roast pork slices were a bit on the dry side, but didn't detract from the overall sandwich. The pita bread is thick and doughy, a perfect companion to a slightly spicy dish! I'll be back next time to try the chicken wrap!
Stop #4: Oga's Cantina
I made the boneheaded mistake of not making a dining reservation at Oga's Cantina… On the day after Christmas… In Galaxy's Edge. You can probably assume where I'm going here; there were no walk-up reservations available, and at first, nothing on the MyDisneyExperience app. Let me tell you, though, be persistent! I kept checking the app every few minutes and snagged a reservation for that afternoon!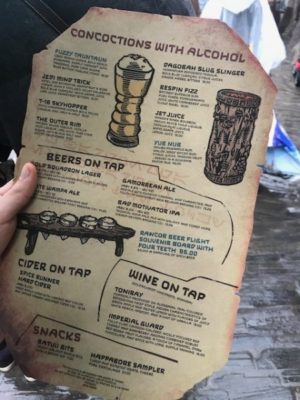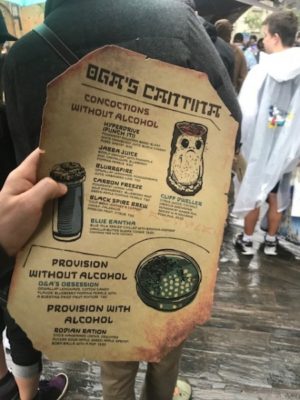 I was so glad we got a reservation, because this experience was seriously cool! Loud music, crowd cheering, crazy drinks, and an all-around good vibe greeted us upon our arrival. We were given 2 spots at a standing table for 8; most tables are standing room only. We ordered two drinks: The Yub Nub (a rum punch served in a Star Wars tiki glass) and the Carbon Freeze (a non-alcoholic drink with dry ice and boba balls). We felt that the price was reasonable for the experience ($15 for the Yub Nub if you don't take the souvenir glass home, and $7.50 for the Carbon Freeze); granted, we're New York City residents, so we're used to pricey drinks, but we were expecting to pay more here!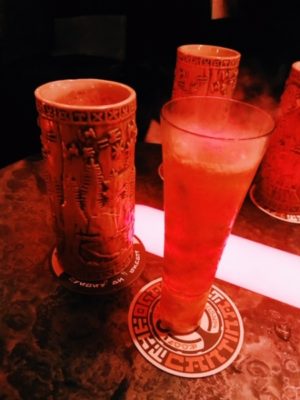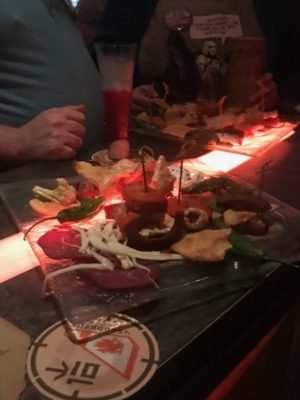 Our Thoughts: This was absolutely my favorite part of Galaxy's Edge. The vibe is very fun, with Batuuan music playing (think outer space meets Daft Punk); the bartenders even got the bar to sing along. The Yub Nub was a sweet, classic rum punch, and my husband really enjoyed it. The Carbon Freeze was really all about appearance; the boba balls bobbed around in the dry ice, making it a lot of fun. We also tried the charcuterie board, which we wouldn't recommend; too much effort on making it look intergalactic, not enough effort on making it tasty! Save your money and go get a Ronto Wrap after!
Have you dined in Star Wars: Galaxy's Edge? What are your favorite dishes? Let us know in the comments or on Facebook or Twitter!
Did you like this article? Make sure to share it with your friends! Check below for easy ways to share!
Want to visit Star Wars: Galaxy's Edge? Contact The Magic for Less Travel for more information and a free, no-obligation quote.