This post may contains affiliate links for your convenience. If you make a purchase after clicking a link we may earn a small commission but it won't cost you a penny more! Read our full disclosure policy here.
Do you have a beloved canine fur-baby that you hate to leave at home, but you also love to travel to Disney? Do you wish you could bring your fur-baby with you? I do and I did! Here is what taking your dog on a Walt Disney World Vacation was like for us.
There are a few Walt Disney World Resorts that continue to allow pets:
Disney's Art of Animation Resort
Disney's Port Orleans Resort – Riverside (Not open at this time)
Disney's Yacht Club Resort
The Cabins at Fort Wilderness Resort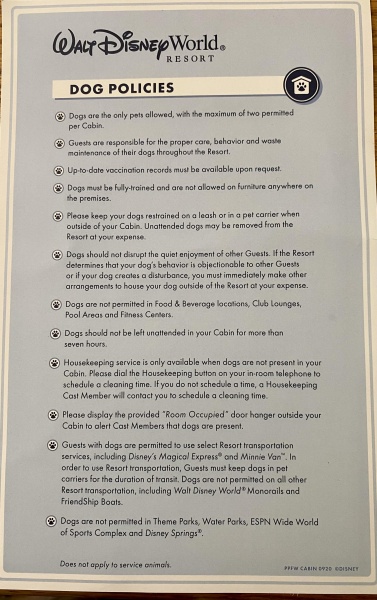 We chose The Cabins at Fort Wilderness Resort for a number of reasons. Romeo is a large 85+pound mixed breed dog. He has a loud bark and requires a fair amount of exercise daily. For these three reasons alone, the Cabins made the most sense. We wanted a place that we could walk him for longer distances as well as not worry about him barking and disturbing folks that we would be sharing walls with at one of the other resorts. With the Cabins being stand-alone units, this was perfect. Romeo didn't really bark too much either, thankfully! Fort Wilderness also has a dog park so if you want to utilize that and have your dog chase the ball to get some running in that is also an option.
Very close-by  is the Best Friends Pet Care. We were happy to have that nearby in case we wanted to utilize the doggie daycare option if he didn't happen to take well to being left alone for a few hours, or if it all went awry and we needed to kennel him for any overnights for some reason. We didn't need to use the kennel at all, but felt glad knowing it was there as an option.
We were a party with 3 adults and the dog, traveling during the Covid-19 pandemic so having our own unit where we could make food, eat safely/comfortably, and keep our germs to ourselves also played into our decision.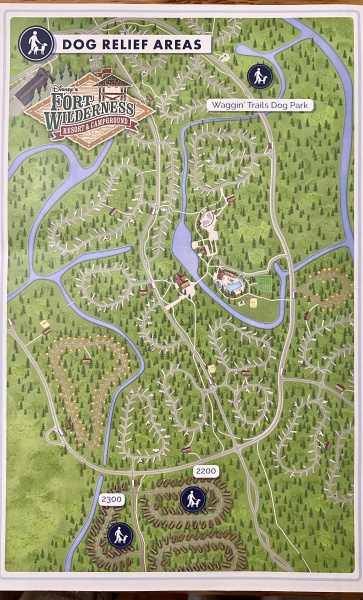 When taking your dog on a Walt Disney World Vacation, and the road trip to get there, you must consider what to pack. Along with measuring out food and treats for the number of days we would be away from home, I brought 5 gallons of our home's well water in a collapsible jug. Then I also brought an empty gallon container to chill a gallon of it at a time in the refrigerator. I did this so that Romeo would not be drinking the water at the Cabins. I assumed it would be highly chlorinated and I didn't want to chance him having an upset stomach or any other "potty" issues at all while visiting.
We were away for a 9 days including the travel down, and this amount of water was plenty. It was not particularly hot weather either. It was the end of November/early December so he didn't consume extra water as he may have in hotter weather.
Other things I packed for Romeo were his favorite blanket, food bowls, lots of doggie potty bags, small first-aid kit with Styptic Powder, bandages, and antimicrobial ointment for dogs. He also wore his collar with all of his tags of which I took pictures of all those tags with the ID, Microchip Number, and Rabies info so that would be on my phone. His collar can light up via a LED light which came in handy when walking in the dark and riding on the golf cart!
I had two harnesses for him as well as a couple of extra leashes. The extra leashes came in handy when we enjoyed the deck on the Cabin. He enjoyed sitting there with us and watching the passers-by. He is a very clingy mama's boy, so I didn't get one, but did consider a GPS chip or collar as well. You may think about that if you have a runner or a dog who likes to go off on their own.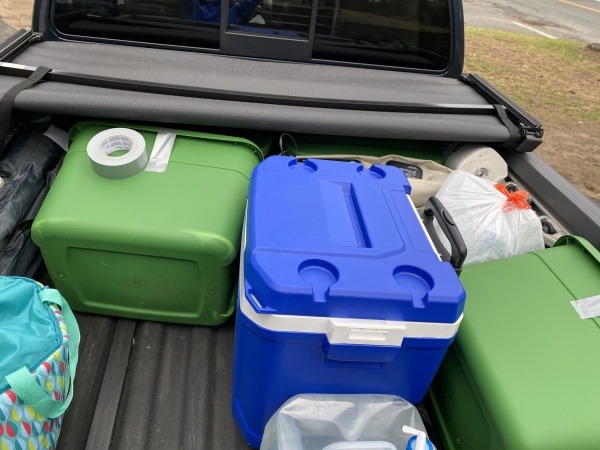 It was the day after Thanksgiving that we traveled. It was a 18.5 hour car ride for us.  Having 3 adult drivers, we drove straight through, stopping frequently to allow Romeo to stretch his legs, go potty and drink water.  We left in the evening so he already had a 3 mile walk that day and it was around his normal bedtime. He was great the entire trip down and slept most of the way. He was happy to get out and stretch when we did stop and is able to do his potty pretty much on command so it worked out well!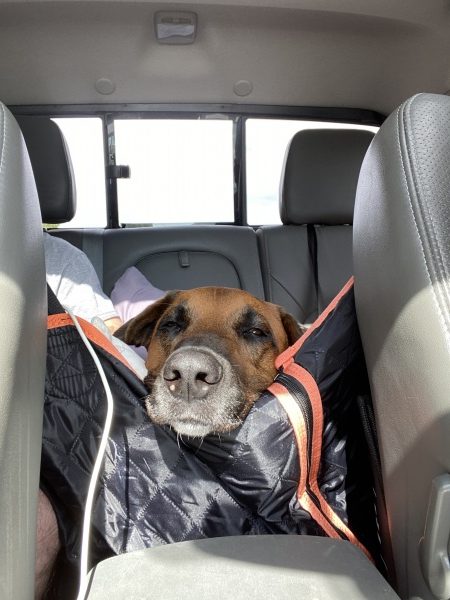 When taking your dog on a Walt Disney World Vacation, planning the arrival time is important. We expected it to take a couple hours longer than it did, so we arrived at Fort Wilderness at 1:30 pm and check in is not until 3:00 pm. This was a bit of a problem! We were all exhausted, had a dog with us and no room to check into! I worried that this would happen so I had a bit of a contingency plan in mind.
I had booked a golf-cart for our weeklong stay. You must have one at this resort! It adds to the experience and it is a really big resort with primarily cart paths that do not take kindly to big vehicles riding around. So, we used the time until our Cabin was ready (sadly it took until 3:30 pm to get that long awaited text) to go get the golf cart. 
The dog could come with us there, as it is all outdoors. Then we mobile ordered food at P & J's Southern Takeout which is located on site at the resort. We then left one adult and Romeo together in our airconditioned running vehicle, while the other two of us used to golf cart to go and pick up the food. The food was a good pick-me up and doing all of this killed the long 2 hours until the cabin was ready.
We were a little upset at the further delay past check-in time. The cabin was in a totally different area than the check-in Cast Member said it would be, but we were happy when the text finally came telling us our Cabin was ready and we just moved in. Our Magic Bands didn't seem to work on the door, but luckily the open door function on the My Disney Experience App worked because we were too tired to go back to the check-in building. My husband brought all of our Magic Bands down to the check-in desk the next morning and got them fixed.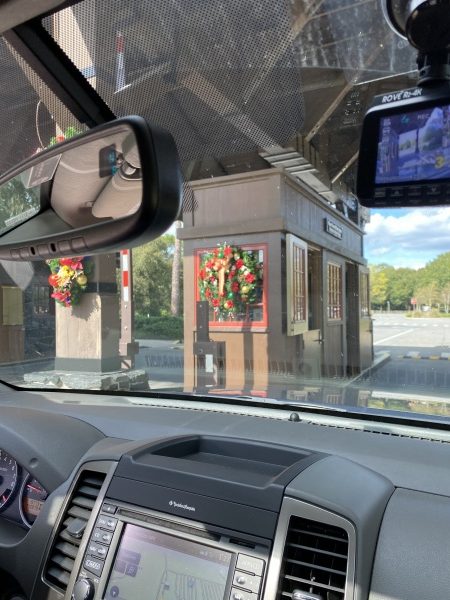 We were so tired after being up for 24 hours at this point, but we unloaded the truck and took the dog for another short walk so he could be ready to take a nap with us.
There were a couple of odd things in the yard of our Cabin, like a kitchen knife and some chicken bones. Normally, I would not be annoyed by this since it was outdoors, but having the dog with me, I had to pick that stuff up so he wouldn't. Yuck! I will say the rest of the week, I did see many Cast Members driving around, picking up trash, leaf blowing and all of that. I think we rushed them to check in and they did a rush job cleaning the cabin.
The resort was very busy the week of Thanksgiving and then we checked in the Saturday after which was still busy, but by that Monday, it appeared to really quiet down. The Cabin itself was clean for the most part and had the special notations of the extra cleaning they were doing during Covid. I will say the floor of the cabin needed to be cleaned better. It was vacuumed but when you wore white socks, they were not white for long and this was a bit troubling. I would bring a swifter wet mop type thing myself next time! 
The Cabins and Resort were so super cute and people really go all out to decorate for the holidays! They also decorate their golf carts with all kinds of lights and holiday decorations.  It was super fun to drive the golf cart around and view the decorations! They also had holiday music blasting in all the common areas.
There were so many pathways with sidewalks that we were able to give Romeo plenty of walks daily. He was thrilled to walk several miles each day and have new areas to sniff and explore. He was scared at first to ride on the golf-cart but eventually got used to it. He traveled by cart with us to get food and enjoy the resort. Due to the pandemic, the only food available for take out was at P & J's Southern Takeout.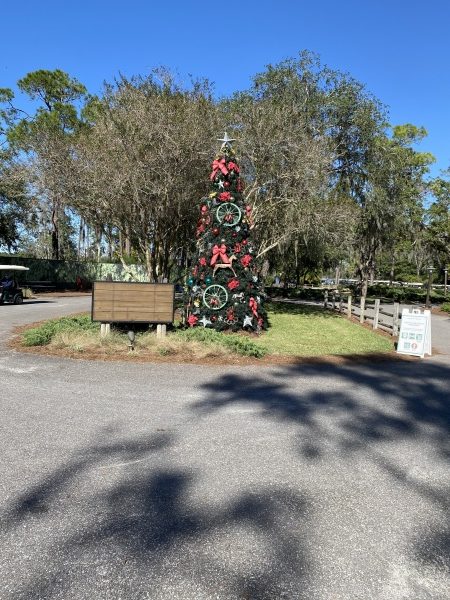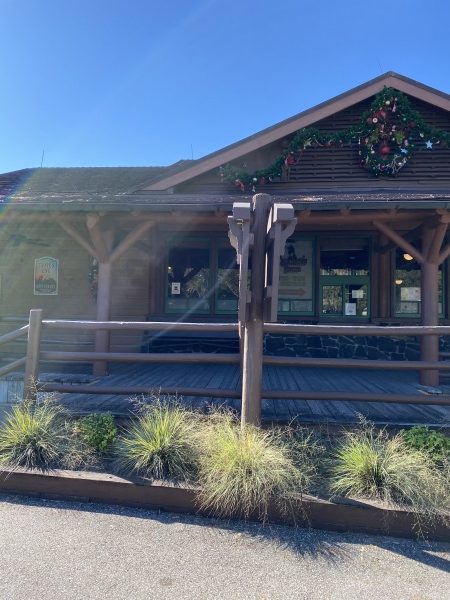 Romeo was a tiny bit nervous at first driving the cart, but by the end of the week he was fine!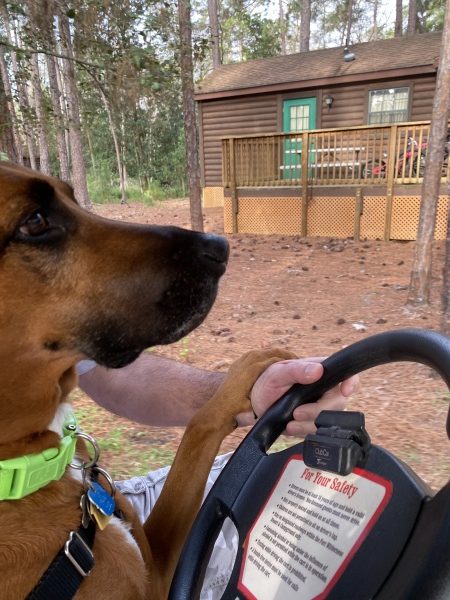 We had take-out a couple of times. I brought some food from home and then ordered Amazon Prime Now to get anything additional. We grilled on the cabin grill one night and ate food at the parks as well. We are frequent visitors to Walt Disney World, so this trip we were able to visit the parks in small chunks and not worry about feeling we missed anything by cutting park time due to having our dog.
We never left Romeo alone at all until the second full day. We wanted to make sure he was acclimated to the Cabin and felt at home there. Then, when we did leave him, we ensured we walked him first and only left him for a maximum of 4-5 hours. If there was a longer time in the park needed, one of us left to care for him. Since we visit often, this worked out well – you will have to consider that even if you are tired after a visit to a park, you need to be able to take care of the dog. Upon our return from the parks, we took Romeo out for a long walk and sometimes a ride on the golf-cart so he always felt he was enjoying his vacation too!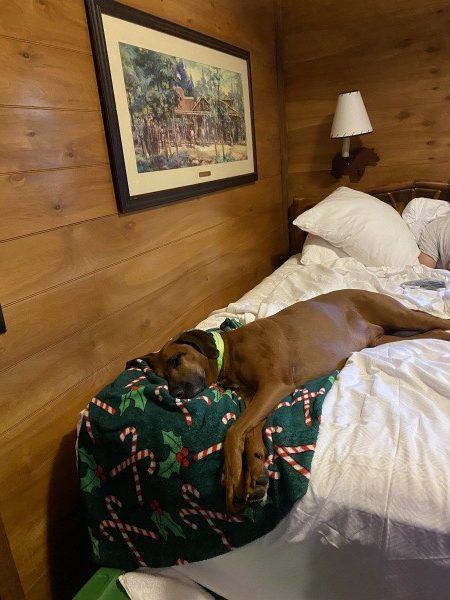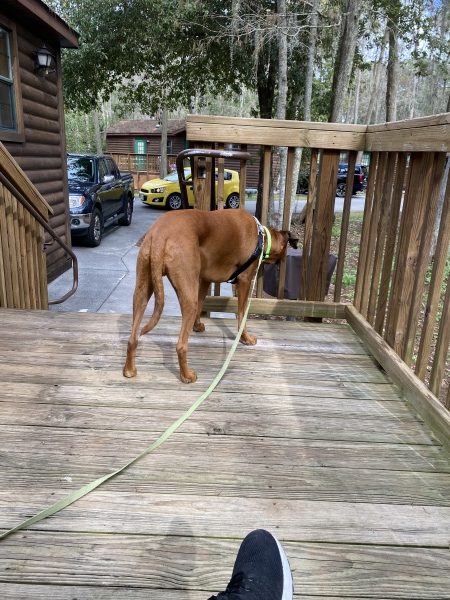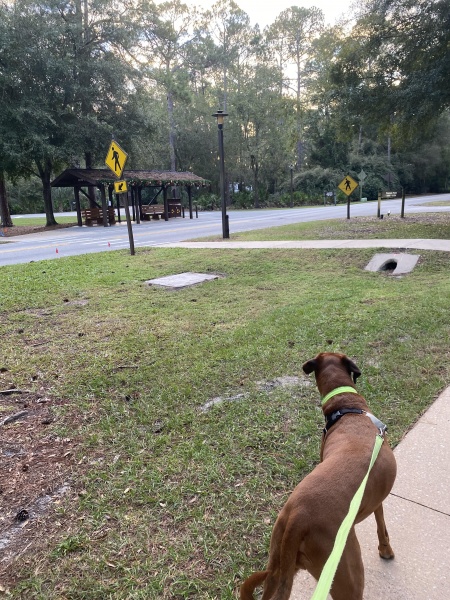 Overall, we had a blast! The Resort is awesome all decorated for Christmas, as were all the parks and it was just great to get away with our whole family!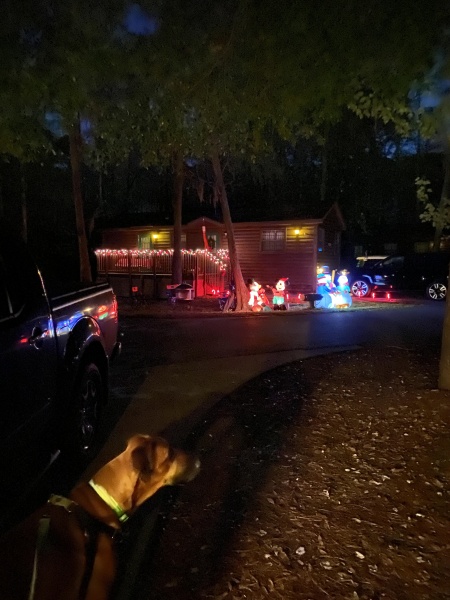 When taking your dog on a Walt Disney World vacation, you wonder if there would be other people with dogs?  There were tons of other dogs there and it was super to see other families out and about safely enjoying a vacation. We were careful to stay outdoors when around others, we only ate takeout or our own food in our own cabin. Disney had Cast Members all over the Resort as well as the parks ensuring people were wearing masks at all times!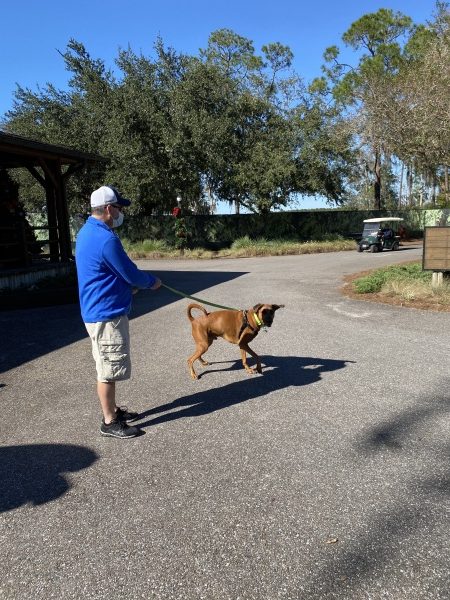 Romeo got to have a run on his 25 foot leash on the beach too!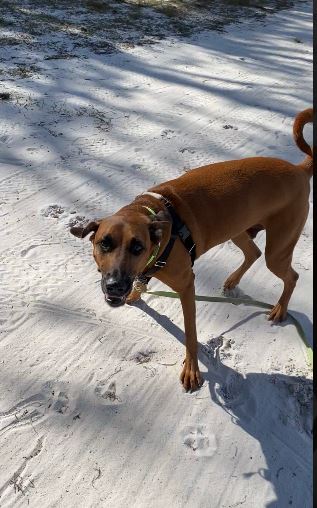 Overall, it was a great visit and Romeo certainly enjoyed his trip! 
Have you ever brought a dog to Walt Disney World? Share with us your thoughts in the comments or on Facebook or Twitter!
Did you like this article? Make sure to share it with your friends! Check below for easy ways to share!  
Want to visit a Disney Destination? Contact The Magic for Less Travel for more information and a free, no-obligation quote.

Incoming search terms:
https://www themouseforless com/blog_world/taking-your-dog-on-a-walt-disney-world-vacation/