This post may contains affiliate links for your convenience. If you make a purchase after clicking a link we may earn a small commission but it won't cost you a penny more! Read our full disclosure policy here.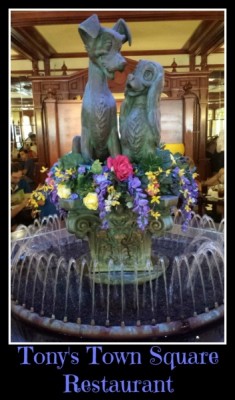 Tony's Town Square Restaurant is located on Main Street U.S.A just inside the entrance of the Magic Kingdom.  It is tucked away at the side of Main Street and chances are, you may have breezed right past it without even noticing that it was there in your rush to get to the rides.  In all of my trips to the Magic Kingdom, I had never been inside and decided it was time to give it a try.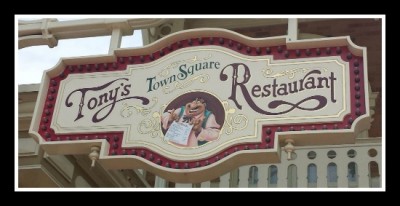 One thing I really liked about the restaurant was the decor.  In the age of Disney princess everything, it was nice to see this classic get a little bit of attention.  A fountain featuring Lady and the Tramp is the centerpiece of the main dining room and the walls are adorned with photos of movie scenes and characters.  The decorations are a simple but nice tribute to the film.  There is even a TV in the lobby where the movie is playing and you can watch if you have to wait for a table.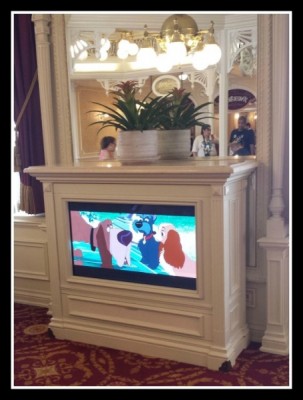 A Disney classic
We made a reservation ahead of time and waited less than 5 minutes for our table to be ready. We were seated in the back corner of the main dining room which is a nice spot for people watching.  I had read some negative feedback about the service at this restaurant, but we experienced great service. Our server greeted us right away and was very attentive throughout our meal.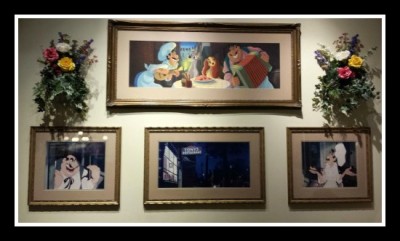 Scenes from the film can be found all around the dining room
Even though I usually go for a pasta dish at an Italian restaurant, I decided I wanted something a little bit different from the usual and ordered the meatball trio.  The meatball trio consisted of 3 slider-type sandwiches made with a thick slice of meatball topped with marinara sauce and provolone cheese.  They were served with homemade potato chips on the side.
I liked the flavor of the meatballs, but the sauce was just ok.  I am not sure what it was about it, but the taste was different from most marinara sauces and not necessarily in a good way.  We loved the chips and thought it was a nice touch to serve homemade chips rather than a store bought brand.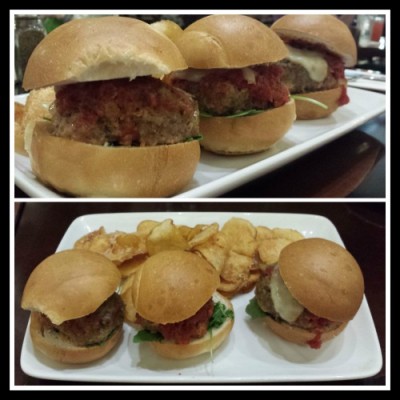 Meatball Trio
My mother chose the Margarita pizza as her entree.  The pizza was thin and crispy with a blend of cheeses that went together very well.  I am not sure if the pizzas usually arrive without being pre-cut, but ours did.  We asked for a steak knife to cut it, but found the tough crust really difficult to cut.  We both still liked the pizza despite having to wrestle with it to try to cut it.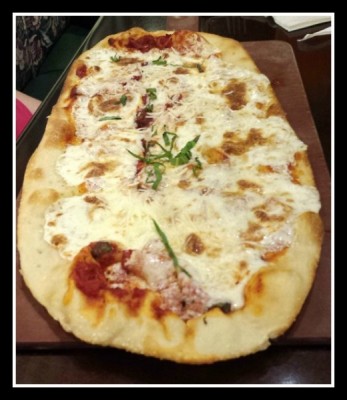 Margarita Pizza
After finishing our entrees, I ordered the pistachio creme brulee for dessert.  The presentation of the creme brulee was pretty boring, but it tasted good so it didn't matter.  It reminded me of the pistachio pudding I used to eat as a kid with a crispy layer of sugar on top that made it even more yummy.  I thought it was a good choice, different from most of the desserts I have sampled.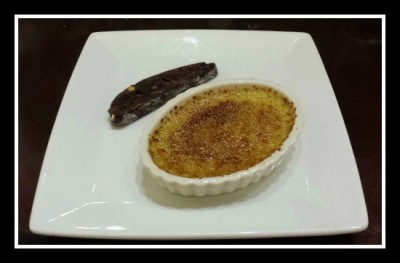 Pistachio Creme Brulee
Tony's Town Square Restaurant has a quaint feel that is charming and relaxing.  While inside, it is hard to believe that the hustle and bustle of Main Street is just steps away.
My favorite place for Italian food at Disney will always be Via Napoli or Tutto Italia at Epcot, but overall, we enjoyed our visit to Tony's.  Our lunch break left us feeling refreshed and ready take on the rest of the afternoon.
Have you visited Tony's Town Square Restaurant?  What did you enjoy most about your dining experience?