This post may contains affiliate links for your convenience. If you make a purchase after clicking a link we may earn a small commission but it won't cost you a penny more! Read our full disclosure policy here.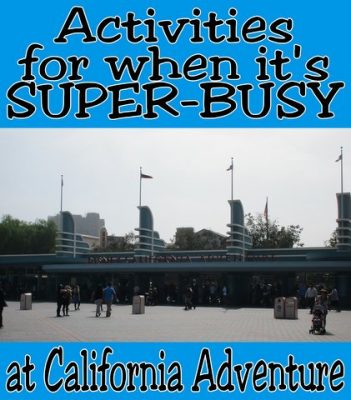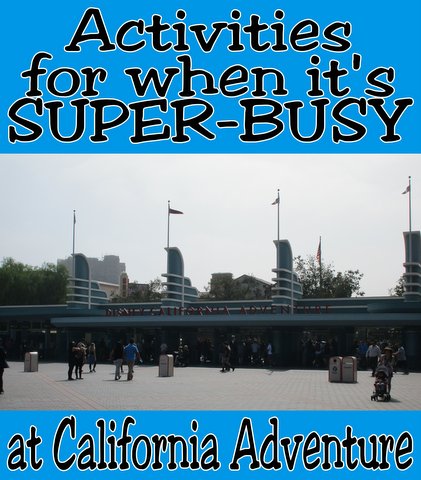 Disney California Adventure's headliners always draw a crowd, but peak days can make a visit to Disneyland's second park a real struggle. If you don't want to spend you vacation day stuck in endless lines, you'll want to be prepared and know what to do when it's super busy at Disney California Adventure.
1. Be one of the first ones at the park on a peak day. Arriving early on a day when the park opens at 8:00 a.m. can be challenging, but it's well worth it when you compare the queue lengths at that hour to those at midday. This might be the visit to spring for an onsite hotel with the Extra Magic Hour that is only available to resort guests, if you can get up early enough to take advantage of it.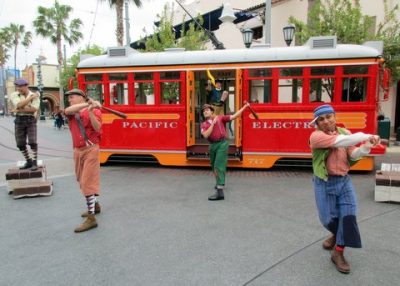 Extra! Extra! No waiting for this!
2. Showtime! While you'll need to wait in a holding area for the new Frozen: Live at the Hyperion show, they let you eat in line and in the theater. The show is air-conditioned and a great rest in the afternoon. Other great entertainment shows up on Buena Vista Street, like Five and Dime and the Red Car Trolley show. The Sunset Showcase in Hollywood Land often has a preview of the latest Disney or Marvel movie.
3. Free samples with no waiting. Take a slow stroll through the Boudin Bakery Tour, complete with a piece of sourdough bread at the end. Then walk a few steps across the alley to Ghirardelli Soda Fountain to get a free sample of chocolate. Also, you can watch the San Francisco murals move and light up when guests order certain desserts.
4. Get active. Let kids stretch out their legs (while parents rest theirs) at the Redwood Creek Challenge Trail, with rope bridges, rock walls, and slides. When it's warm, you'll need to resist the urge to jump in with them at Princess Dot's Puddle park, a splash pad in "a bug's land."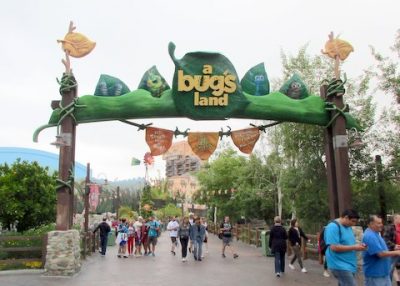 5. It's all in the details. California Adventure has some fabulous immersive lands. Cars Land will make you feel like you stepped into the movie — take time to see the nooks and crannies, even the nightly neon lighting ceremony. You might think you're too big for the rides in "a bug's land" (you're never too old for Heimlich's Chew Chew Train!) but the level of detail is as huge as the bugs are tiny here.
6. Only the best lines. Get FastPasses early in the day (another perk of arriving early), especially for headliners. Use the Disneyland app to zig while others zag. Pick queues that offer a longer experience for your hour in line. Many rides in this park have shaded or air-conditioned waiting areas — great for afternoons.
7. Shh! The Animation Building is our little secret. I can (and often do) spend hours in here. Turtle Talk with Crush rarely fills up and runs almost continuously. The Animation Academy wait seldom lasts longer than the next half-hour class. The Sorcerer's Workshop is interactive fun for every age.
8. Get out! The new security measures pushing the checkpoints out to the parking areas make Downtown Disney even easier to visit during the day — no bag check every time you come and go from the parks to shop or eat. Downtown Disney has some of my favorite restaurants, and many are available without a reservation. Relaxing in the Grand Californian lobby is also a restful treat, especially if you pair it with a visit to Whitewater Snacks, a hidden gem of the hotel.
Even if you don't have Tinker Bell's pixie dust or the Fairy Godmother's magic wand, you can still have a great experience when you know what to do when it's super-busy at California Adventure.You can do this!
Also, if you're going to Disneyland during a super busy time, here are some tips to help make that experience a success too!
How do you decide what to do when it's super-busy at California Adventure? Share in the comments.