This post may contains affiliate links for your convenience. If you make a purchase after clicking a link we may earn a small commission but it won't cost you a penny more! Read our full disclosure policy here.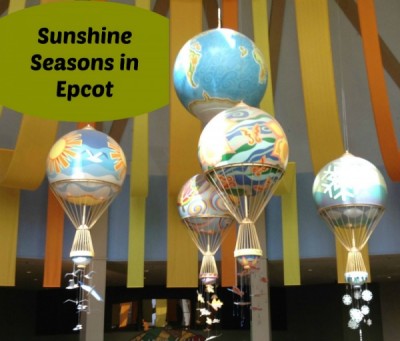 The Sunshine Seasons food court, located in Epcot's Land Pavilion, is where we frequently go for a meal or a quick snack.  What is great about this place is not only the convenient location but also the variety of food offerings that are sure to please everyone in your family!  The dessert selection is as extensive as the entrée menus, making this an ideal stop for a full meal or just a snack and a cup of coffee.
The theme here is the four seasons, as the hot air balloons hanging overhead represent.  The seating area is large and bright.  There are four sections of the seating area, each representing a season in colors and theme.  If you look closely at our table for the food photos, you'll see that we sat in the winter area.  I enjoy all you can see here while eating–the excitement of people heading to Soarin, the Living with the Land queue, and the general atmosphere of the pavilion.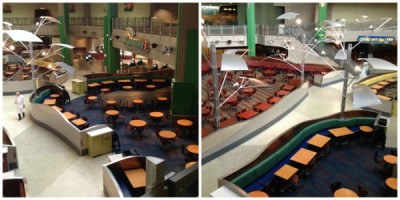 The food stations are set up in food court fashion, similar of that to some of the Walt Disney World resorts.  We've dined here often enough that we have our own system when we get our food.  We get our drinks first, then our dessert, and after that we'll order our entrée.  That way, the entrees stay fresh and hot while we pay and then find a table.
My Meal
I've tried several of the entrees here and have never been disappointed with the quality of the food!  For this lunch, I ordered the Mongolian Beef with rice.  It came hot and fresh!  It was a flavorful entrée, and for me the portion size was just right in being not too big and not too small.  My favorite dessert at Sunshine Seasons is the Soarin Crème Brulee, but on this day I wanted to try something new.  I picked the carrot cake cupcake.  This was moist the whole way through and big enough that I happily shared with the kids.  This would be great with a cup of coffee while people watching during the Soarin Stampede!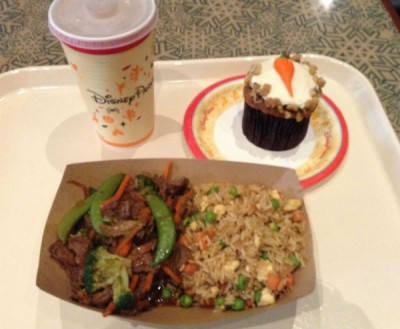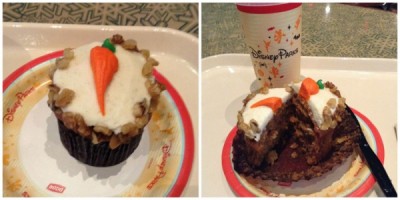 My Son's Meal
My son ordered the fish tacos, consisting of fish and a slaw topping.  I was hoping for a nibble, but he inhaled these quicker than I could ask for a bite!  He said they were good.  The fish tacos come with potato salad, which he did not eat because he doesn't like potato salad.  I tried the potato salad and enjoyed the vinegar based dressing.  For dessert, he had a chocolate mousse brownie which disappeared faster than those tacos!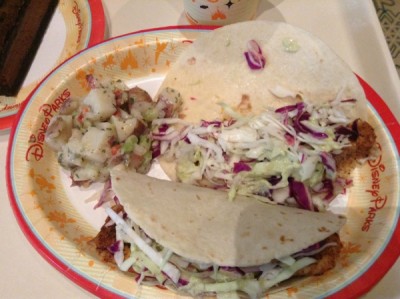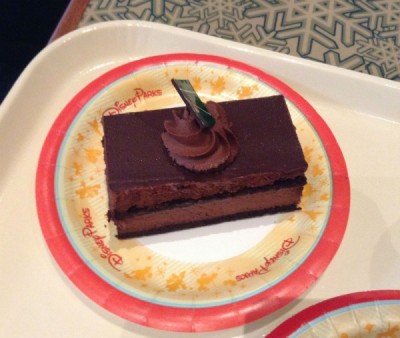 My Daughter's Meal
My daughter ordered off the menu, and that worked out fine.  She asked if she could have just noodles and rice without meats or vegetables.  They made her a plate without comment, and then she was charged for a vegetarian entrée.  This was one of her favorite quick service meals.  She had a red velvet Whoopie Pie for dessert.  Isn't the Mickey on top cute?!  This was too big for her, so we all had a bite.  This whoopie pie was moist and nicely done with a thick layer of filling in the middle!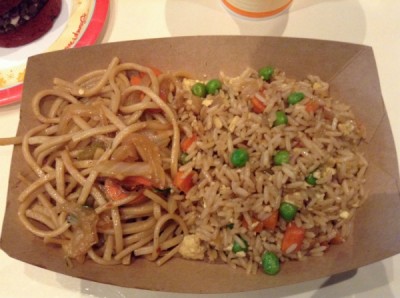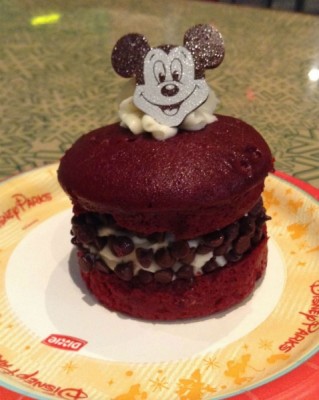 Fresh is Fantastic!
The Living With The Land attraction is right next to Sunshine Seasons, and I highly recommend doing this attraction before or after you eat.  Inside this attraction, you will see some awesome gardening areas and learn how food is grown.   Some of the foods grown right here in Living With The Land are served at Sunshine Seasons and in other Walt Disney World restaurants!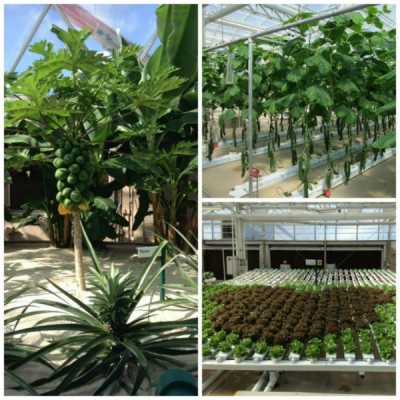 The next time you're in Epcot, take the time to enjoy a meal or snack at Sunshine Seasons!  I think you'll enjoy it!
Have you already visited Sunshine Seasons?  Share your experience in a comment below.