This post may contains affiliate links for your convenience. If you make a purchase after clicking a link we may earn a small commission but it won't cost you a penny more! Read our full disclosure policy here.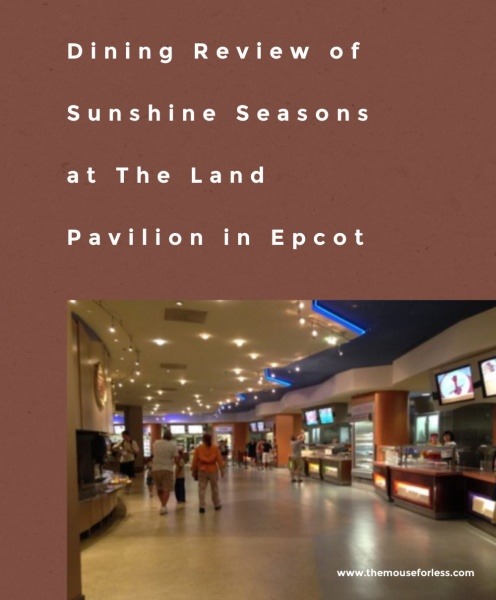 You know how you walk into The Land Pavilion and think, "Ok, I'm here to ride Soarin and Living with the Land and then we'll go grab lunch in World Showcase somewhere" but then you get a whiff of the deliciousness that's being cooked inside The Land Pavilion and your initial thought goes out the window and you decide to grab lunch at Sunshine Seasons instead? It happens to me more times than I would care to admit. And it happened to me again on my last trip.
When you walk into the pavilion you get that intoxicating whiff of what's being cooked at the counter service location that can be found downstairs. Sunshine Seasons is set up with various different windows that Guests can go up to and order food from. You can choose to order things from as many different locations as you would like, with windows featuring grill items, sandwiches, bakery, and more. Once you are done grabbing your order, you will then head to the area where you will then pay for your food.
Seating is unique for Sunshine Seasons, as there are four different sections and each one is themed after the actual four seasons – spring, summer, autumn, and winter. Due to the seating area being open, it can sometimes be hard to find a place to sit once you have your food, due to some Guests hanging out, but if you search, you'll find something. (The winter section usually has some open seating, when in a pinch.)
On our last visit, we all made a stop by the grill section.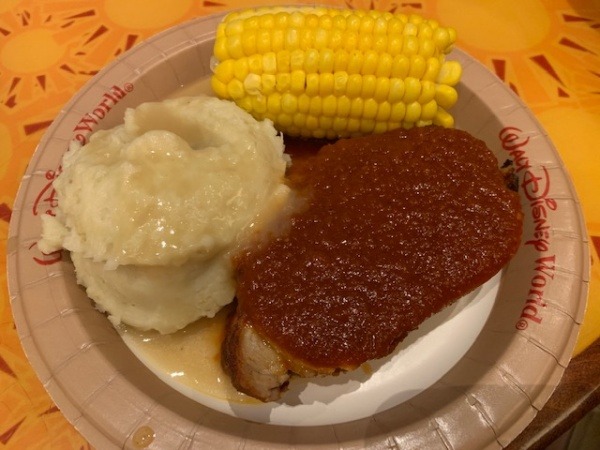 I got the Pork Loin which was served with Mashed Potatoes, Barbecue Sauce and Corn on the Cob. One nice thing about the grill section is that while the menu specifies that these are the sides you get with your meal, you can actually choose from any of the sides that are available in this section. So, if you are aren't in the mood for corn on the cob, you don't have to get it! Want brown gravy instead of barbecue sauce, you can do that too! I got my dish the way it came prepared, however and it was quite filling!
I was served a thick piece of pork that was cooked perfectly. The barbecue sauce added some nice zip to the dish. I quite enjoyed the creamy mashed potatoes and the corn on the cob was nice and buttery!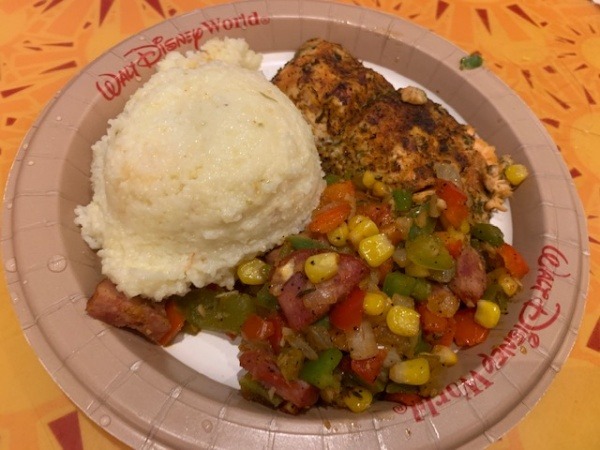 Moving along, we also got that Oak-grilled Salmon which was served with Cheese Grits and Andouille Corn Succotash. The salmon was fresh and the cheese grits were cooked to perfection, creamy and cheesy. The succotash was also really good and featured a good flavor profile.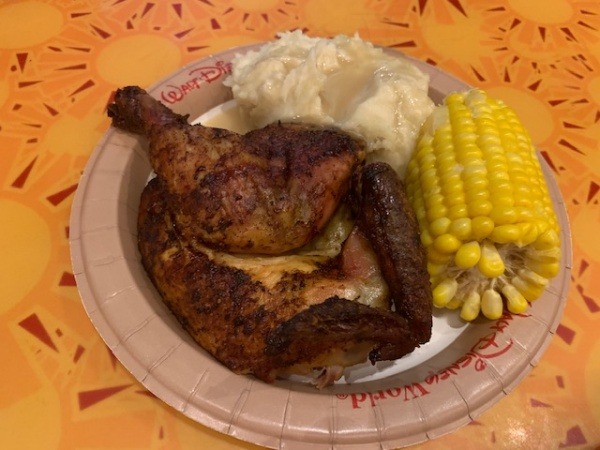 We also tried the Oak-Grilled Rotisserie Chicken, which is normally served with Black Beans and Yellow Rice, however we opted to have the Mashed Potatoes and Corn on the Cob. The chicken was juicy and tender and the oak grilling gave it a fantastic flavor profile.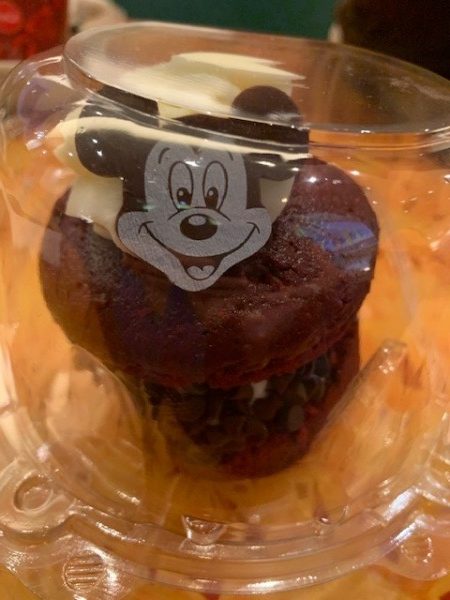 Finally, we had to grab dessert, right? We picked up the Red Velvet Whoopie Pie. Did you know that you can take your desserts to go? This is really helpful for those on the Disney Dining Plan who want to grab a snack, but maybe don't want to eat them right there! They provided me with a plastic container so that I could take my treat to go!
The whoopie pie itself is a favorite! It features two thick pieces of red velvet cake and a heavy smattering of cream cheese frosting in the middle. This is definitely a treat for those who like sugary icing. It will certainly leave you on a sugar high.
Sunshine Seasons is a counter service location that is a step above all the rest. These dishes are all dinner quality, large portions, and a great value. If you are skipping this restaurant (and again, due to the smell, I don't know how you could be!) you need to make sure you stop in on your next visit.
What's your favorite thing to get at Sunshine Seasons? Share your thoughts in the comments or on Facebook or Twitter!
Did you like this article? Make sure to share it with your friends! Check below for easy ways to share!
Want to visit the Walt Disney World Resort? Contact The Magic for Less Travel for more information and a free, no-obligation quote.

Incoming search terms:
https://www themouseforless com/blog_world/sunshine-seasons-lunch-review-epcot/