This post may contains affiliate links for your convenience. If you make a purchase after clicking a link we may earn a small commission but it won't cost you a penny more! Read our full disclosure policy here.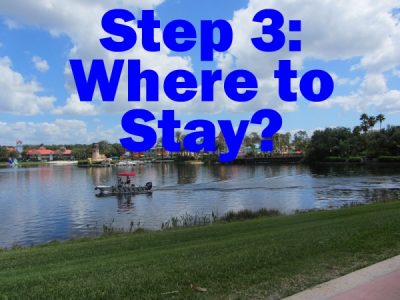 Planning a Walt Disney World vacation can be extremely overwhelming.  Through my series of posts "Steps to Planning a Disney Vacation" we have been looking at how to make the planning process easier and more magical.  The first step for planning a Disney vacation was focusing on the goal of your trip.  We then focused on the different vacation packages available.  Through this blog post we focus on where to stay.
The first decision you will need to make when planning your Disney vacation will be if you want to stay on Disney property or off.  There are many advantages and disadvantages to each option.
Staying off Disney property is one option guests have when it comes to where to stay.   You will find a lot of variety throughout the Disney area from cheaper hotels to deluxe, gated communities.   There are also many homes that are available through sites that you can take advantage of.  These would offer the flexibility for cooking and often offer more space as well.
The downside of staying off property is you won't be guaranteed the Disney service.   Also with Disney being a very large property, you might find yourself 30 to 60 minutes from the very edge of the Disney parks.  When wanting to stay off Disney property, you need to make sure you check location and services provided by these resorts.  Staying off Disney property would be a good option for those wanting to be more removed from the parks or for those traveling with large extended family who need room to move around.
Beautiful resorts on Disney Property (photo by Rikki Niblett)
If you choose to stay on Disney property, you have three different styles of resorts to choose from.  Disney offers deluxe villas, deluxe, moderate and value resorts on property.  As always you need to evaluate what would be best for your family.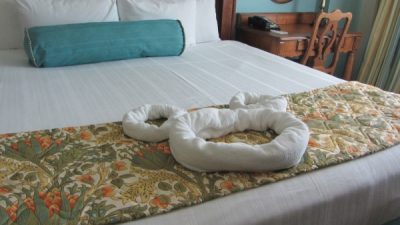 Space at Deluxe Resorts
Deluxe resorts (such as Disney's Polynesian, Boardwalk and Animal Kingdom Lodge) offer the most amenities of the three resort options as well breathtaking themes.  Interior corridors are offered at all of the Disney deluxe resorts.  The deluxe resorts on Disney property offer you bigger rooms often with queen beds and extra room in the bathroom area with separate shower and sink areas.
Another advantage of staying at a deluxe, is they offer more sit-down restaurants with great themes.  Many deluxe resorts offer zero entry pools as well as pool slides.  Deluxe resorts are also located closer to one of the four main Disney parks making trips to and from the parks more convenient.  Deluxe resorts are great for those who want to treat themselves a little while on vacation and have the advantage of being close to the parks.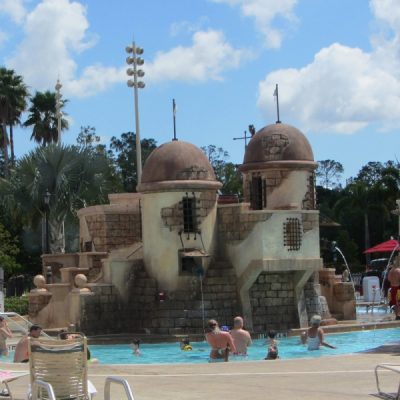 Great Pools at Moderates (Caribbean)
Moderate resorts (Disney's Caribbean, Port Orleans Riverside, Port Orleans French Quarter, and Disney's Coronado Springs) are the middle level resorts on Disney property.  Although both Disney's Caribbean and Disney's Coronado Springs are both under an intensive refurbishment, moderate resorts are a great options for families.  Moderate resorts still offer a well-themed resort with more space and great amenities.  Moderate buildings have exterior doors into the walkway but the moderate theming and detail make it feel less like a motel and more like a cozy resort.  Rooms mostly have queen beds for guests as well as refrigerators.
Guests have the option of food courts and sit-down restaurants at moderates.  Pools aren't as elaborate as deluxe; however, all offer great themed pools with slides as well as play areas.  This gives families a great location to hang-out and relax.  These resorts are known for being bigger resorts and more spread out than other resorts so take that into consideration when planning.  Moderate resorts are great for families who would like more space and a few more amenities but remain on a budget.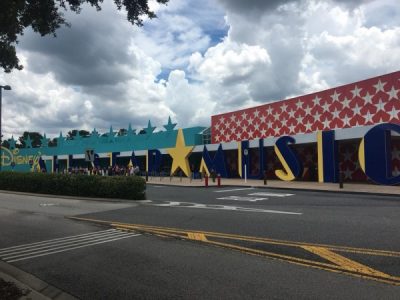 Value Resorts are Great Options (photo by Katie Marsh)
Value resorts (Disney's All Star Music, Movie and Sports as well as Pop Century, and some areas of Art of Animation)  are considered Disney's most budget friendly resorts on Disney's property.  These resorts offer guest the Disney magic and service on a budget.  Value resorts offer basic amenities with exterior, motel-style corridors.  Value resorts have smaller rooms normally with double beds and no in room refrigerators.
Each resort have pools, but they don't have slides or zero entry options.  Guests can enjoy great food courts at these value resorts; however, there aren't sit-down restaurants on site.  Transportation is shared sometimes between resorts (especially at the All Star resorts).  These resorts are located further away from the parks as well.  Value resorts are great for families that want the advantages of staying on property but don't want to break the bank while doing so on vacation.
There are variety of different options when it comes to where to stay while on your Disney vacation.  When making your decision, make sure you take into consideration what is important to your traveling party.  Do you need a good pool?  Easy transportation?  Good location?  Food options?  Knowing this will help you narrow down your options and then choose where you want to stay.
In our next blog post, we will look at how to determine which park to visit each day during your Disney vacation.
What are the reasons you consider when deciding which type of resort to stay at during your Disney vacation? Share your thoughts in the comments.
Did you like this article? Make sure to share it with your friends! Check below for easy ways to share!