This post may contains affiliate links for your convenience. If you make a purchase after clicking a link we may earn a small commission but it won't cost you a penny more! Read our full disclosure policy here.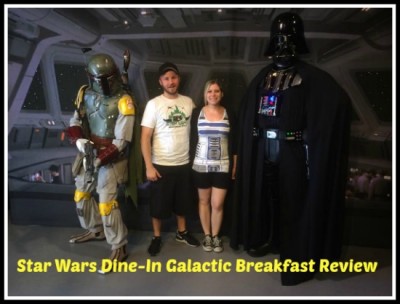 What's better than Star Wars, breakfast, and being in an awesomely-themed restaurant? Not too much, in my opinion. If any these above mentioned things are something that you enjoy, then I highly recommend the Star Wars Dine-In Galactic Breakfast at the Sci-Fi Dine-In Theater Restaurant in Disney's Hollywood Studios.
This is a character breakfast offered every day of the week during Star Wars Weekends (May 15th-June 14th). As a huge Star Wars fan, Star Wars Weekends is one of my favorite events of the year and when I heard that Disney would be offering Star Wars themed character meals, I immediately booked one. Last year (and continuing this year), Disney offered two different Star Wars character meals—the Star Wars Dine-In Galactic Breakfast at Sci-Fi Dine-In Theater and Jedi Mickey's Star Wars Dine at Hollywood and Vine. As much as I wanted to try both meals, they were quite pricey. I ultimately decided to try the Star Wars Dine-In Galactic Breakfast because the atmosphere of Sci-Fi Dine-In simply cannot be beat, and who doesn't love the chance the meet the bad guys?
We had a pretty early reservation for 8:45 AM. We arrived at Sci-Fi Dine-In and checked in and had to wait about 5-10 minutes before we were able to enter. Upon entering the restaurant, our first character interaction was already set up right there in the lobby. We got in a short line and got our picture taken with Darth Vader and Boba Fett. We were super excited for this meet and greet since the lines to meet these characters out in the park are typically VERY long. There was a PhotoPass photographer there to take our picture, and better yet, we received a souvenir card for a digital download of our pictures, which was included in the price of our meal.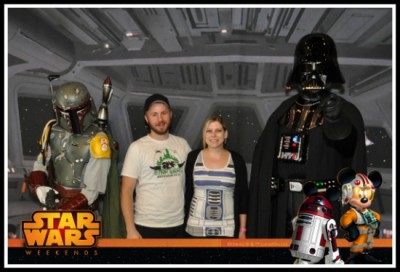 After getting our pictures taken with the Dark Side, we were taken to our car inside the Sci-Fi Dine-In Theater. I love getting to sit in your own car and watch B-Horror movies, but today was even better because they were showing great clips from the Star Wars movies on the big screen! The atmosphere simply could not be beat.
Soon after, our server showed up and took our drink orders. When she returned with our drinks, she also brought us a plate of assorted Star Wars breakfast pastries (vanilla cream turnover, almond pastry, and double chocolate muffin). We both really enjoyed the pastries and they were a great start to our meal.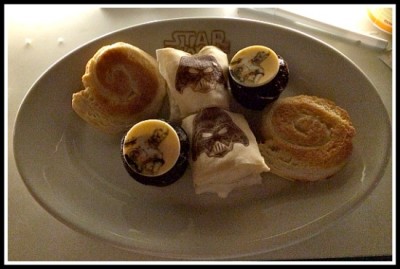 Next, we were to choose our appetizers and entrees. For the appetizers, you could choose between a Greek yogurt parfait or seasonal fresh fruit. We both chose the fruit cups.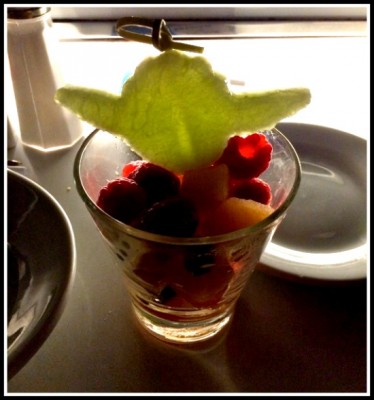 For my entrée, I chose the Dune Sea, which included scrambled eggs with salmon, wild mushroom potato hash, and multigrain toast with goat cheese butter. For seafood lovers, this dish was excellent…plus it had Yoda ears, so you cant go wrong with that.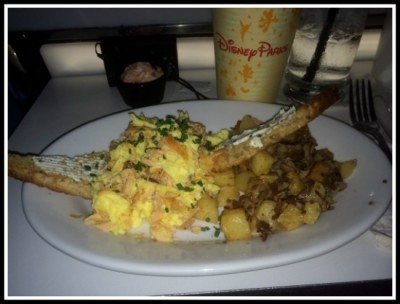 For his entrée, my fiancé chose the Imperial Delight, which is caramelized banana-stuffed French toast with caramel sauce and strawberry compote. I tried a bite and this was absolutely heavenly, though extremely sweet. While I would enjoy this as a side, it was way too much for breakfast in my opinion.
Something else worth noting is that this meal is all-you-care-to-eat, although it is not advertised as that. If you want a second entrée, feel free to order another. I was way too stuffed to get anything else, but our server did box us up more of those awesome Star Wars pastries for us to take home and enjoy later.
Enough about the food…lets talk about the characters! I already mentioned that we were greeted by Darth Vader and Boba Fett before being seated for breakfast, but several Star Wars villains were also there to meet and greet with guests. Our first set of characters to come up to our car were a couple of Stormtroopers. We LOVE Stormtroopers and they were lots of fun to pose for pictures with.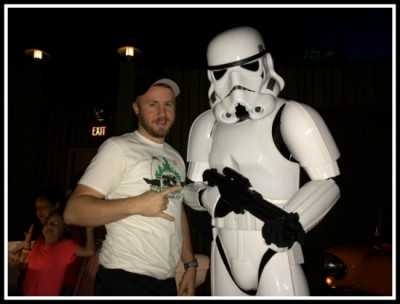 Next came the Jawas, who were super fun because they would trade you stuff. I didn't have anything of value to trade with them, but later on in the day (in the park) we ran into some more Jawas who we successfully traded with.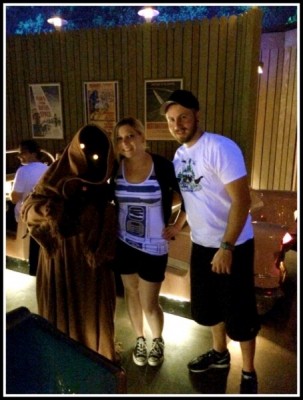 Finally, Greedo stopped by our table. He was also fun to meet with, but my least favorite of all of the other characters we had met that morning.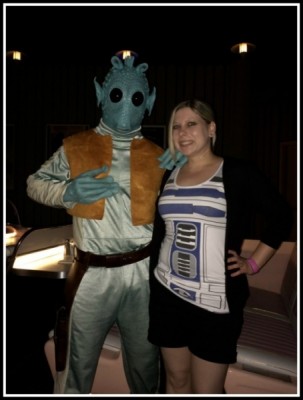 The one downside to this character meal is a common problem often found in Sci-Fi Dine-In, which was the lighting in the place. Normally this wouldn't bother me because if it were any brighter, it would ruin the appeal of the restaurant, however, for a character breakfast, it was SO hard to get decent pictures (as you can tell from my sad attempts here). If you're not already a photographer, I would highly recommend that you practice with your camera settings so that you get some decent pictures and not blown-out or blurry ones like I have.
Overall, we loved the Star Wars Dine-In Galactic Breakfast and would definitely do it again. Yes, the price is steep, but the food was really good and the character interaction was excellent. While you can meet most of these characters in the park during Star Wars Weekends, but you will never get the individualized attention that we got during our meal, or you will have to end up waiting in extremely long lines to meet them.
Star Wars Weekends is less than a month away, so make your Advanced Dining Reservations now to experience this wonderful and unique character breakfast.
What Star Wars character meal are you most excited to try this year and why?