This post may contains affiliate links for your convenience. If you make a purchase after clicking a link we may earn a small commission but it won't cost you a penny more! Read our full disclosure policy here.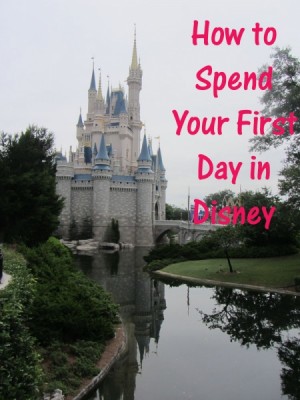 You have arrived at the most magical place on Earth.  After months of planning, you have finally made it to Walt Disney World!  Magical Express has delivered you to your amazing resort, you are checked in and all of your luggage is dropped off in your room.  Now how should you spend your first day?  There are so many options for how you can spend this first day at Walt Disney World, but here are just a few ideas to help you make the most of your first day in Disney!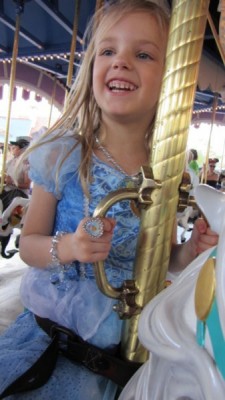 Having a Blast at Magic Kingdom
Option one would be to head to the park of your choice.  After all, the reason you are in town is to visit the parks so why not get started right away?  What better way to start off your vacation than with seeing the castle for the first time?  I would suggest however if you are heading to the park, make it a relaxing visit.  Grab a snack, people watch, stop and watch a show.  If you head to the park, I wouldn't suggest rushing into rides or hitting the ground running but instead take sometime to just enjoy the sights and celebrate the fact that you made it!
If you don't want to head to the parks on your first day, there are still a lot of different options for your to experience the Disney magic.  If you are wanting some more Disney magic, I would suggest either heading to Disney Springs or going and visiting different Disney resorts.  Disney Springs is a great way to get into the Disney feel without actually going into the Disney parks themselves.  Grab a bite to eat at one of the many restaurants, browse the many unique shops and spend some time people watching.  Unique night entertainment is also available at Disney Springs from piano bars to dance clubs if you are looking for something fun to do.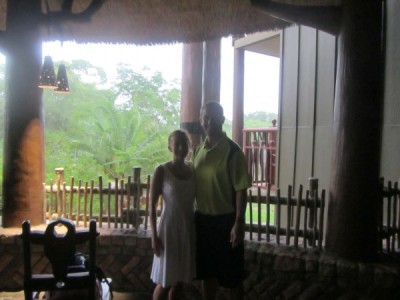 Visiting Animal Kingdom Lodge
Visiting Disney resorts is another great way to experience the Disney magic without spending money on a park ticket.  Hop on a bus and visit some of the many unique resorts that Disney has to offer.  Watch the Magic Kingdom fireworks from the beach of Disney's Polynesian Village Resort, stroll along the boardwalk near Disney's Yacht Club Resort, take in the Animals at Disney's Animal Kingdom Lodge.   There are also many great restaurants and bars throughout the Disney resorts that would provide a nice experience for your first day in Disney.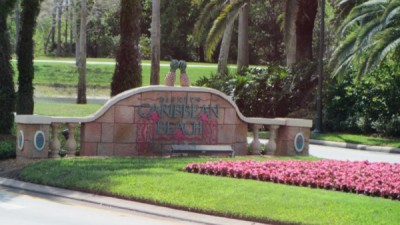 Spend Time at Your Resort
Speaking of resorts, another option that many find to be the best on their first day is hanging out at your Disney resort.  After a long day of travel for many, just relaxing at the resort sounds like the best idea.  Spend time exploring to get familiar with where everything is located at for the rest of your stay.  Look for the bus stations, food court, main desk, pool, and any other hidden gems that might be at your resort.  
If you have enough energy, swimming is always a fun option especially for the little ones.   Resorts on Disney property usually always have entertainment going on at different times throughout the day.   Pool activities such as Disney trivia and dance competitions to movies outside are just a few that happen at most resorts throughout the day.  These activities are a great way to relax on your first day before gearing up for your first full day in Disney.  Get some food, walk the grounds, swim, and head to bed early!
If you are feeling adventurous, Disney also has a variety of entertainment outside of the parks.  If you are the sports type, check out the two mini golf courses or the golf course at Disney's Saratoga Springs.  If you like to fish, many resorts provide catch and release opportunities.   Water activities such as boat rides, jet-skis and even parasailing are also available at different Walt Disney World resorts.  For a more relaxing option, you can check out the movie theater at Disney Springs.  There are a variety of different options throughout the Disney property that you can take advantage of on your first day in town.
All of these just start to touch on all of the different things you can do on your first day in Disney!  No matter what you choose to do on your first day, remember to take time to soak in the Disney magic!
What's your favorite way to enjoy your first day at Walt Disney World? Share in the comments!