This post may contains affiliate links for your convenience. If you make a purchase after clicking a link we may earn a small commission but it won't cost you a penny more! Read our full disclosure policy here.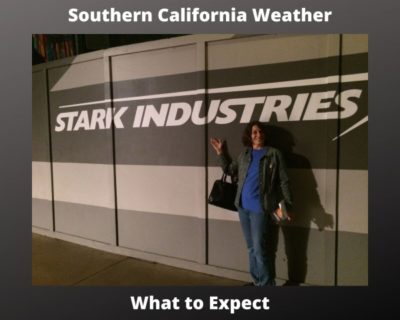 Jacket weather on a November night at California Adventure
If your only experience with Southern California is what you see in the movies or on TV, you'd probably think that it is sunny and 70 degrees 365 days of the year, always perfect surfing and sunning weather. Although So Cal weather is definitely pleasant, there are weather patterns you should know about when planning a Disneyland vacation.
The fantastic charts you'll see in this blog were created by fellow The Mouse for Less blogger Bob Porell. And remember, it is impossible to predict the weather with 100% accuracy. I once convinced an out of town friend to visit in the usual-gorgeous month of April, only for us to be hit with a heat wave that put So Cal in the triple digits for days. But the information below should give you a good approximation of what to expect.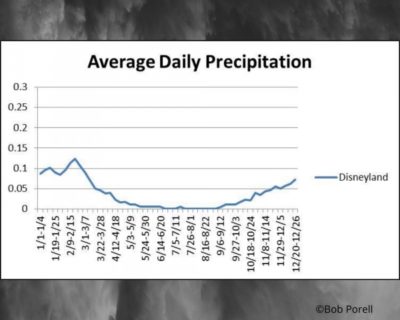 WINTER: THE RAINY SEASON
Now, I need to be clear here. Southern California is a desert. A low desert, mind you, but it's typically dry. So when I say that winter is the rainy season, this does not mean that it WILL rain. It means it MIGHT rain. Every several years, weather patterns known as El Niño and La Niña increase and decrease rainfall in the area. But, for the most part, all you need to know is that if you're coming in the winter, bring a poncho.
You'll often see snow on the mountaintops in Southern California, but it is extremely rare to see any snowfall at sea level. In fact, even when it does snow, it almost instantly melts.
Occasionally, extremely dry Santa Ana winds will blow through the area, bringing very dry air. Disneyland does occasionally cancel fireworks, nighttime shows and balloon sales during these periods.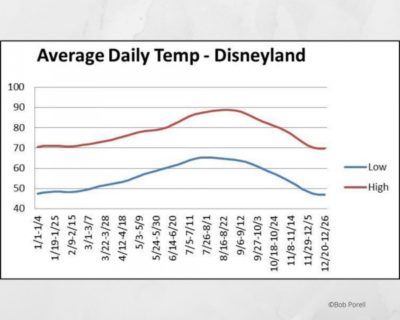 One final thing about winter: remember when I said that Southern California is a desert? Well, the lack of humidity means that when the sun goes down, the temperature can drop significantly. So even if you're walking around in a T-shirt on a warm January day, you'll want a jacket to put on at night.
SPRING: WARMING UP
Springtime in Southern California brings abundant sunshine and dry, clear weather. Santa Ana winds very rarely blow after March, so your chances of seeing those fireworks displays are much better in the spring.
Rain is almost unheard of in the spring. The whole April showers bringing May flowers thing simply doesn't happen here in So Cal. It is usually warm enough in the spring to enjoy the water rides.
SUMMER: THE HEAT IS ON
As you might expect with a desert, summertime can get very hot. There is a strange weather pattern that you should know about, though. It's called either May Gray or June Gloom, depending on when it happens. (In the rare cases when it happens in early July, we all get confused because nothing rhymes with July.) This weather pattern results in overcast, cool mornings. You might look at the sky and think this means rain. It doesn't. Most of the time, this gray or gloom burns off by early afternoon, leaving the day very warm. This is another reason why layers are your friend in Southern California.
Temperatures go up the later into the season you get. August is usually the hottest month of the summer, so if you come during this period, make sure you slather on the sunscreen and lip balm, and drink plenty of water to combat the dry, hot weather.
FALL: WARM DAYS, COOL NIGHTS
You might need a jacket at night
Summer takes a long time to go away in Southern California. It usually doesn't resemble autumn until early November. Also, the Santa Ana wind season usually begins in October.
My daughter's birthday is in late September, and we have celebrated every one of her birthdays at Disneyland. Some of those trips, it was extremely windy and scorching hot. Other trips, it was bright and sunny without being overbearing. Once, we even needed jackets in the evening. If you've got a fall trip planned, check the weather forecast before you go so you know what kind of clothing.
What season is your favorite for visiting based on Disneyland weather and why? Let us know your thoughts in the comments, or on Facebook or Twitter!
Did you like this article? Make sure to share it with your friends! Check below for easy ways to share!
Want to visit the Disneyland Resort? Contact The Magic for Less Travel for more information and a free, no-obligation quote.

Incoming search terms:
https://www themouseforless com/blog_world/southern-california-disneyland-weather-what-to-expect/