This post may contains affiliate links for your convenience. If you make a purchase after clicking a link we may earn a small commission but it won't cost you a penny more! Read our full disclosure policy here.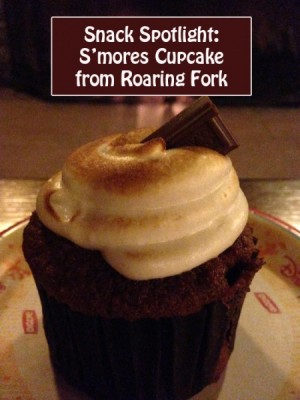 You know what I love? S'mores! It is a treat that I cannot get enough of.  The gooey marshmallow, the yummy graham flavor, and of course, the delectable chocolate. All of it goes together in a wonderful combination. So, whenever I find a treat that includes the word S'mores, I tend to pick it up. Such was the case when visiting Roaring Fork at Disney's Wilderness Lodge.
But let's back up…what is Roaring Fork? It's a counter service restaurant, that offers a couple of different windows for selecting meals from including pasta, sandwiches, flatbreads, and more. There are some grab and go items, like chips and fruit, but there is also the delightful (and my favorite) pastry case. Here you can choose from one of the great sweet treats to nibble on. Treats often include brownies, cookies, the Magic Cookie Bar (a favorite!), danishes, and yes, of course, cupcakes.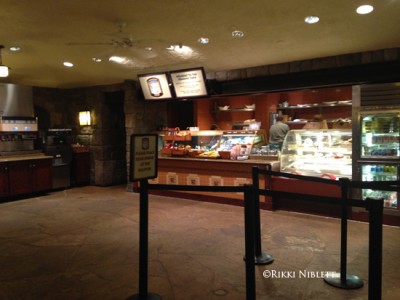 Disney has become well known for cupcakes. It seems like one of their favorite things to make lately for any special event. So, of course, one would expect them to have a unique selection of cupcakes at Roaring Fork, like they do everywhere else. Do keep in mind the cupcake selection can and does change often, so the S'mores cupcake may not be there on your next visit. (And that's probably good in relation to this cupcake…more on that in a minute.)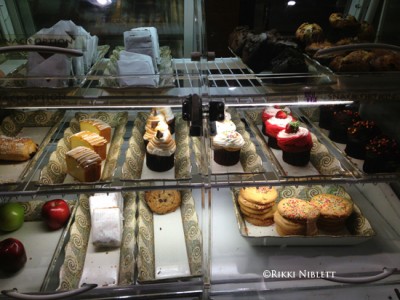 You then take your items up to the single cash register to pay.  If you ordered food, you may be given a number and it will be brought to you table. Since I just got a cupcake, I didn't have to worry about that.
I was super excited about this cupcake, so I am super disappointed to report that it left me wishing I would have chosen something else. It was an ok cupcake, but overall, it just left me a little flat.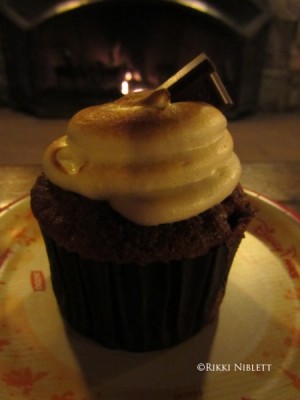 The cake, which was supposed to be graham flavored, but really had no flavor, was not moist at all, instead it was incredibly dry. The marshmallow icing had no discernible marshmallow flavoring. Finally, I had expected for there to be a chocolate ganache center in the middle, but that couldn't have been further from the truth. Instead, there were a few pieces of mini Hershey bars stuck inside the cake. I actually only ate half the cupcake and threw the rest away. That's how disappointed I was in it. (And I NEVER throw away desserts.)
If you are a fan of S'mores, you may enjoy this dessert anyway, however, if you are looking for a delicious snack to enjoy, this is probably not it. I would choose a different cupcake from Roaring Fork instead.
What do you think? Have you tried the S'mores cupcake and did you enjoy it? Or were you like me and thought that it left a little to be desired? Share your thoughts in the comments.
Incoming search terms:
https://www themouseforless com/blog_world/snack-spotlight-smores-cupcake-from-roaring-fork-at-disneys-wilderness-lodge/