This post may contains affiliate links for your convenience. If you make a purchase after clicking a link we may earn a small commission but it won't cost you a penny more! Read our full disclosure policy here.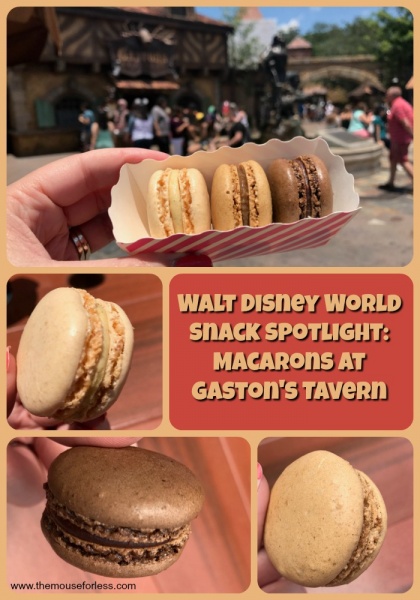 One of the biggest crazes out there right now are macarons. They are just everywhere. For those who don't know what they are, they are petite, flavored treats that are sweet meringue-based confection made from egg whites, icing sugar, granulated sugar, almond powder or ground almond, and food coloring. So, of course, you knew that Walt Disney World would be getting in on the trend, right?
In Fantasyland, Guests can step inside the rustic Gaston's Tavern for these delicate snacks. They aren't listed on the main sign, instead, they are listed on a small sign advertising them.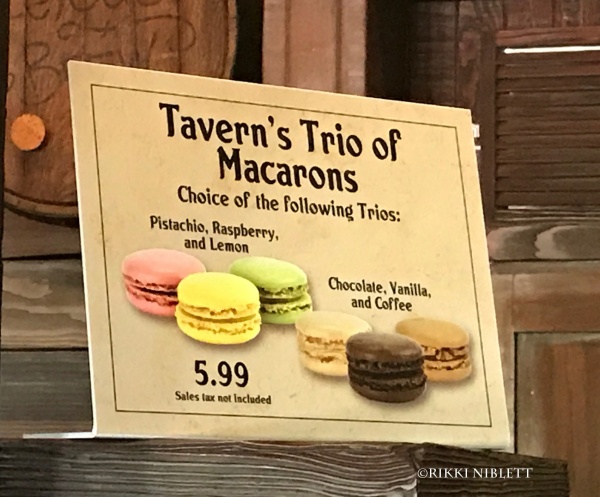 They are offered as a trio pack. There are two different options to choose from. One is a trio of Pistachio, Raspberry, and Lemon and one is a trio of Chocolate, Vanilla, and Coffee.
I decided to go for the Chocolate, Vanilla, and Coffee option. (Because of course I would.)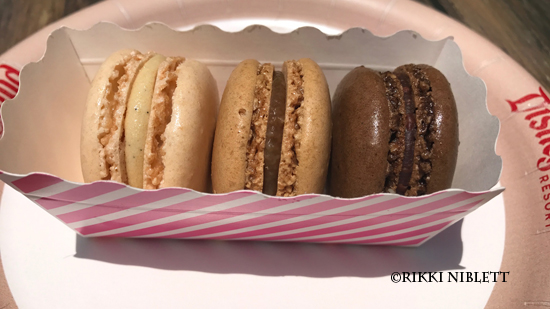 I decided to try the Vanilla option first. It was exactly as expected. It was light and airy. It had a wonderful vanilla taste. Not overpowering, but just good.
Next, I went for the coffee option. It wasn't overwhelmingly coffee flavored, but the coffee taste was certainly prevalent.
Finally, I tried the one that I knew that I would like the most – the chocolate one. It was rich, sweet, and delicious. The best part is it wasn't overpoweringly chocolatey.
Each macaron has a fantastic outside crunch and creamy inside.
I honestly didn't think the price of $5.99 was too out there in the realm of macaron costs. They have them at the mall here for a much higher price for almost the same exact size.
While small, these were a fantastic snack and due to how light they are, it is a great treat even for a hot summer day. I would say that these are not really a shareable treat, unless you are being generous. (I was nice and let my husband have a bite of each one, but I could have selfishly eaten them all with no problem!)
Would you like to try this treat from Gaston's Tavern? Let us know what you think in the comments!
Did you like this article? Make sure to share it with your friends! Check below for easy ways to share!
Incoming search terms:
https://www themouseforless com/blog_world/snack-spotlight-macarons-gastons-tavern/