This post may contains affiliate links for your convenience. If you make a purchase after clicking a link we may earn a small commission but it won't cost you a penny more! Read our full disclosure policy here.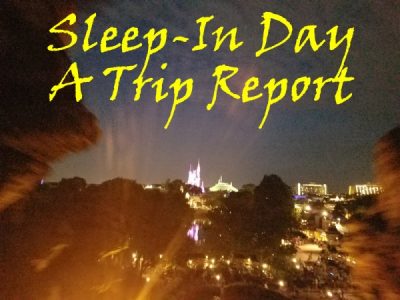 Our amazing Walt Disney World vacation continues with our sleep-in day and an evening at Magic Kingdom.  Join us on another magical day.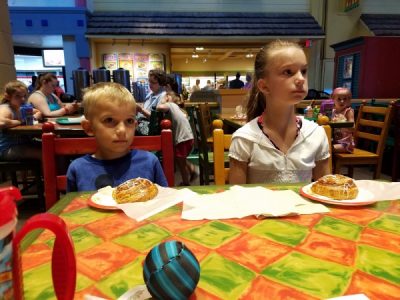 Enjoying Breakfast and Cartoons
After enjoying Fantasmic at Disney's Hollywood Studios the evening before, we planned a day to sleep-in.  In our world, this means our kids were up and ready to go normal time.  We headed to breakfast at Disney's Caribbean Beach Resort in Old Port Royale.  The kids loved watching the cartoons while waiting for the pool to open.  Being June in Florida, it was warm and perfect for swimming right away in the morning.  The kids absolutely loved being able to swim while the grown ups loved just chilling in the Florida sun.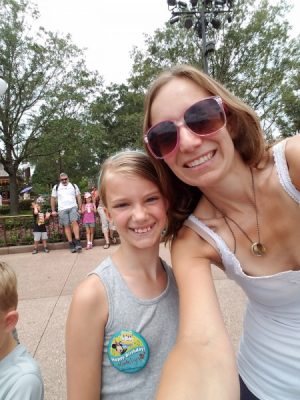 Enjoying the dance party
Around 10:15 a.m., we met at the bus stop to head to Magic Kingdom as we had reservations at Liberty Tree Tavern.  We got to Magic Kingdom with plenty of time so we stopped to get pictures in front of the castle and stuck around for some of the Move It! Shake It! Celebrate It! party.  This is a great reminder to planners like myself to make sure you take advantage of these magical moments when they appear unplanned.  This show wasn't on the schedule, but I am glad we stopped as the kids, and Grandma, loved dancing away with some Disney characters.
After dancing, we headed to our reservations at Liberty Tree Tavern.  Liberty Tree Tavern was busy for lunch making our wait a little longer compared to our previous meals, but we really liked where we were seated and the food was top notch.  As we were celebrating two birthdays, I was surprised we didn't get recognition for this.  When leaving, I mentioned it to the front desk and they were nice enough to give us an extra FastpPass for the day.  This was so unexpected as well as greatly appreciated.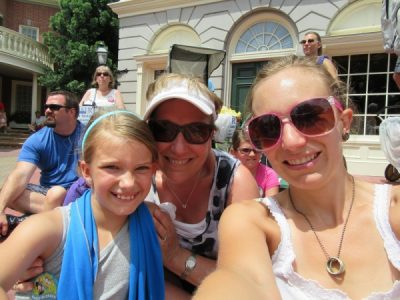 Trying to stay cool before the parade
From Liberty Tree Tavern, we were able to step right outside and get a spot for the Festival of Fantasy parade.  I was super excited to see this parade as we were unable to on our previous trip due to weather.  Although it was extremely hot, we got waters from a quick service location and kept somewhat cool.  The parade didn't disappoint at all.  I thought the different floats were so outstanding and the characters were magic to say the least.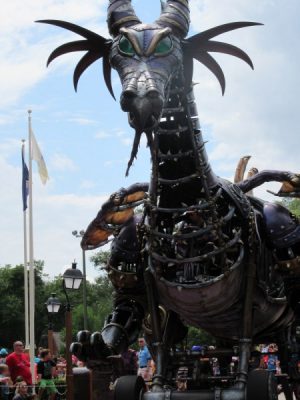 Amazing parts of the parade
Following the parade we split up.  Some of us headed into air conditioning in the Hall of Presidents.  Even though this isn't an exciting show, as a history teacher I greatly enjoy it as did our nine year old daughter.   The other half headed out and around doing the Swiss Family Treehouse, Magic Carpets and a few splash areas.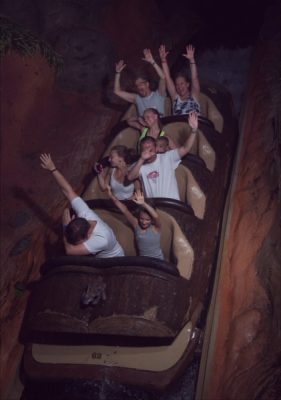 Having fun on Splash Mountain
We all met up in Frontierland to ride the mountains once again.  Splash and Big Thunder didn't disappoint as we once again had an amazing experience together.  It doesn't seem to matter how many times we ride these two rides, they always bring laughs, screams, and great memories.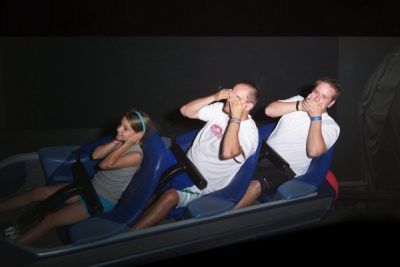 Our thrill seeker
Hopping on the train was a fun way to head around to Fantasyland and the "hidden" walking path to Tomorrowland.  Another relaxing ride on the PeopleMover before the brave ones headed to Space Mountain and I took our son to Buzz Lightyear.  Our dining reservations weren't until 6:45 at Be Our Guest, so we split up again with my parents taking in the Monster's Inc Laugh Floor in the air conditioning.  Our thrill seeking daughter used our rider swap for Space Mountain and headed back with her dad and uncle to ride again.  The rest of us just enjoyed sitting and people watching.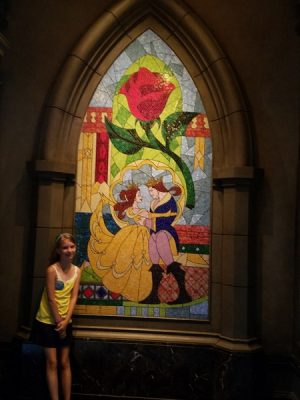 Fun at Be Our Guest
Our Be Our Guest reservations were something I was greatly looking forward to as no one expected my husband and I hadn't eaten here before.  Our reservations actually had us split into two tables, but Disney worked some magic and they were able to sit us all together after a little wait.  As Beauty and the Beast is my favorite movie, I really enjoy all the details and thought that went into the dining experience.  Although we aren't overly impressed with the food, the atmosphere is always great.
After eating, we decided to use our extra FastPass to ride Splash Mountain under the lights.  Although it had a small shut-down while we were in line (which is so hot), we got on quickly and had another great experience.  Earlier we were able to grab a FastPass+ for Jungle Cruise so we headed to Adventureland to take on this adventure.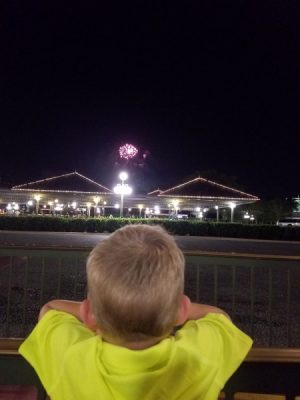 Fireworks
Splitting up for the remainder of the night, my sister and her husband decided to hit more rides before the park closed while the rest of us wanted to get out before the fireworks crowd hit.  Once we got to Main Street, the Celebrate the Magic show had started and I am so glad my husband convinced us to stop and enjoy it.  It was one of my favorite moments of the trip as well as my dad's.  Again, remember to slow down and enjoy those special moments that sneak up on you.
We did continue to head to the buses before the fireworks, however, we were able to see them from the bus stop.  Not perfectly, but still enough that we felt part of the magic and were ahead of the crowd which was important to us.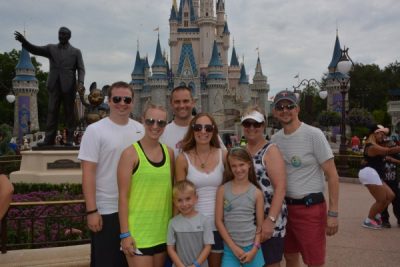 Another magical day
It was another magical day filled with great food, great rides, great memories and great magic.  Our journey continues with another extra magic morning at Hollywood Studios.