This post may contains affiliate links for your convenience. If you make a purchase after clicking a link we may earn a small commission but it won't cost you a penny more! Read our full disclosure policy here.
Now through April 29th, mouth-watering culinary treats await guests at SeaWorld Orlando's Seven Seas Food Festival. Chef Héctor Colón and his team are the culinary masters behind this festival that brings unique eats from around the world to the theme park.
Guests can sample Asian, Latin, European, Polynesian, and North Atlantic dishes and enjoy a wide array of wine, specialty cocktails, and local and international craft brews. I loved the Frozen House-Made Sangria (at the Mexican Market) and the Frozen Caipirinha (at the Brazilian Market).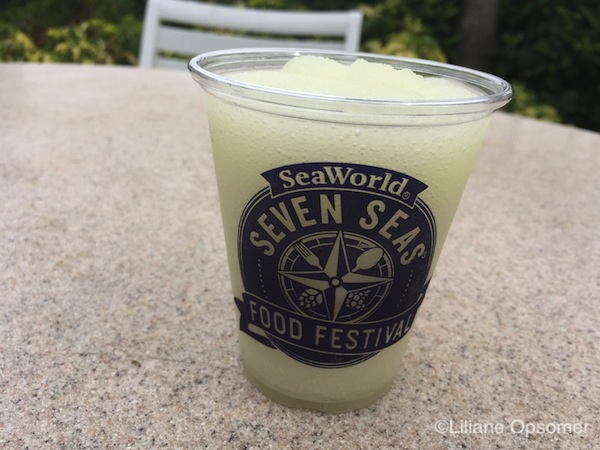 Braised Chicken Adobo with Mole Sauce, Cheese, and Mexican Rice is a wonderful and very filling dish from the Mexican Market. At the Caribbean Market, go for the Cinnamon Slow Roasted Pork Belly with Sweet Plantain Mash and a Red Wine Reduction; or try the refreshing Seafood Ceviche with Fresh Mango, Shrimp, and Fish in Citrus Juice.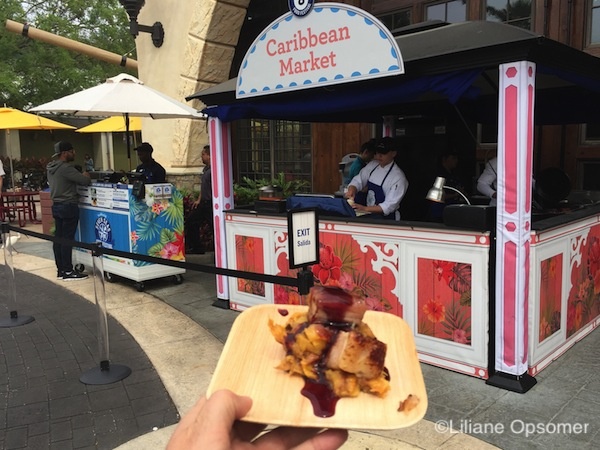 At the Mediterranean Market, I truly enjoyed the Grilled Lamb Chop marinated with Rosemary Mint and Served with Roasted Potatoes and Greek Tzatziki Sauce. The chop was perfectly cooked, which is not an easy task during a food festival. A little heavy, but absolutely delicious, was the Dark Chocolate Guinness Mousse Parfait topped with Baileys Infused Whipped Cream, also at the Mediterranean Market.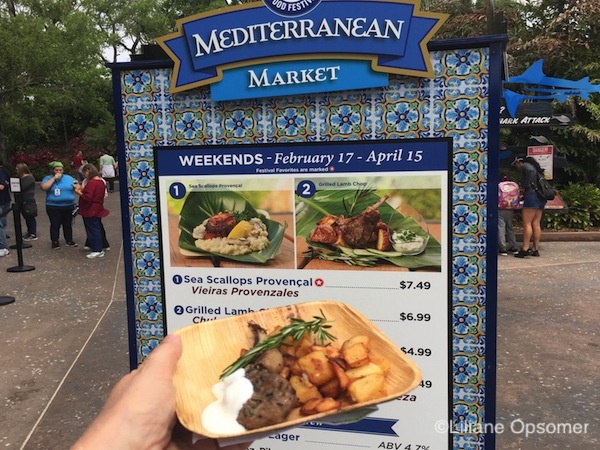 The German Market served a very good Knockwurst with Red Cabbage and German Potato Salad.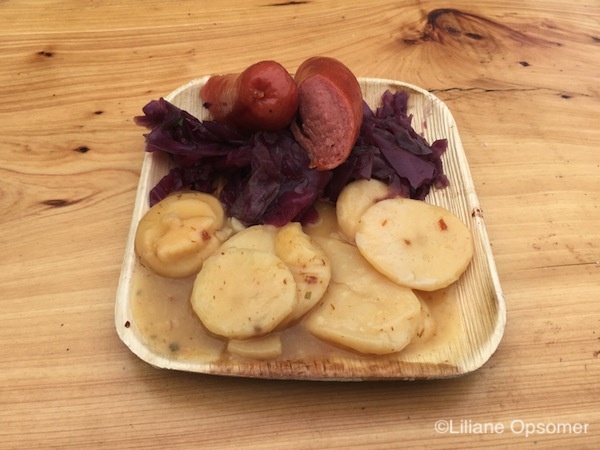 The Lumpias (spring rolls) filled with Pork and served with Thai Pineapple Sauce at the Polynesian Market were amazing, as was the Pineapple Tofu Poke Bowl, a vegetarian dish with ginger soy-marinated tofu, pineapple, carrots, bean Sprouts, cilantro, and cucumber served over sweet Thai vermicelli with a peanut sauce drizzle.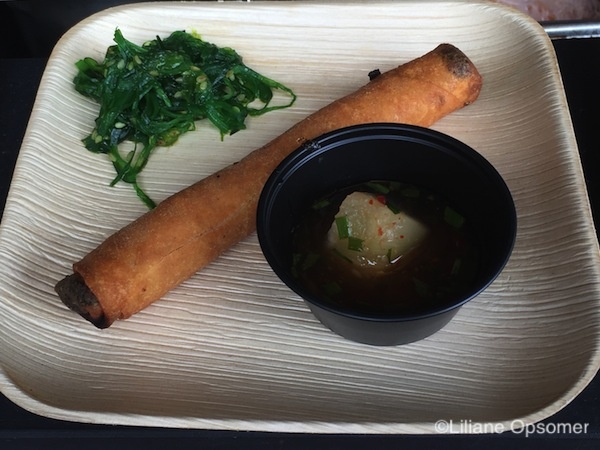 At the Gulf Coast Market, the Shrimp Po Boy and Chicken & Sausage Gumbo are perfectly paired with a Rod Bender Red Lager.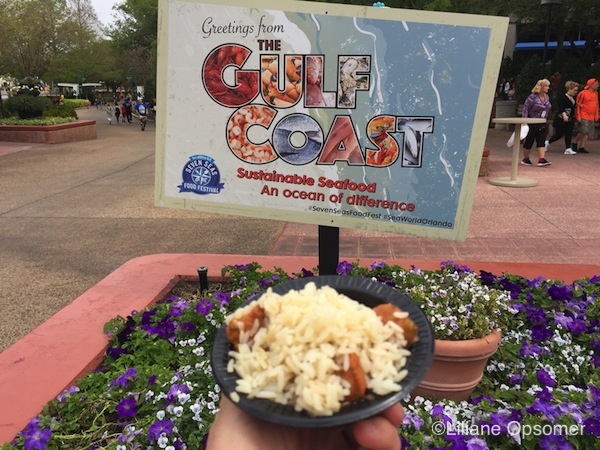 The Asian Market had so many good choices. Peking Duck Lo Mein, Kimchi Tacos, or Char Siu Bao? I eventually decided to go for the steamed pork buns with gingered grilled pineapple and hoisin sauce.
The Churrasco, a grilled skirt steak with chimichurri and chickpea served at the Brazilian Market, was only outdone by the Mousse De Maracuja, a delicious passion fruit mousse.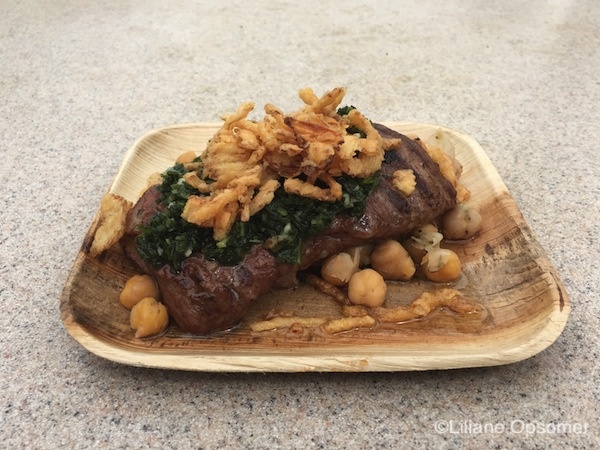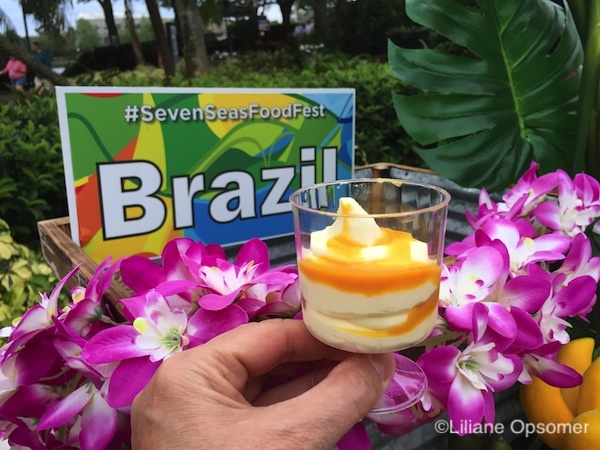 One can easily forget about all the attractions and spend the day in food nirvana. I am sorry to be missing the Latin-inspired cuisine that will be featured (March 31st through April 15th) in addition to the current markets. Just imagine tasty Bacalaítos, Mofongo with Carne Frita, Lechón Asado, or Pincho de Cerdo con Tostones!
And if tempting your taste buds and thrill rides are not enough for you, be sure to visit on a Saturday or Sunday when, starting at 5 p.m., live concerts are offered. Concerts are held at Bayside Stadium and are included with park admission. For a lineup of shows, check here.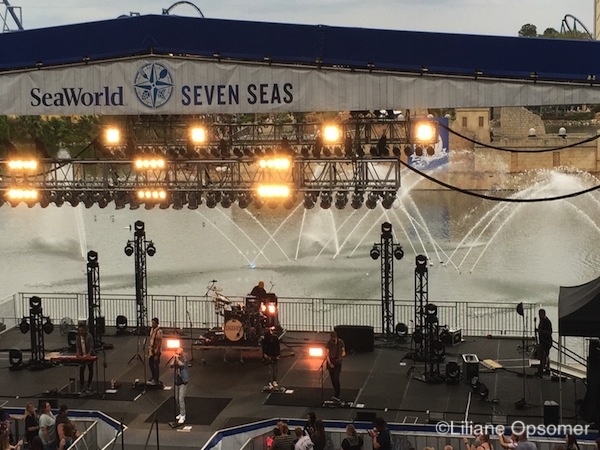 For the best value, purchase one of the sampling lanyards: $40 lets you try up to 8 food or drink samples at any of the Seven Seas Food Festival locations, while the $60 lanyard allows for 15 food or drink samplings.
The quality of the food at the Seven Seas Food Festival is reason enough to visit the park, and the generous servings make this festival very affordable with most dishes costing between $4 and $6.
Where to Stay
SeaWorld Orlando offers a Seven Seas Food Festival Package that includes unlimited visits to SeaWorld Orlando and Aquatica for the entire length of your stay, a choice of accommodations from hand-selected hotel partners, and a five-item sampling lanyard for every  member of the party. Prices for a late-March, five-night stay for a family of four (kids ages 9 and above) range from $1,332 to $1,836 and also include front-of-the-line ride access for all at SeaWorld.
SeaWorld Orlando Admission Prices
Single-park tickets to SeaWorld Orlando start at $79.99; an annual pass to SeaWorld Orlando is available now through April 15th for $175. The pass comes with unlimited admission to SeaWorld Orlando AND Aquatica, without blackout dates.
Have you visited Sea World during the Seven Seas Food Festival? What did you think of the experience? Share your thoughts in the comments.
Did you like this article? Make sure to share it with your friends! Check below for easy ways to share!
Incoming search terms:
https://www themouseforless com/blog_world/seven-seas-food-festival-seaworld/