This post may contains affiliate links for your convenience. If you make a purchase after clicking a link we may earn a small commission but it won't cost you a penny more! Read our full disclosure policy here.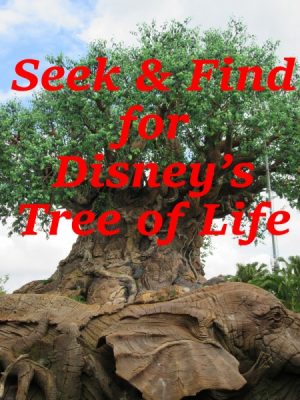 When visiting Disney's Animal Kingdom, one of my favorite things to do is visit the Tree of Life.  My kids however don't always feel the same.  To make this a more pleasant experience for everyone I create a quick seek-and-find sheet for them to keep them entertained while I take in all the amazing details of the tree.  Here is how I created it as well as one for you to use if you want.
Amazing Animals Displayed
The Tree of Life is one of the most breathtaking parts of any Disney park.  Right up there with Cinderella Castle is this amazing 145 foot sculpture that includes around 325 different animals carved into the trunk, roots and every branch of the tree.  While at Disney's Animal Kingdom, I always schedule time in our day to explore and take in this magnificent display of art.  I love walking around the outside and discovering all the many different animals that are displayed throughout.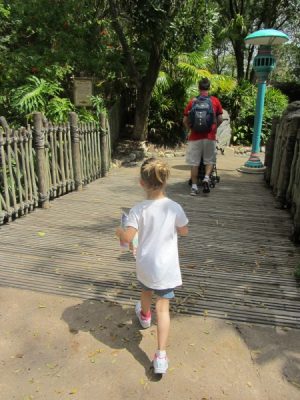 Daughter (4) on mission to find animals
Even though I really enjoy this process, my kids (4 and 2 our first trip and now 9 and 6) I knew probably wouldn't be as excited about strolling around a big tree.  I wanted to bring something along that would keep them interested in the tree itself and maybe, slowly start to appreciate the amazingness that is truly is.  After thinking about it, I decided to create a seek-and-find sheet for them.  My thought was this would keep them looking at the tree itself instead of everything else they might want to do or eat, which is usually the case.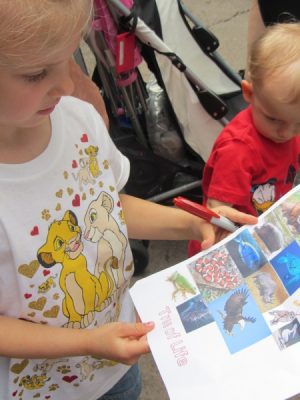 Daughter (4) with her seek and find
As you can't really find a list of all the animals on the tree itself, I had to guess as to which ones to include.  I tried to go from memory from previous trips as well as sticking to the bigger known animals and larger animals that I thought would be easier for them to find.  I also left places for them to fill in their own animals that we would come across but might not be on the sheet.
Let me tell you this worked amazingly.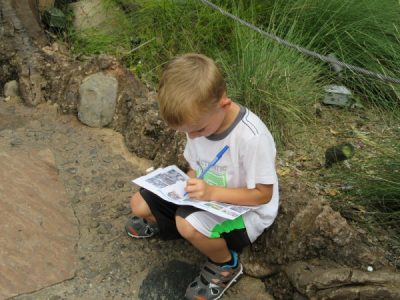 Son (6) working hard to mark off animals
Both kids absolutely loved finding the animals on the tree and marking them off!  On both trips the kids were extremely excited to find the different animals.  I adjusted the sheet from our first trip where they couldn't read by using more pictures to this time I had one with mostly words for our daughter and pictures still for our son.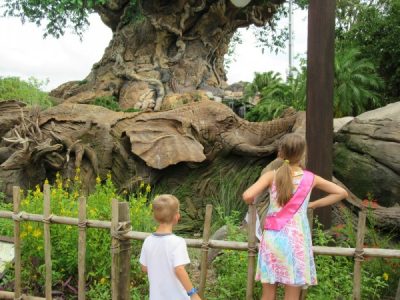 Kids working together to find animals
This was such an easy thing to bring with me, but I felt it made a big difference during this experience.  The kids were not whinny about being bored, but instead were engaged and working together to try to find animals on the tree.  We even took time to sit down in front of the tree and just relax while they looked together.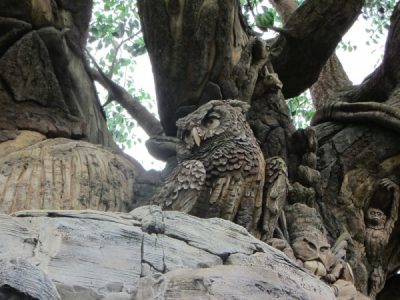 More detailed animals
I believe that I will continue to bring something like this for the Tree of Life on our trips as it makes such a huge difference.  I highly recommend making your own, or trying one of these already made for you.
Download them here:
Tree of Life Seek and Find Picture Version
Tree of Life Seek and Find Word Version
Did you like this article? Make sure to share it with your friends! Check below for easy ways to share!
Incoming search terms:
https://www themouseforless com/blog_world/seek-and-find-tree-of-life/